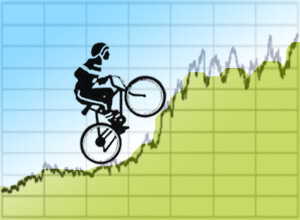 I personally love looking back over old statistics and seeing how BicyleThailand.com continues to grow, and although it's not making a profit and still costing us money each month, we all get a warm and fuzzy feeling when the numbers are up and our readers tell us how much they appreciate what we are doing.
Here are a few past articles about our progress:
If you can believe that only 18 months ago we were very excited about having "over 950 unique people that visit the website at least once a week" and better still "over 2,250 people that come to the site at least once a month," you have to have a little laugh because today we're getting excited over some really good growth.
As of December 2012, our stats show:
2,200 people visit at least once a week, a nice 130% increase.

monthly visitors have jumped to 8,300, a massive 268% increase.

Our top 13 articles of 2011 accounted for 13% of our overall traffic. This year's top 13 (8 of which are Featured Bike Shops) now represent only 5% of our total traffic, showing that our growth in content is exceeding our growth of visitors.
We can only imagine where BicycleThailand.com will be in 18 more months, maybe 8,000 weekly visitors and 25,000 monthly? Who knows… but one thing is  for sure, we're looking forward to it.