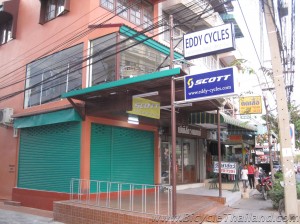 Every once in a while a bicycle shop owner decides to uproot his business and move it to a more accessible and user-friendly location. Such is the case with this month's featured bike shop, Eddy Cycles. The BERGAMONT brand distributor used to be located on a small street (soi) just off of Phahonyothin Road. The showroom was small and because it was situated in a residential housing area it proved quite difficult to find for first time visitors. The new location of Eddy Cycles on Lat Pla Khao road has signage in English and is in a commercial area much better suited to this kind of storefront. Even though finding the new location of Eddy Cycles should be much easier than before we still highly encourage our readers to refer to the handy GPS coordinates that our bike shop correspondent works so dutifully at providing to assist you in finding the shop amidst the chaotic Bangkok address system.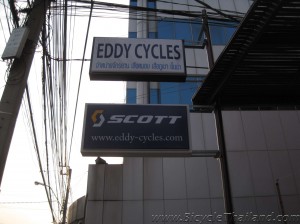 Eddy Cycles
327 Soi Lat Pla Khao 59, Lat Pla Khao Road
Khwaeng Chorakhe Bua, Khet Lat Phrao
10230
ภาษาไทย [+]
Eddy Cycles
327 ซอยลาดปลาเค้า 59 ถนนลากปลาเค้า
แขวงจรเข้บัว เขตลาดพร้าว
กรุงเทพฯ 10230 Tel. 029-404-414
[Thailand Distributor: BERGAMONT] GPS – N 13 50.690, E 100 36.018
The one and only brand at this shop is the BERGAMONT brand of bicycles. Road, mountain, sport, and hybrids are all here. The full line of accessories and equipment at the shop focuses on the BERGAMONT name and its affiliated in-house brands. The shop offers full services for all makes and models of bicycles as well as handling warranty issues for BERGAMONT bikes. If you're already a fan of the BERGAMONT brand or would like to learn and see more of what they have to offer check out Eddy Cycles at its NEW location in Lat Phrao. Happy Riding!