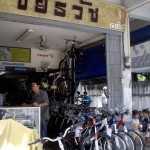 Chaitawat Bike Shop is this month's featured bike shop in Thailand. This small but well stocked shop is located inside the old section of Chiang Mai city. Situated on the corner of Ratpakinai Road and soi 6, opposite the Bodhi Serene Hotel, the Chaitawat Bike Shop is a great find for visitors who are staying in the boutique hotels and guesthouses of 'Old Chiang Mai.' Chaitawat Bike Shop has been in its current location for many years and the owners claim that it is one of the first bike shops to open in Chiang Mai. The Chaitawat sign is written in Thai script but the shop is easy to see from the road as it has bicycles displayed on the sidewalk in front of the shop. As always, you can use our handy GPS coordinates to help you find the shop on Google Maps.
Chaitawat Bike Shop
75/4 Ratpakinai Road
T. Phra Sing A. Mueang Chiang Mai
50200
ภาษาไทย [+]
ร้านจักรยานชัยธวัช
75/4 ถนนราชภาคินัย
ตำบลพระสิงห์ อำเภอเมืองเชียงใหม่
จังหวัดเชียงใหม่ 50200 Tel: 053-279-890, 081-626-2590
GPS – N 18 47.063, E 98 59.427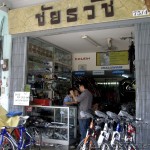 Trek, Challenger, Merida, and Gary Fisher are the bicycle brands available at the shop. Like most small bike shops the accessories and parts are stacked into every nook and cranny in a system only the shop's proprietor can decipher. A collection of jerseys and padded cycling shorts can be found here but finding larger sizes could be difficult. English is spoken by the older Thai gentlemen who runs the shop. The shop offers full bike services including wheel and custom bike building. Next time you're in Chiang Mai stop in and familiarize yourself with this family owned and operated shop. Happy Riding!