Article and Photos by Andrew Bhasavanich
TCA, which stands for the Thailand Cycling Alliance, is arguably one of Thailand's biggest distributors of after-market accessories for bicycles. The company is a "go-to" for numerous dealers and outlets in Bangkok and beyond. TCA remains as a subsidiary of the much larger UWC (Uniwave Corporation) entity which deals mainly within the oil and gas industry locally as well as internationally.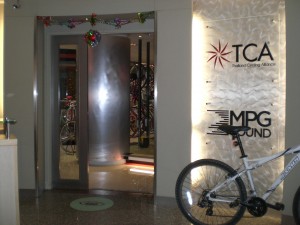 TCA was formed approximately 8 years ago by Khun Kanate, the Managing Director at UWC, and three of his close friends. At that time, they were unhappy with the availability of high end cycling products within the Thai Market. They themselves were cyclists and disliked the lack of variety. Their goal was to bring more brands and higher-end products to Thailand.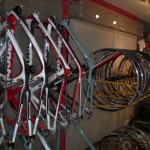 TCA began with Jamis, a quality American brand with its roots in mountainbiking, and acquired additional brands as time passed. TCA now imports and distributes a large variety of high-end bicycles, components, and accessories to the Thai market for both MTB and Road bike enthusiasts. Their recognized brands include MAVIC wheelsets, CAMPAGNOLO drivetrains, VAN NICHOLAS titanium frames, EDOURDO BIANCHI bicycles, FSA components, DEDA ELEMENTI components, ELLSWORTH mtb frames, and much more. A visit to their website, www.tcabike.com, will allow you to view their extensive list of products. Their website is in Thai, but even so there are still some sections in English that can offer useful product information.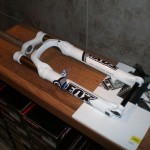 One of TCA's  biggest accomplishments was its decision to import and distribute FOX racing shox,  a legendary suspension manufacturer in MTB, which has become extremely popular in Thailand where over 4,000 units are sold each year. At present there are nine approved service centers within the Thailand that are qualified to perform warranty and general maintenance of FOX brand racing shox.  TCA conducts the training program for mechanics from all dealers within its network. The program teaches these individuals about the normal servicing and maintenance of FOX  products such as changing out oil and replacing seals.
All dealers under the TCA umbrella can offer maintenance services for Front Suspension units, but it should be noted that the servicing of FOX rear suspension units requires special tools and additional expertise. FOX rear suspension can be sent in for service at TCA headquarters in Bangkok, TCA center Chiangmai, or NakornThai Bike shop in Bangkok. There are also over one hundred dealers in Thailand whose mechanics are qualified to service FOX front suspension units.
According to Khun Kanate, "the bicycle business deals with a very specialized product that requires care and also answers to a lot of very technical questions from the customer." While TCA is a distributor with numerous dealers, its Bangkok and Chiang Mai head offices are open to the cycling public.
TCA – Thai Cycling Alliance
3656/35-36 11th Floor Green Tower Building – Rama 4 Road
Khwaeng Khlong Toei, Khet Khlong Toei
10110
ภาษาไทย [+]
TCA – Thai Cycling Alliance
3656/35-36 ชั้น 11 อาคารกรีนทาวเวอร์ ถนนพระราม 4
แขวงคลองเตย เขตคลองเตย
กรุงเทพฯ 10110 Tel. 023-673-470
[Thailand Distributor: BIANCHI, JAMIS, INTENSE, ELLSWORTH, TURNER, BIKE FRIDAY, KONA, PIVOT, FOX, EASTON, MAXXIS, DEDA] GPS – N 13 42.973, E 100 34.342