Originally posted as 'Top Bicycle Rides in Bangkok' in
City Living section of BK Magazine 5/04/2012. Article by BK staff

Itinerary Maps
Route 1 – 12km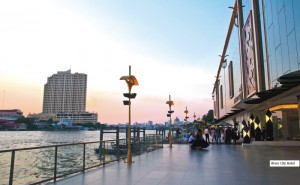 Benjakitti Park to Khao San Road: City Biking at its Finest

The vibe: This city ride is one of our favorites because you get to see, and travel through, lots of smaller sois and neighborhoods you wouldn't normally visit.
The ride: In the northwest corner of Benjakitti Park (next to Queen Sirikit Convention Center) you'll see the entrance to a green, elevated pathway, which will take you past some stinky ponds, over a slum, up and down some stairs and magically spits you out at Lumpini Park. Leaving Lumpini from the south-west gate, ride all the way down Silom and turn right on to Charoen Krung Road, then left on Charoen Krung soi 30. This will take you past the Sheraton Hotel and River City and into Soi Vanit 2, dumping you out at Songwat Road, where you take a left.
You might have to sleuth your way through this next part, but essentially ride straight-ish until you make it to the Memorial Bridge (Saphan Phut). Wind your way along the river to Maharaj Road, which will take you up past Wat Pho, the Grand Palace, and right into Thammasat University where you can take a shortcut through the campus to Phra Athit Road. If you don't know how to get to Khao San from here, well, just follow the hippies.
The pay-off: There are plenty of good restaurants in this area to recharge your batteries; we recommend Roti Mataba at the far end of Phra Athit. Take a break in Phra Sumen Fort Park before hitting the bars on Rambutri. Of course, Khao San is also home to some of the fiercest Songkran water battles.
Bonus: Riding through Talad Noi, one of the most eclectic neighborhoods in the city.
Route 2 – 76km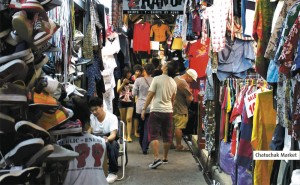 Bangkok to Ayutthaya: Drink Water. Lots of Water

The vibe: This route is not for the faint-hearted, because it covers 76km and the April heat is unforgiving. But, if you drink copious amounts of water and take it slow and steady tortoise-style, this ride is a great way to get some exercise, see a bit of countryside, and get to Ayutthaya for free.
The ride: The route is pretty straight forward­—literally. Beginning at Chatuchak Market, take Kampeng Phet 2 and then jag left onto Kampeng Phet 6, which you'll follow for a while. It's a bit hairy for a few kilometers, but never fear, soon you'll be rolling through quaint countryside. Kampeng Phet 6 kind of ends at the Rangsit Railway Station, but continue on to Liap Khlong Prem Road and keep pedaling, you fool! By now the scenery should be quite nice and green—did you drink enough water? Stop anyway and drink some more. Keep going until you can get on to route 3309, which you'll follow until it turns into route 3477, which you'll stay on until you get to Ayutthaya. We don't recommend a ride back unless you have robotic legs, but there are several options: load your bikes onto the cargo car and take the train back, or hire a van ahead of time to meet you in Ayutthaya and take you back home.
The pay-off: Apart from the world-heritage site? The feeling of having gone on a real adventure.
Bonus: The route roughly follows the train tracks, so if you get sick of all this pedaling at any point along the way, stop at the nearest train station and buy a ticket back to civilization.
Route 3 – 3km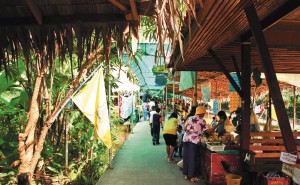 Bang Kachao or Phrapradaeng: Step Back in Time

The vibe: Many people live in Bangkok for years without ever knowing what this vast green expanse of nothing on the map is. Apparently there's an old decree that says no building in this area can be taller than the tallest palm tree. Consequently, the entire expanse of mangrove swamp—technically in Samut Prakan province—is veined with raised cement pathways dotted with tiny clusters of houses-on-stilts every few hundred meters.
The ride: We find it's best to meet your posse at the Tesco on Rama IV, as it's easy to find and you can park there. Head out onto Kasem Rat Road and go south, over the train tracks, until you see the gate for the Bangkok Port in front of you. Turn right into the little road that goes past the 7-11 next to Wat Klong Toey and suddenly you'll be staring at the mighty Chao Phraya. Pay here (B20 per person) and load your bikes into a boat. Once on the other side, ride straight for about 800m and turn left at the second intersection into the park to get your bearings. (Note: You can also rent bikes at the pier on the far side of the river for a small fee).
The pay-off: You can explore on the lightly-trafficked roads or relax in the park, but what most people do is get lost on the raised pathways that curl off into the trees. Monitor lizards, crazy birds and fist-sized snails will likely be your only companions as you ride through silent jungle. An occasional friendly "Hello!" to anyone you happen to pass can't hurt. If you feel up for it, search out Bang Nampeung Market for a great taste of local life. Be warned, you do have to be a fairly competent rider to handle these tracks, which often have 90º turns and can be pretty high up. You certainly do not want to fall into the muck below.
Bonus: As it will be Songkran, you'll likely get a peek into a more traditional, laid-back form of celebrations than you would on Silom.
Route 4 – 3km Track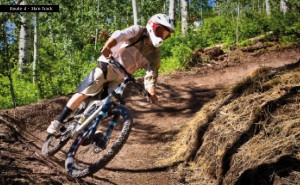 Club 11 Offroad Track: Pedal Harder, Sir!

The vibe: Bangkok is flat and cycling here isn't very challenging. But never fear! There exists at the 11th Infantry Regiment (11 Phahol Yothin Rd., Bangkhen) up past Chatuchak Park an off-road mountain bike course that can challenge you with sand-traps, hills, ditches, berms and ponds without ever you having to leave the city.
The ride: They don't rent bikes there, but the fee to ride the 3km trail is only B30. It's often used by hardcore riders who want to beat their best time (7 or 8 minutes if you're a total badass) so be aware of your surroundings if you're taking it slower than that.
The pay-off: Apart from getting your adrenaline racing, there are drinks and even showers available at the canteen if you want to freshen up after your laps. And remember, just because it's Songkran doesn't mean soldiers with guns like being splashed with water.
Bonus: They might have a few full-suspension bikes you can borrow for a lap or two. To hell with safety, and let's see you really ride!
More Cycling Hot Spots
Time Travel
Fancy a day spent cycling past Chedi Chet Yot or up the steps of Preah Vihear but don't actually have the time to head there? Why not just jump in a cab and visit Muang Boran, the Ancient City (02-709-1644. Open daily 8am-5pm. www.ancientcity.com). This cultural park, about 30 minutes past On Nut BTS, features 3/4 size replicas of most of the Kingdom's major historical sites set in a gorgeous parkland in the shape of Thailand. You can rent bikes there—B50/B150 (single/three-speed) or bring your own and pay B50 to cycle round the Kingdom in an afternoon.
Dirty Deeds
At just two and half hours from Bangkok, the area around Khao-Eto in Prachinburi, is the place where mountain bikers in the know come to get their off-road kicks at weekends. There are actually three main trails that cover varying levels of difficulty, there's also a bike shop for repairs nearby and a restaurant for recharging the batteries. Get full details and maps of the trails at http://www.mountainbiketoursthailand.com/ as well as loads of other suggestions for other MTB trails all over Thailand.
Historically Geared
Best known for its cute floating market and fire flies, Ampawa, the small town in Samut Songkram is also a great place for a bike trip. As well as offering bikes to rent Thai Theeb @ Ampawa (2/1, Prachasret Rd., Ampawa, Samut Songkram 082-777-5999. Mon, Wed, Thu 10am-8pm/ Fri-Sun 10am-9pm) provide maps to places of interest and historical sites in the area so you can explore on your own. Cost: free for rides under 30 min, B50 for 60min, B300 for a day.
Park and Pedal
Wachirabenchatat Park (Suan Rot Fai) is a great picnic and cycling spot. You don't even need a bike here, with rentals available for B20-30 each, depending on the bike model or your negotiation skills. They'll take your ID so you don't cycle off into the sunset with their precious ride. There's also a butterfly park and a faux urban environment (complete with traffic lights) for kids to practice riding their bikes.
End of Story
If you don't want to go it alone, there are plenty of guided tours of the city that can show you around, and usually include a bike, guide and snacks in the price.
The best-known one is Spice Roads (14/1-B Soi Promsi 2, Sukhumvit 39, 02-712-5305, (www.SpiceRoads.com). Their Bang Kachao tour is B1,000 for a 1/2 day trip but they also do rentals from B400 per day
Alternatively, try Grasshopper Tours (www.GrasshopperAdventures.com), Co van Kessel Tours (www.CoVanKessel.com), or Follow Me (www.FollowMeBikeTour.com).