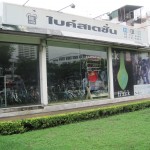 This month's featured bike store in Thailand is Bike Station. Bike Station is located in the Suan Luang area of Bangkok. The shop is situated on the corner of Phathanakan Road and Soi 58. The storefront is large and easily seen from Phathanakan Road.
The shop's prominent location serves the residents of Suan Luang and other neighboring east-side districts of Bangkok. Specialized, Merida, Bianchi, and Colnago are a few of the major brands that make up the main product line of this store. A great selection of top-quality tools from Park Tool is also on display. Some hard to find items such as large size cycling shoes and hard case bicycle transportation bags make Bike Station a shop worth knowing about regardless of your whereabouts in Bangkok.
Bike Station
2456 Phathanakan Road (corner of Phathanakan Road and soi 58)
Khwaeng Suan Luang, Khet Suan Luang
10240
ภาษาไทย [+]
Bike Station
2456 ถนนพัฒนาการ (หัวถนนพัฒนาการ ซอย 58)
แขวงสวนหลวง เขตสวนหลวง
กรุงเทพฯ 10240 Tel. 027-229-999, 027-229-004
[Thailand Distributor: SPEEDPLAY] GPS – N 13 43.958, E 100 38.880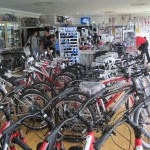 The sales staff at Bike Station speaks Thai and English. A wide selection of parts and accessories from Shimano, Mavic, Campagnolo, and Sram are available for off-the-shelf purchase or for timely installation on your bike by the service department. While you are there don't forget to ask about the weekend and holiday rides organized by the shop. Happy riding!