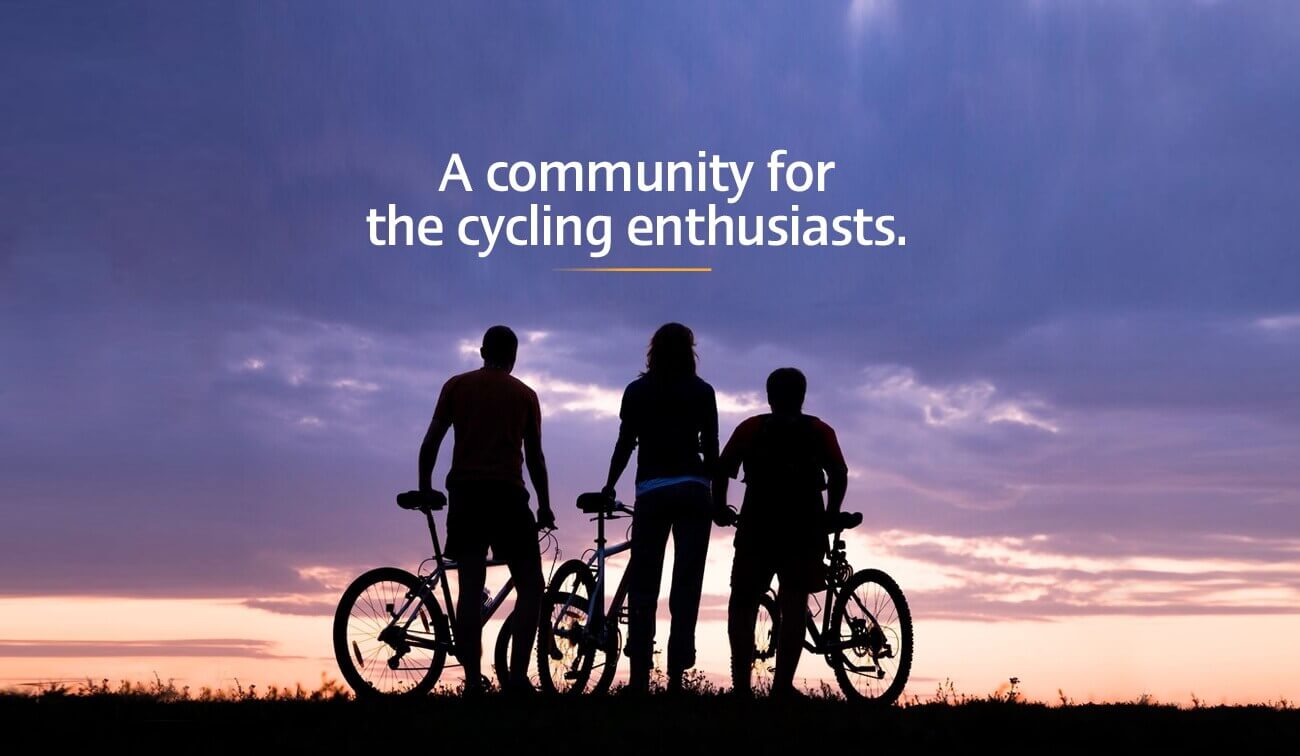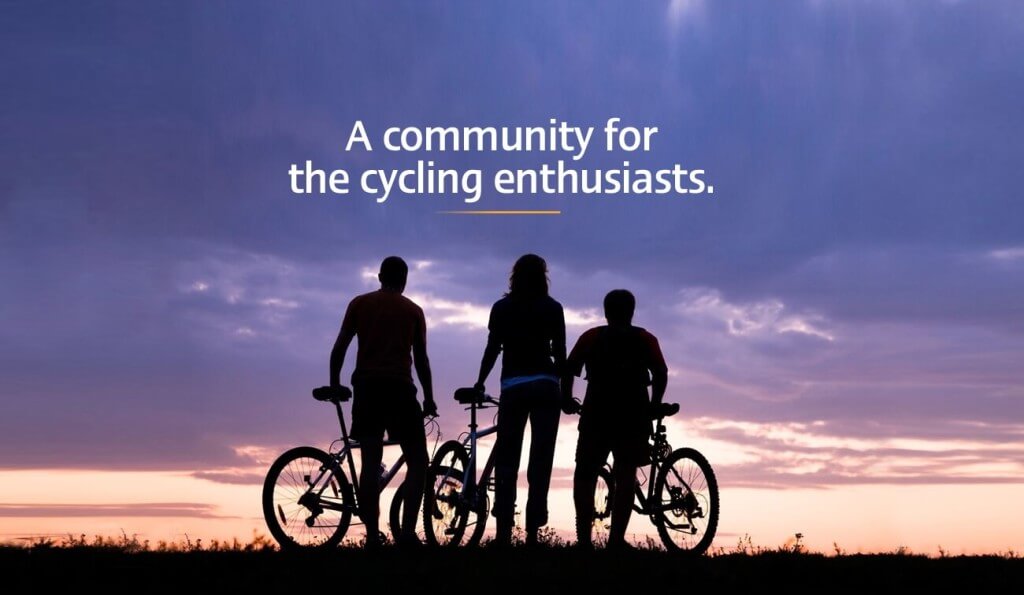 NOTE: Official Name is Happy & Healthy Bike Lane
Latest report about the opening date for Suvarnabhumi Airport's cycling "Sky Lane" is that it should be open in 3 weeks. So, perhaps we'll be riding on the new 23.5km "Sky Lane" or the separate Training Track by mid November.
We said farewell to the old green cycling path around Bangkok's airport back at the beginning of June this year. At that time it was speculated that the airport cycling path improvements project was to take four months to complete and that the new track would be open by end of September or beginning of October 2015.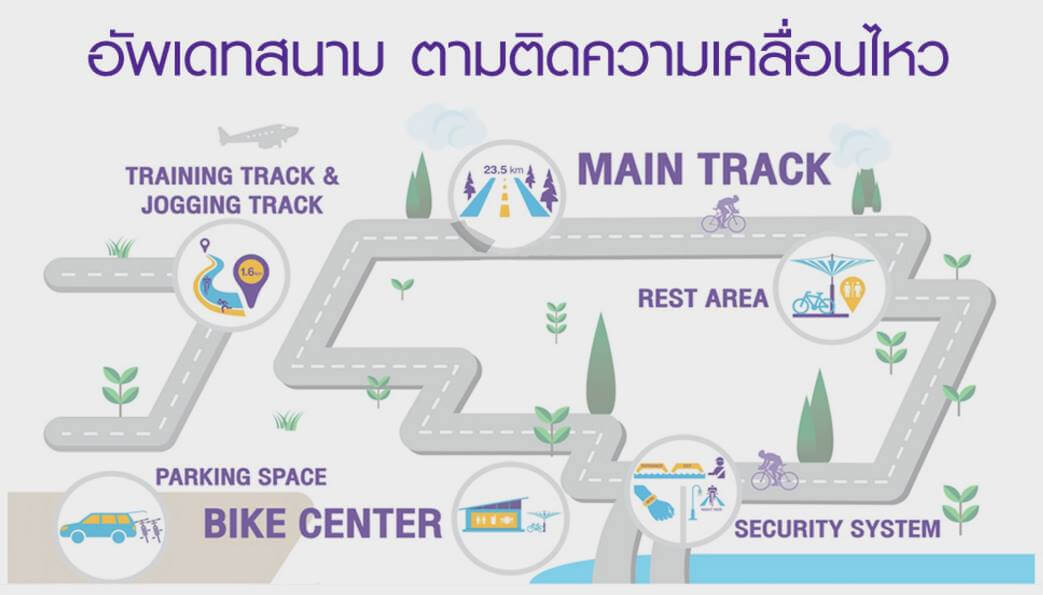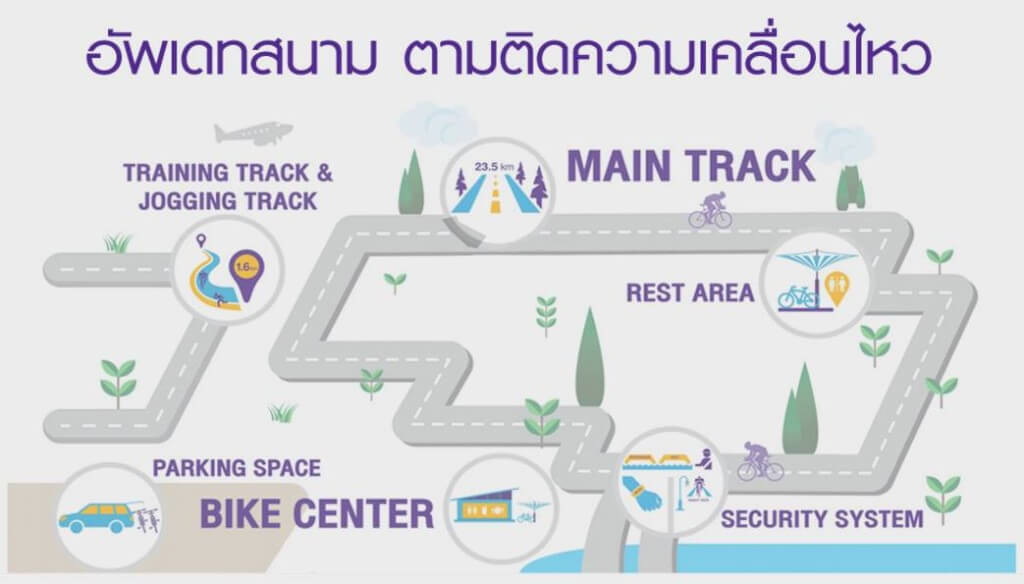 The new improvements to the cycling route will be significant and originate from a massive amount of feedback from thousands of users who frequented the old track on a weekly if not daily basis. The weekend crowds on the green path were truly astonishing and resulted in the decision to widen the new "Sky Lane" to accommodate more riders along its 23.5 kilometer route.
Additional improvements include: lighting (to accommodate night riding), restroom facilities, a bike service center, rest areas, a new parking lot, and a new Pass/RFID Chip system called SNAP that can be used to make purchases at SKY LANE facilities as well as track your ride data. The SNAP bracelet will be available from October 19 through november 5 at nine separate locations throughout Bangkok: ProBike, Bike Station, Cycle Square, FreeLife Sport, Mega Bang Na, Central Plaza Rama 9, Central Plaza Lat Phrao (2nd Floor), Siam Paragon (Floor G), and EmQuartier (Phrom Phrong).
Main websites for Suvarnabhumi Airport's "Sky Lane" cycle path –
Sky Lane Community FaceBook page – https://www.facebook.com/skylanebike
---
UPDATE — UPDATE — UPDATE




Sky Lane open Dec. 26, 2015
All cyclists are invited to enjoy the opening of the Suvarnabhumi Airport "Sky Lane"
Facilities that will be open from 6:00 am until 6:00 pm (0600-1800) starting December 26, 2015:
– 23.5 km cycling track
– Rest areas and bathrooms along the cycling track at three separate points
– Bridge over roadway so cyclists can easily and safely access cycling track
– 1.6 km Training track & Jogging track
– Parking area for 1,500 cars
– Bathrooms at the parking area
Facilities that will be added to the Sky Lane cycling track in 2016:
– Lighting and extended operating hours to allow for night time riding
– Food and beverage service area
– Bicycle and equipment rental shop
– SNAP bracelets*
*For the first month of operation cyclists will be allowed entry to the Sky Lane without a SNAP bracelet. However, after January 2016 riders will need to have a SNAP bracelet to get on the Sky Lane cycling track. Thai nationals are able to purchase SNAP bracelets at several retail locations in Bangkok but foreigners will need to purchase a SNAP bracelet at the Sky Lane main entry point. When purchasing the SNAP bracelet, all foreigners will need to present their passport.