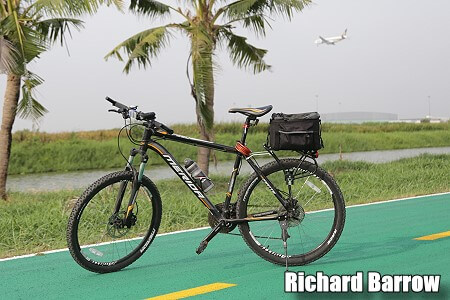 Some good news for cyclists in Bangkok is that a new cycling track has been opened at Suvarnabhumi Airport. If you are tired with fighting traffic in the city, then head to the airport for a brand new dedicated cycling track that is just over 23 kilometers long. There's no traffic lights or intersections. No motorcycles or joggers. Just cyclists. The track has only just opened and for the time being it is free of charge to use. Though this may change in the future.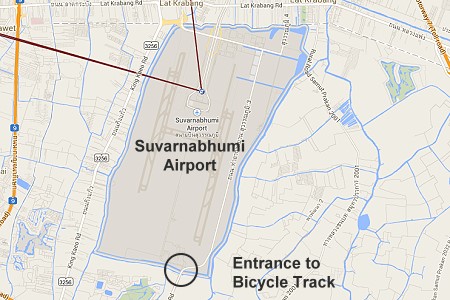 The cycling track goes around the perimeter of Suvarnabhumi airport. It's easy to spot on this Google map as it follows exactly the irrigation canal protecting the airport from floods. The entrance is in the southeastern corner at the point where the main road crosses over the irrigation canal and embankment. Coming from Bang Na-trad you cross over this bridge first and immediately do a U-turn under the bridge. Coming north from the Motorway, you need to take the road down the eastern runway which is the Bang Na-trad exit. Just before the bridge I marked, turn off left.
GPS Coordinates: 13°38'55.0″N 100°44'46.5″E (13.648614, 100.746258)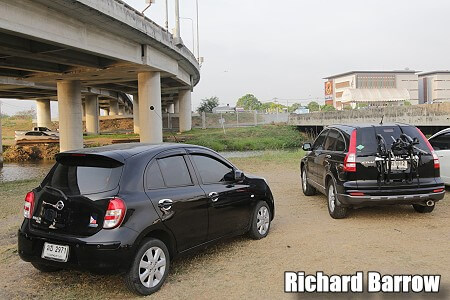 When you arrive, you can park your car under the bridge if you are lucky. But if you come in the evening or weekend you will probably have to park in the sun. It's not a proper car park. The airport bus from Samut Prakan goes over this bridge and so you could take a folding bike on this bus and get off here. For the airport bus from Bangkok, you will come in from the northern end and terminate at the bus station in the Northeastern corner. So, just ride down the eastern road. You can also put a folding bike on the Airport Express and then again ride down the eastern road to the starting point.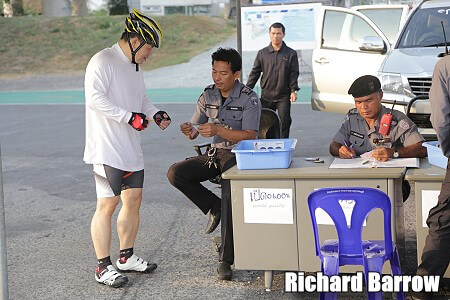 There isn't a toilet block or any restaurant at the starting point and so make sure you prepare yourself before you come. Though I did see a male cyclist shooting rabbits under the bridge. Not so easy though for women to pick flowers here. During peak times you might see some mobile vendors at the starting point selling food and water. Once you unload your bike, you go to the checkpoint. Here you need to exchange your driver's license for an ID card. Presumably a photocopy of your passport would do. Only one person in your group needs to do this. There is no fee to pay. The sign here says open at 6 a.m. and closed at 5:30 p.m. Though another sign says you must be off the cycle track by 7 p.m.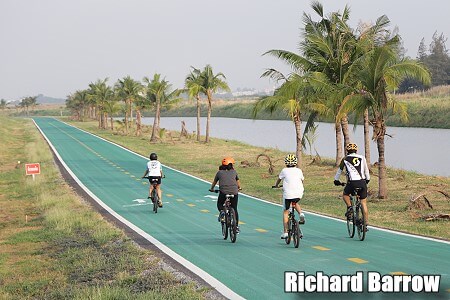 The cycling track itself is just over 23 kilometers long. Every 250 meters there is a sign printed on the track showing your progress. It's level for much of the way though there are a few inclines. The track is one way and so once you are on it there is no turning back. You are committed until the end. As you can see, there aren't many trees and it's open like this the whole way. On your right is the irrigation canal. On your left is the earthen embankment. Beyond that is a fence topped with razor wire. It took me about 90 minutes to finish one lap which included stops to take pictures.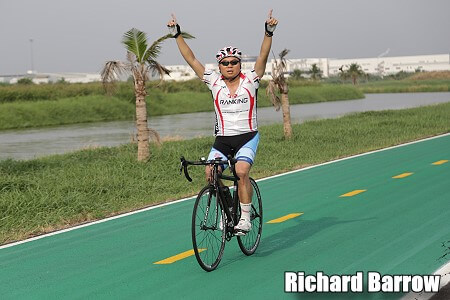 There is talk of adding lights along the track and also toilet blocks. They will probably start charging once they do this. But it will then be open until late at night. I think the cycling track is great for cyclists who need to train for cycling events. You can go as fast as you like. As there are two lanes they can easily pass slower cyclists like myself. If you are there in the late afternoon, it might be nice to stop for a picnic along the Western side of the airport and watch the planes take off and land. For much of the route it was very quiet which was unexpected. Though quite windy at times. Only one spot did I smell aviation fuel.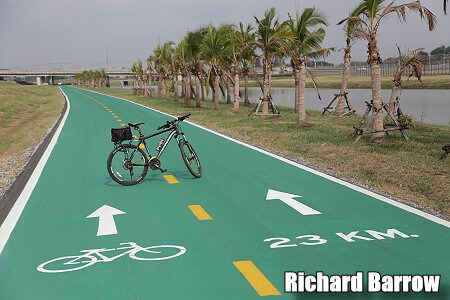 On my @RichardBarrow Twitter account I asked people to post any questions they may have. Here are my answers:
RT @cyrbkk: How to get there from Central BKK? I don't have a car. Is it allowed to take bicycle in Airport Link? => You can take a folding bike on the airport bus or airport express train. There is talk of allowing full sized bikes on the train but not yet.
RT @enra2014: Is there also an option to rent a bike? => There is no-where to rent bicycles there at this moment in time
RT @BKKMelissa: How can people without cars direct a taxi driver to the track? => If you come in from the motorway end, you need to turn left for bus terminal and then turn right to head south for Bang Na-Trad exit.
RT @m_p_y: How hot is it? Any wind around there? looks like no trees, etc.. => I didn't find it too hot though obviously best to go at the end of the day or really early. Not many trees. Plenty of wind though.
RT @johntylerbkk: I have heard there is a club to join to use track. Is that true? => Doesn't seem to be correct. The track was built by AOT as a Corporate Social Responsibility project.
Feel free to add any more questions in the comments below.
---
**September 20, 2014 updates to the information in this article –The bicycle track at Suvarnabhumi airport is closed for four days from September 22-25 for improvements and for the southern entrance to be shut down permanently. The northern entrance from Lat Krabang Road is set to open from September 26 onward. A large parking lot area is open for use by visiting cyclists at the new Lat Krabang Road entrance GPS – N 13.708931, E 100.774777. In addition, a 1 km short track has been created, along with the provision of restrooms and overhead lighting for cyclists.**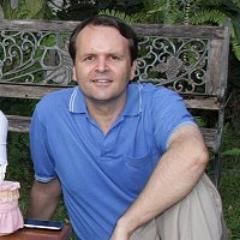 Richard Barrow
Full time independent travel blogger based in Thailand. Tweeting and blogging anything to do with Travel, Food and Festivals, and translating Breaking News from the Thai media. Plus avid weekend cyclist, riding everyday!?
richardbarrow.com
|
twitter
|
facebook