Our latest Top Pick Event in Thailand is the 2nd Bangkok Bike Expo 2013. The first installment of the Bangkok Bike Expo was during the first week of May 2013, and evidently because of its success and the public's response organizers decided to go ahead and put together a second event in October, just five months after the first. We (BicycleThailand.com) certainly had a great time at the 1st Bangkok Bike Expo and are looking forward to supporting and participating in this second event as well. The second event is promising more booths, and more cycling retailers and distributors on hand. Suggestions and observations from visitors to the first expo (such as moving the bicycle parking area, eliminating the TAT displays, and altering the bicycle/pedestrian traffic flow of the event, etc.,) are said to be incorporated into this second event – being handled by the same company that organized the first Bangkok Bike Expo. View this and other great cycling events in Thailand on our EVENTS calendar page.
17 – 20 Thursday thru Sunday : Nonthaburi
2nd Bangkok Bike Expo 2013. Organized by NCC Exhibition Organizers. Location: Exhibition Hall 4, Impact Arena, Muang Thong Thani, Nonthaburi province. This four day expo event will highlight bicycle distributors, retailers, tourism initiatives, and promotion of the sport of cycling in Thailand. View the event poster by clicking here. Visit the official website of this expo. Bicycle, accessory, and clothing retailer booths will be open from 10am until 9pm every day of the event. Read the BicycleThailand.com wrap up article from the May 2-5 edition of the Bangkok Bike Expo.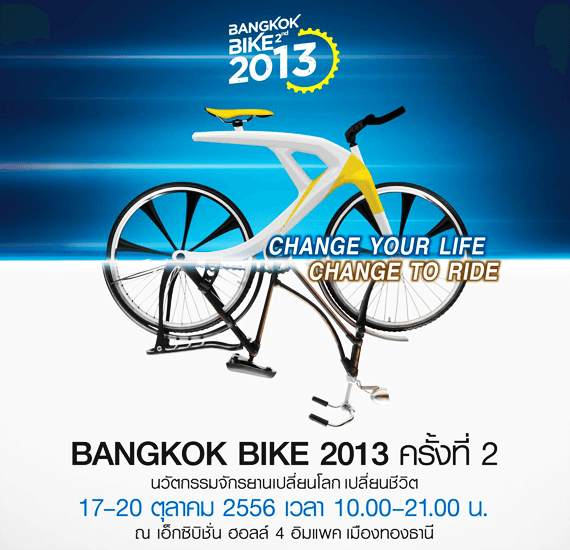 Expo is open to the public every day from 10am until 9pm
BicycleThailand.com is highlighting this event since the organizers have committed to make necessary changes observed from their first foray into a cycling-related expo and because such an event raises bicycle awareness (in support of the Thai cycling community) to Thailand's general public. As we've said before, "We believe that all efforts that perpetuate the lifestyle and sport of bicycling are beneficial." If you are organizing or know of a cycling event in Thailand that you would like to see listed on our EVENTS calendar page, or as a future Top Pick Event, contact us with event details at Events@BicycleThailand.com
Event details required:
1. Name of event
2. Date(s) of event
3. Exact location – Tambol, Amphoe, and Province. Include additional information if available such as GPS coordinates or description of registration and/or start point of event.
4. Type of event: MTB, Road, Casual, City Ride, Festival, etc.,
5. Cycling distance(s)
6. Registration: Process and location
7. Fee(s)
8. Event categories
9. Website, FaceBook page, email, phone number or other contact information
10. Other details of event