I just spent the last four days at the Bangkok Bike Expo 2013 and wanted to share a couple of venue highlights and a few of the products that really stood out to me while I was there.
The venue included two distinct features that I thought were great. First off, the hall had a large parking area where expo attendees could have their bicycles parked in a secure place while they enjoyed the show. This feature was well advertised by the event organizers beforehand and the result was many cyclists rode their bikes to the show. While at the expo, I witnessed several cycling clubs and groups arrive together and make use of this parking area. Organizers should take note and include similar parking areas in all future events. Recognizing the concern of cyclists to have a safe and secure location to leave their bicycles while they enjoy entrainment and shopping venues is key to encouraging more recreational bicycle use as well as city commuting.
The second feature that I thought was a great idea was the designated bicycle and pedestrian 'lanes' at the expo that were created to help with foot traffic flow and allow for bicycle test riding. Although the lanes failed to keep people from meandering across the dividing lines in their search for their next purchase, the concept did successfully allow attendees to pedal test bikes a few laps around certain areas of the hall uninterrupted. A little more planning could make this feature real popular at all future bicycle expo type events.
Several distributors and retailers were on hand at the expo showing off new models of bicycles.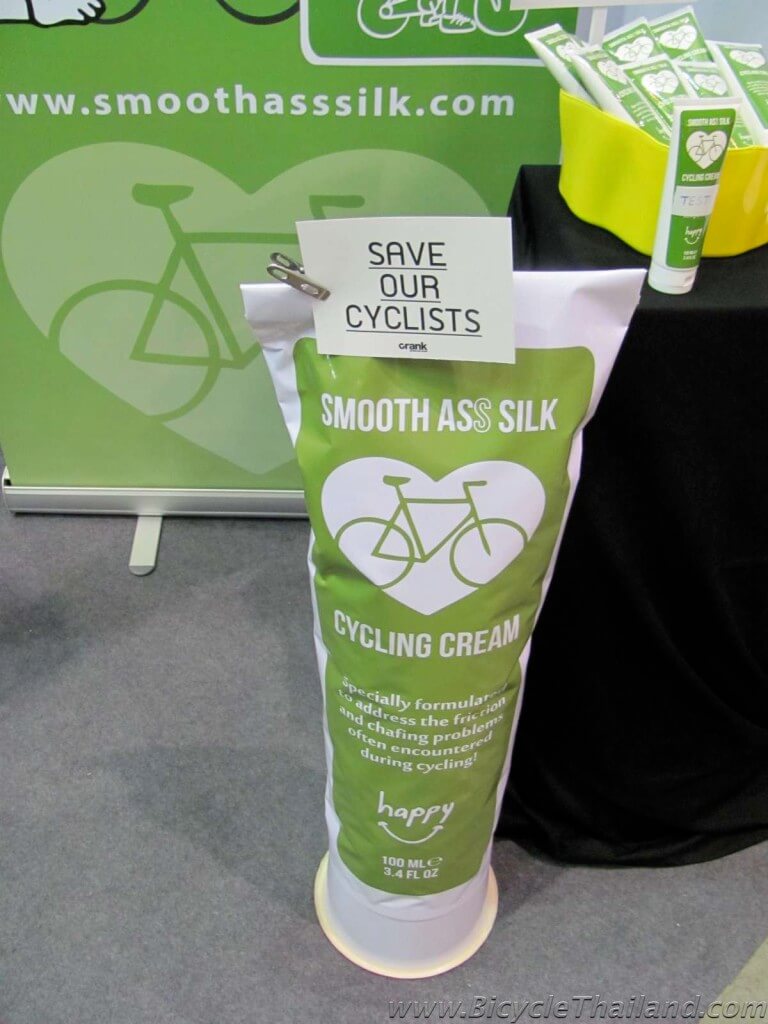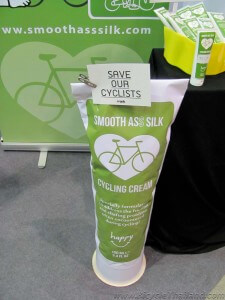 I saw everything from kids' bikes to adult trikes on display. But bicycles are exactly what I expected to see at a bike expo, so I started to wander the aisles in search of products that stood out the most to me. I searched for products that were either new to Thailand, fulfilling the need of niche cyclists, or presenting a new idea. Here is what I found:
Smooth Ass Silk
Finally, someone has brought chamois cream to Thailand. Cyclists round the world know and love this essential cream that prevents chafing and irritation. It's currently available for purchase online at their website or at Bike Zone in Amarin Plaza. Evidently, if you go on their website during the next couple of weeks and fill out an information form they'll send you a FREE 10ml sample packet so that you can try the cream out for yourself. www.smoothasssilk.com
Wizard Shield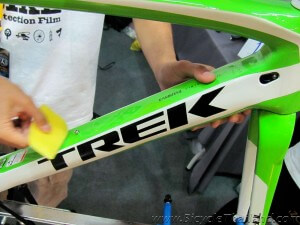 Bicycle frame and fork protection film that you can apply yourself. MTB or Road bike kits come complete with protective film pieces shaped to fit every major surface area of the bike, a bottle of application solvent, one squeegee, and instruction manual. Wizard Shield is currently being sold at Smart Bikes in Pathum Thani or you can order directly from the maker. Frame kits are 2,400THB (MTB or Road). Wizard Shield kits to cover crank arms are intelligently labeled by make, model, and year of crankset. Kits to cover MTB suspension forks are coming soon! Contact Khun Chaiyut (English speaking) 081-961-0757, 088-692-0447 (sale.wizardshield@gmail.com) www.wizardshield.com
Rit Bicycle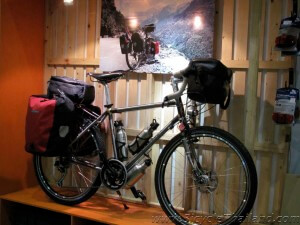 Custom designed touring bicycles by Khun Tanin Rittavirun (Rit). You can tell that Khun Tanin really puts a lot of thought into the gear that he makes and endorses. He is an avid touring cyclist and his many years of experience has influenced the design and features of his bikes. Every Rit bicycle frame has several mounting points, lots of tire clearance, and solid construction. In addition to his bikes, Khun Tanin endorses a small range of gear (racks, bags, tents, etc.,) that are the definition of well thought out products to serve serious touring cyclists. Get in touch with Khun Tanin through his FaceBook page www.facebook.com/ritbicycle or book a cycling tour with his company at www.explorertime.com
EXT Bike lights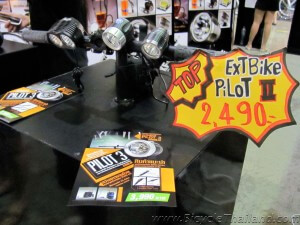 Single and double beam waterproof headlights made from aircraft aluminum. These lights use a lithium-Ion battery and they have models available in 3.7V and 7.4V, producing lights with brightness range of 500-2200LM. Price range starts at 1,500THB for the Pilot IV (3.7V) single beam model and go up to 4,990THB for the BIG EYE (7.4V) dual beam model. Their office is at 672 Soi Rama 2, soi 6, Khwaeng Samae Dam, Khet Bang Khun Thian, Bangkok 10150. Tel. 084-554 5424 or visit them on the web at www.extbike.net
Haru Vintage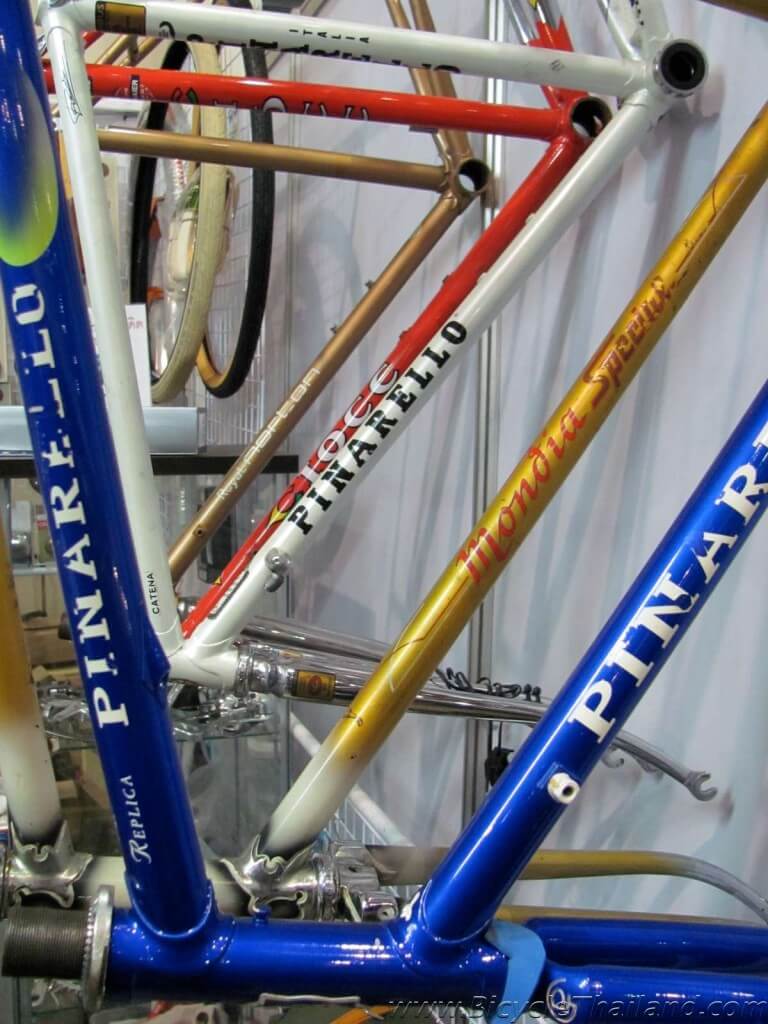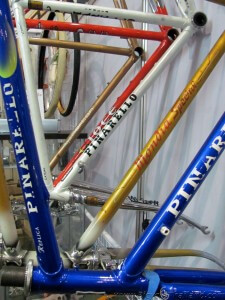 Collecting and refurbishing vintage bicycles is becoming ever more popular in Thailand and shops like Haru Vintage Bicycle & Parts is a testament to the growing desires of vintage bike lovers. Haru Vintage has a wide range of old groupsets, chromed fenders, leather saddlebags and saddles, and so many other little bits to put that finishing touch on a rebuild or retro-look bike. Haru Vintage is located on Nakhon Chai Si road on the way out of Bangkok going towards Nakhon Pathom province. Khun Jumpol (nickname 'Jeab') is a regular sight at weekend bicycle markets and is a well known personality in the vintage bicycle circle here in Thailand. And of course you'll find him at every Bangkok Vintage Bicycle Show (held annually at Silpakorn University). Stop in at the Haru Vintage Bicycle & Parts shop location or contact Jeab on FaceBook www.facebook.com/pages/haru-vintage-bicycle-parts or by telephone 086-800-9929.
DOTS-Studio wood veneer bicycle handlebars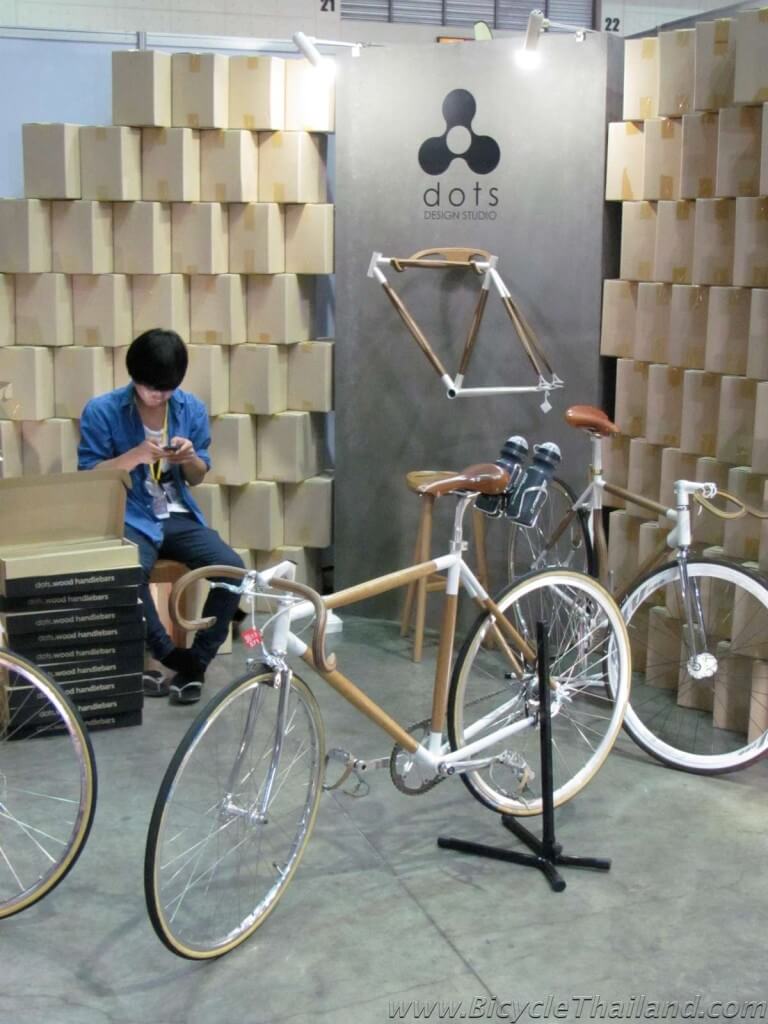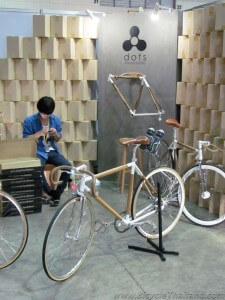 The sleek look and feel of wood handlebars for your beloved bicycle is a reality made possible by DOTS-Studio. The handlebars offered by DOTS-Studio really do class up any style of bike and are a definite attention getter. The company makes the attractive wood grain match the curvature of the handlebar by using a wood veneer over top of metal. DOTS-Studio has a couple of different designs of handlebars to match most bike styles. My favorite design style were the bullhorn bars that would really add that extra special touch to any fixed-gear or single speed bike. Look for these bars at cycling lifestyle shops like Sixty-Fixy, SeaLee on ChokChai 4 and SeaLee Urban. You can visit DOTS-Studio on the web at www.DOTS-Studio.com to see photos of the handlebars as well as some of the other home interior products they design.
Contour HD cameras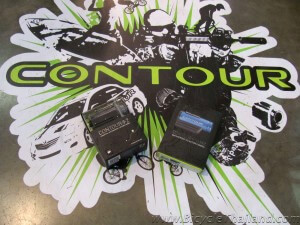 High Definition cameras that can be mounted and strapped to various sporting equipment as well as your body. I have used GoPro cameras before and we're all familiar with the great quality images they capture, on and off the bike. But the Contour cameras have a slimmer conical design and much of the mounting equipment seems less bulky than what's offered with other sports cameras. Contour is definitely worth a look if you're in the market for a sports camera to record your epic rides. In the Bangkok area Contour cameras can be found at the following bike shops: Sport Bicycle, Bike Specials, Let's Bike, Amorn Bicycle, Bike Zone, CromoZone, Velo Thailand, and Smart Bikes. In the north check out: Velocity and SN Bike. Down south go to: Beach Boy bike shop in Phuket. Price range: 8,899THB-15,999THB. Visit them on the web at www.thainavi.co.th
Nirve bicycles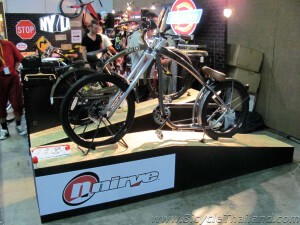 The Nirve brand bicycles were on display at the NY/LA booth and even though the NY/LA shops in Bangkok, Khon Kaen, Pitsanulok, Pattaya, and Phuket are not bike shops they do offer an interesting 'blast to the past' rockabilly feeling with their clothing, accessories, and iconic merchandise that just might have you leaving one of their stores with more than a bicycle. The Nirve bikes are cool, no doubt about it. Prices start at 16,000THB for the military inspired 'Kilroy' model (available ONLY in olive drab color) and go up to 28,000THB for the 'Switchblade' and 'Cannibal' models. Find Nirve brand bikes at NY/LA shops located inside these shopping malls around Thailand: 2nd Floor Paradise Park, Bangkok, Ground Floor The Esplanade Ratchadapisek, Bangkok, 2nd Floor Central Plaza Chaeng Wattana, Bangkok, 2nd Floor Mega Bangna, Bangkok, 1st Floor Central Plaza, Khon Kaen, 1st Floor Central Plaza, Pitsanulok, 2nd Floor Central Festival, Pattaya, 2nd Floor Central Festival, Phuket.
View more photos of the Bangkok Bike Expo 2013 on the BicycleThailand.com FaceBook page.
Bangkok Bike Expo 2013 photos from Day 2
Bangkok Bike Expo 2013 photos from Day 3
Bangkok Bike Expo 2013 photos from Day 4
Now that the Bangkok Bike Expo 2013 is all wrapped up I'm looking forward to this year's repeat of A DAY magazine's hugely popular Bike Fest event. I spoke with A DAY magazine Assistant Editor Siwapark Jianwanalee at the Expo and he confirmed that A DAY magazine is committed to doing A DAY Bike Fest 2013 in November. Two bicycle expo style events in the same year can only mean one thing, the Thailand cycling community is growing and cycling as a sport and lifestyle is more popular than ever.
---
All of the bicycle shops mentioned in this article can be easily located by visiting the BicycleThailand.com BIKE SHOPS INDEX page.