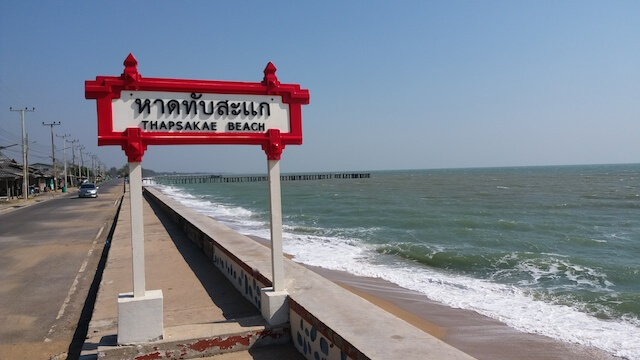 Touring cyclists who are traveling through the province of Prachuap Khiri Khan have a new accommodation option in the small beachside town of Thap Sakae. On a recent bicycle ride down the main beach road of Thap Sakae, I spotted an old bicycle sitting atop a wall with a simple sign attached. I pedaled through the compound gate to discover two newly built structures adjacent to a lovely lake setting.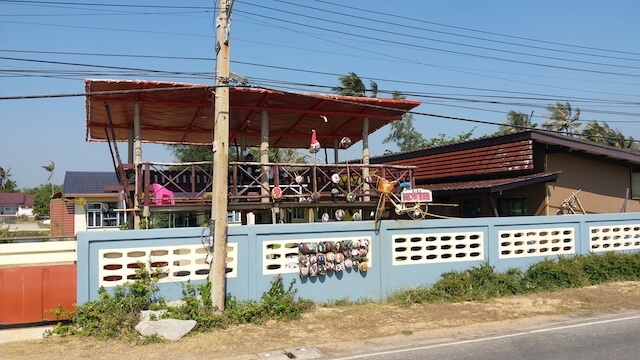 The Bike Hostel in Thap Sakae is situated on the main beach road less than 2km from the main town and the Thap Sakae railway station. While Thap Sakae is admittedly a very quiet little town, with no real local attractions to speak of, this beachside location might be just what a touring cyclist who wants to be away from things for a while needs.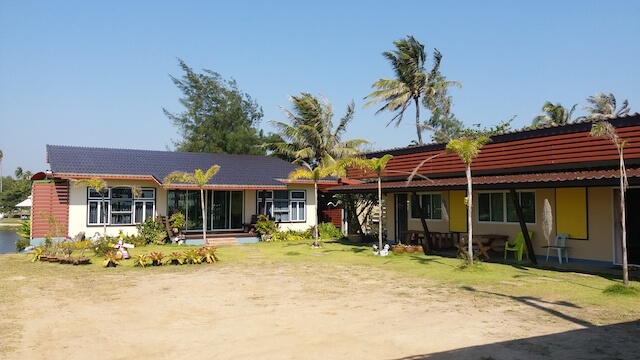 Food options for guests at The Bike Hostel:
There is a food market in the railway station area of the main town (1.3 km distance from The Bike Hostel)
Small Thai restaurants within walking distance (200-500 meters) of The Bike Hostel in either direction along the beach road
The caretaker of the property (Pi Wat) is also willing to use his motorbike to retrieve food or drinks for guests upon request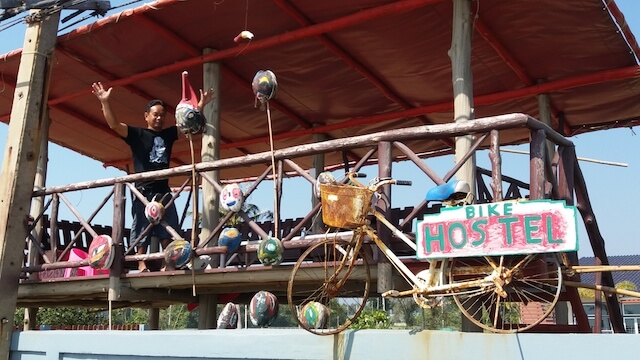 Bicycle safety and repair:
Room types at The Bike Hostel:
500 Baht – Twin bed room (accommodating 1-2 people) with air-con and free WiFi
500 Baht – Queen bed room (accommodating 1-2 people) with air-con and free WiFi
1,000 Baht – Family style room (accommodating 1-4/6 people) with air-con, large indoor sitting area, lakeside porch and eating area, and free WiFi
150 Baht – The Bike Hostel also offers ground area and bathroom/shower use for those touring cyclists who wish to camp with their own tent
Caretaker: Khun Wat (Pi Wat) – Call the phone number on the sign if you arrive and can not locate the caretaker.
Bike Hostel
Thap Sakae Beach Road
A. Thap Sakae
Prachuap Khiri Khan 77130
ภาษาไทย [+]
ไบค์ รีสอร์ท
ถนนชายหาด
ตำบลทับสะแก อำเภอทับสะแก
ประจวบคีรีขันธ์ 77130 GPS – N 11.49662, E 99.63151
---
Planning a cycling trip in Thailand? Want to remove some of the guesswork when it comes to routes and information? BicycleThailand.com offers GPS route data for touring cyclists that can be used on a GPS device, smartphone, or tablet. These routes can be viewed on your device regardless of internet access during your Thailand cycling adventure. Learn more about our Thailand GPS cycle touring routes.