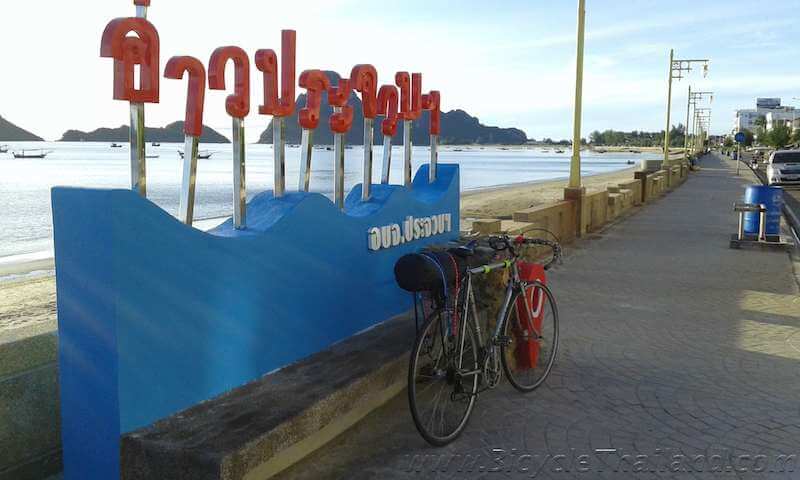 ---
Let's go out from the highway, follow the coast to the south by the small roads, enjoy to cross some fishing villages and lonely beaches and discover some really special place like a red sand beach!
What else to do sometimes when you want to relax and discover some new place than take your bicycle and make a trip from one place to another? I just come back from Belgium where I get a new bicycle, not really new, still a second hand bicycle but this one is really special, an old Peugeot race bike with 10 gears! So I decided to try my new friend on a quite easy trip from my town of Prachuap Khiri Khan to Chumphon city (a distance of approximately 200 km).
1st day : Prachuap Khiri Khan – Ban Krut (75 km)
It's 7 am when I start in Prachuap Khiri Khan, I'm going to Ao Manao. Ao Manao is a lovely beach inside an Air Force base (Wing 5) with a funny story, people from Prachuap are really proud about it. 8th december 1941, the Japanese invaded Thailand in several different places (Phetchaburi, Prachuap, Chumphon, Surat Thani, Nakhon Sri Thammarat and Songkhla). The same day, the Thai government came to an agreement with the Japanese and decided to let them pass through Thailand to Burma, so they sent a telegram to all the places to ask the Thai Army to stop fighting against the Japanese. This order was followed by all of them except Prachuap. They believed the message was a trick sent by the Japanese so that they could win easily. The Thai Army in Prachuap killed around 300 Japanese before government officials arrived by car to Prachuap to ask them to stop! Still now the people here make a joke that they never listen to what the government says!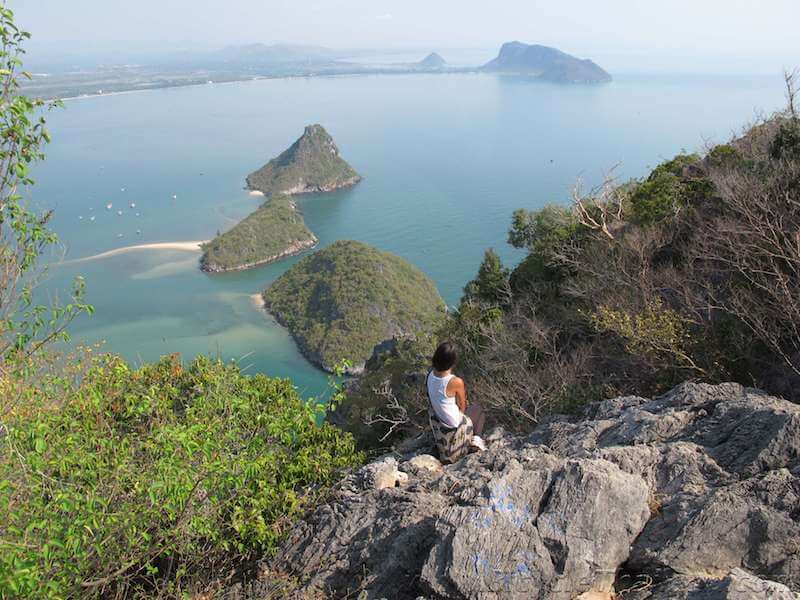 I passed the entrance of Wing 5 and went to Khao Lom Muak, a 280 meters high hill, with a beautiful view of 3 bays: Ao Noi, Ao Prachuap and Ao Manao.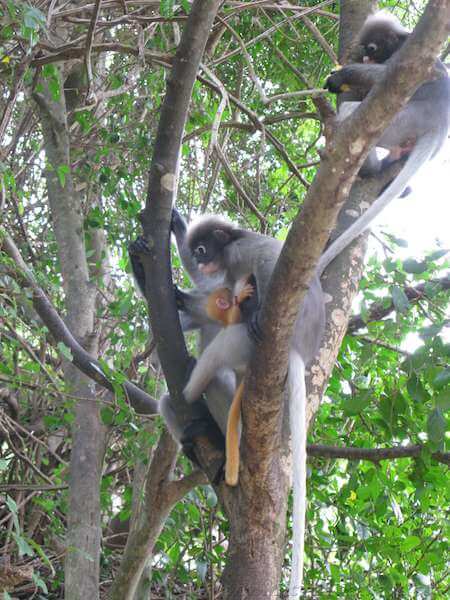 At the foot of Khao Lom Muak there's also some nice monkeys, the Dusky Langur monkeys, with their grey color and white circle around their eyes. They are very friendly monkeys, much more so than the macaques I am used to seeing everywhere. After I played a little bit with them, it's time to continue my journey. I crossed Klongwan and then I had a choice, pay to go inside Wanakorn National Park (100 baht) and ride in some really small dirt roads or go 5 km more to Phetkasem Road. With my race bicycle, I decided the second option. In all the way, it would be the only part of my trip on the crazy and furious Phetkasem Road.
I stopped in Huai Yang for a coffee. Huai Yang is a small fishing village during the low season and a Little Sweden town during the high season where there are between 1,500 to 3,000 Swedish people who come here to escape the winter in their country.
Between Huai Yang and Thap Sakae, the next village, it's almost only dirt roads across field of palm trees. I stopped in Thap Sakae for lunch. Already lunch time? Time goes so fast and I had the feeling I was cycling really slow.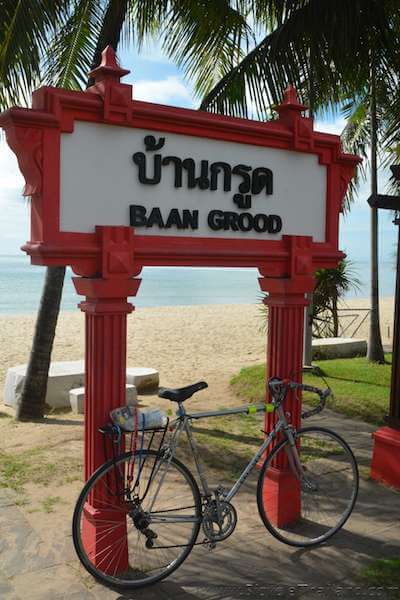 Thap Sakae is also a fishing village, bigger than Huai Yang, with a lot of old wood houses. At this time, I was wondering if I should continue to Ban Krut or stop for the night in Thap Sakae. I ride already 50 km and that is the distance I am used to when I'm on a bicycle trip, except that this time I have a race bike which is quite light and not my city bike from Cambodia. I decided to continue to Ban Krut and I did these 25 km in around 1 hour, this Peugeot bike is so good! At the end it was not so late when I arrived in Ban Krut and it allowed me time to enjoy the long beach and to swim a little bit.
Ban Krut is more a place for the Thai people to enjoy a few days on holiday. Here you have plenty of choice for the accommodation from 250 baht to 2,000 baht (or more). For the people who like seafood, it's also a good choice, it's really fresh and cheap. If you still have some energy, you can go to the top of Khao Thong Sai to enjoy the view and have a look at the temple, it looks like it has come from a fairy tale.
Cyclist recommended restaurant in Ban Krut
Cyclist recommend guesthouse in Ban Krut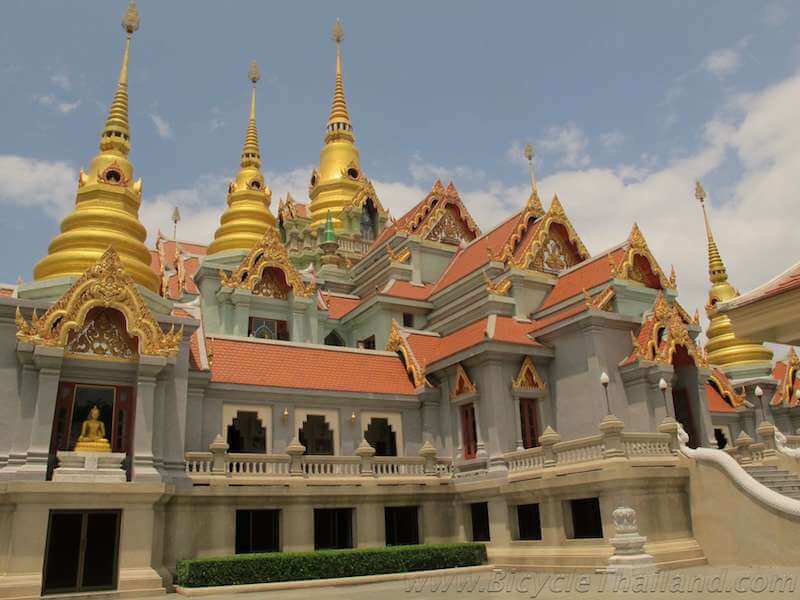 2nd day : Ban Krut – Ban Saphan (40 km)
When I fixed my bag to the bicycle, the men at the guesthouse were surprised at how small it is. It's not the first person who say to me that and many times the same question: 'what do you pack when you go for a trip?' Easy! You just need the clothes for when you're cycling and another set to change for the afternoon and you just wash them every day. And of course, I take a book, always a good idea especially if you stop in some really small village.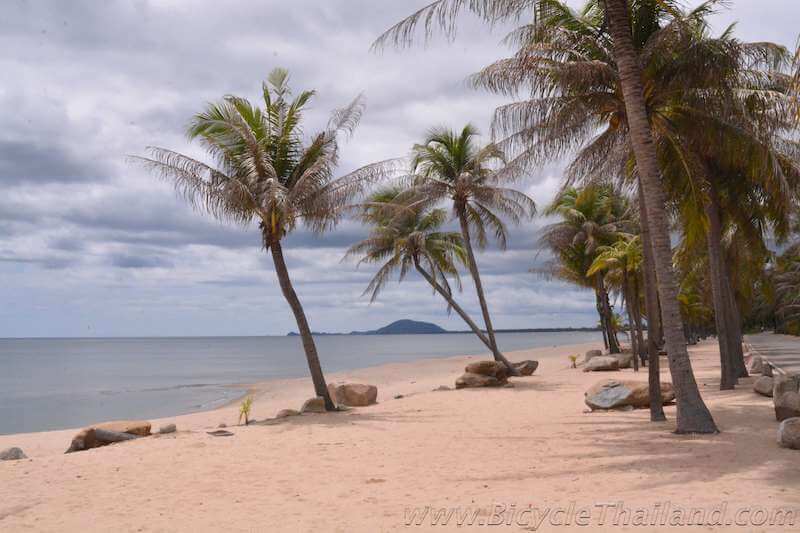 I followed the coast close to the beach for around 10 km before I reached the end of the bay and arrived in Bo Thong Lang, a small bay with clear water and some chairs on the beach and some restaurants, perfect place to eat an early lunch. This time again, the food is really good and really cheap and they didn't charge me anything for the chairs and the umbrella. I was thinking to swim but felt a little bit shy to be the only person in bikini (Thai people swim with their clothes on) and I still had a few km to ride. At this time, I catch the Royal Coast Scenic Road that I will keep to Chumphon.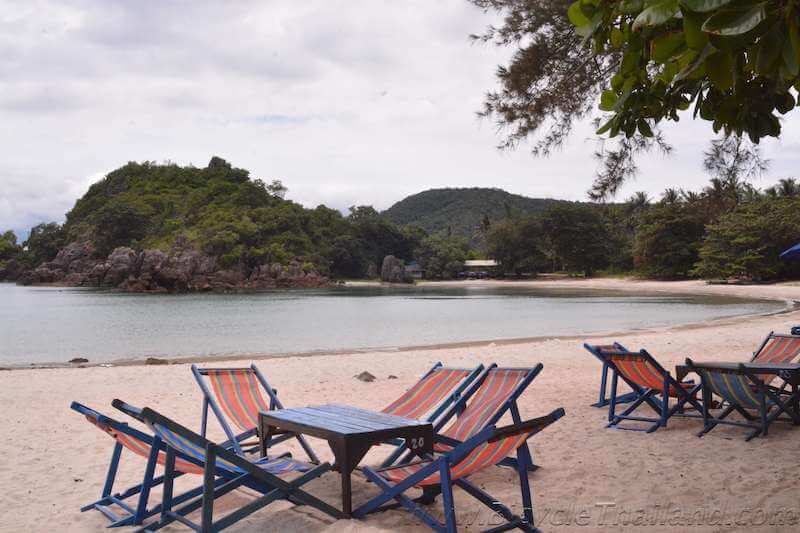 I continued to follow the coast to Mae Rampueng before I had to go more inside the land to go to Ban Saphan Yai, I passed this city and stop 8 km further in Had Suan Luang. I read on the Internet that it is the best place to rent some cheap bungalows right on the beach. I found one for 250 baht, if I compare with the quality that you can get on some islands in Thailand, it's 2 times cheaper. But if you stay there, plan to buy some food or drinks before. There are some bars and restaurants but during the low season there are not open all the time. I had the feeling that I'm like Robinson Crusoé, alone on the beach.
3rd day : Had Suan Luang – Thung Wua Laen (100 km)
In 2 days, I made only half way to Chumphon. I tried to find on the Internet some information about some place where I could stop before Chumphon. Didn't find anything. So I challenged myself to arrive to Chumphon before the end of the day!
Because there was nothing open at 6 am, I had to ride first to Ban Saphan Noi (12 km from Had Suan Luang) to get my coffee and breakfast. It's at this moment that only 12 km seem like really long. After I had breakfast, I took the road to Ban Burd, I could take another road, shorter, but I wanted to stay close to the main road. Around 5 km from Ban Burd, I saw a sign "Ban Fang Daeng". I don't know so much Thai, just know that Ban means village and Daeng means red. Just this word "daeng" made me feel curious. What should be red around here? I follow the sign, took a small dirt road on the left side. I had to get off of my bicycle and continue to walk for around 15 meters before I found the red sand beach. I have never seen a beach like this before in Thailand, it's just so beautiful.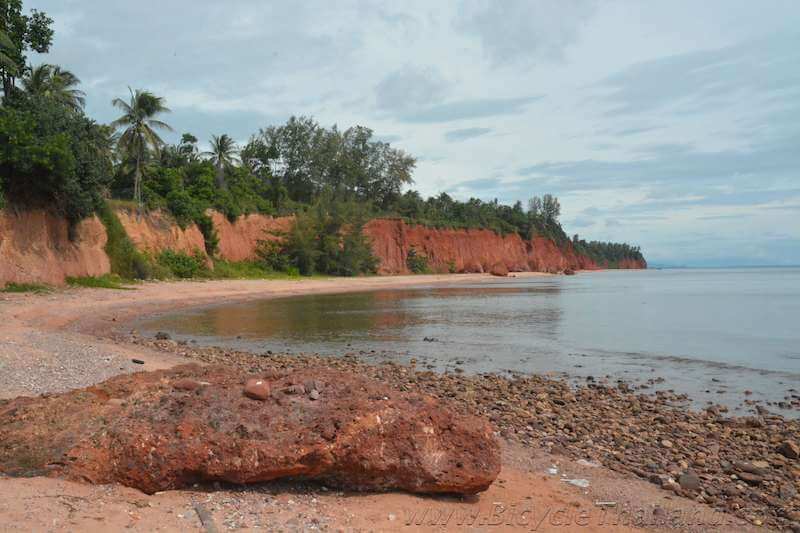 It's still early when I arrived in Ban Burd, I drink another coffee and called some friends to ask them if they know this red sand beach. I have the feeling I just discovered a really special place. Today is a good day. Ready to discover some other place, I make a detour to follow the sign "Kho Teab". Blue seawater, white sand, karst rocks, this beach gives me a feeling of unspoiled paradise islands. 10 km after, I get a flat tire (the first one and not the last) on a road with nothing around me. I start to walk with my bicycle, looking for a repair shop. Fortunately I found one quickly. 15 minutes later, I'm on my bicycle. This country is just so easy for everything! Mmmmh… I ride maybe 3 or 4 km before the same tire is flat again. Again I start to walk with my bicycle to find a repair shop. Again I found one quickly. The guy tried to fix it but this time he tell me I have to change the inner tube but he doesn't have one. "No problem" he said to me and took my wheel, jumped on his motorbike and disappeared.
Helpful advice on how to locate bicycle tube repair shops in Thailand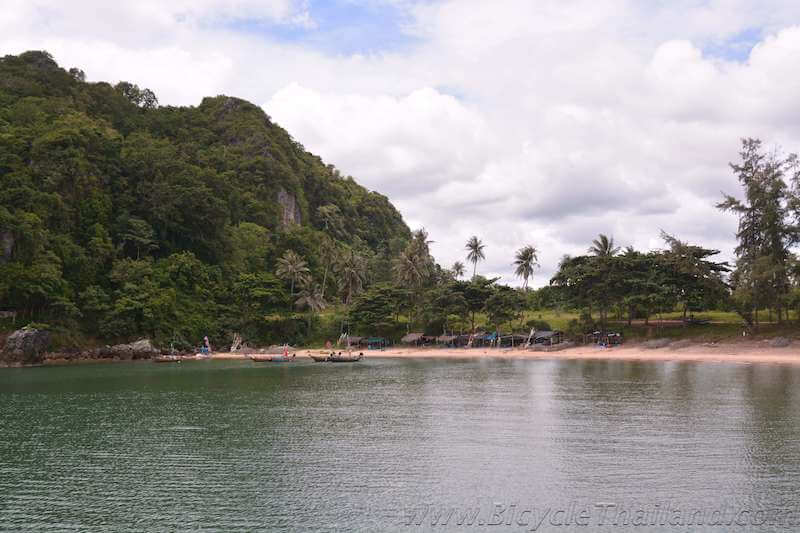 I start to talk with the other people in the shop while I was waiting, my Peugeot is THE star and they offer me 8,000 baht to buy it. This makes me laugh, I bought this bicycle for 1,000 baht only in Belgium. I'm thinking to make a new business and import some Peugeot in Thailand, but now I have to continue the road and I can't sell a friend. I had the time to drink one more coffee and eat some food before the guy came back with my wheel, it's already 2:30 pm and I still have 70 km and feel less relaxed to stop as much as before to take some pictures. So I'm just cycling for maybe 30 km and… guess what? I get another flat tire… again! At this moment, I hated my bicycle! I started to get tired, tired physically and tired of my bicycle, he was so brave for many km and in just a few hours he makes me mad! I had to walk again, I found a repair shop after 3 km, they told me they can't fix it. I look at them totally disappointed. But I'm in Thailand and know something will happen. "You drive the motorbike, I will carry your bicycle, we will go to another shop", said the young man. I was driving, following his instructions, right, left, straight, I had absolutly no idea where I was going but eventually we arrived at the other shop and one more time, someone repaired my bicycle. By this time it was completely dark, I asked if there are some guesthouse not too far away, still 15 km before Chumphon. The two young men directed me, "There's a beach, 2 km from here, Thung Wua Laen, really beautiful place".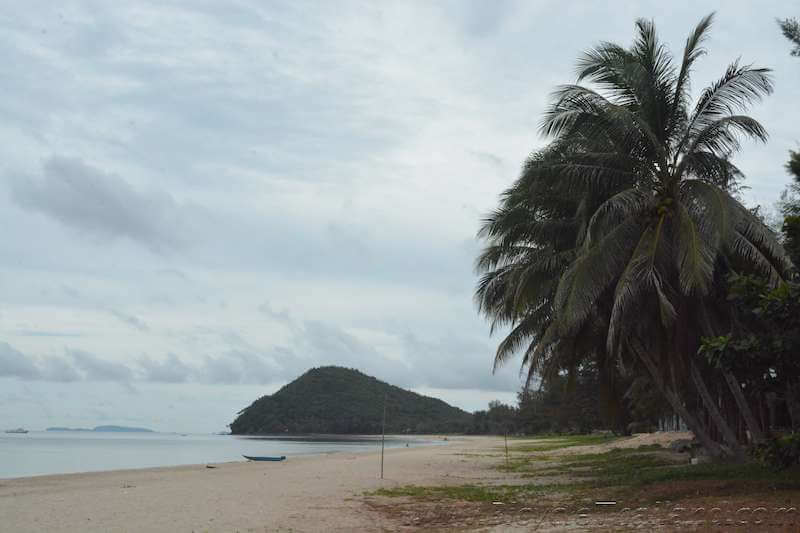 When I arrived in Thung Wua Laen, it took me a long time to find a cheap place. There are a lot of resorts and bungalows but most of them cost 1,000 baht (and more). Finally, I found one for 400 baht, I put my bag inside the bungalow, and went straight to the bar in front. I need a beer!
Cyclist recommended restaurant in Thung Wua Laen
4th day : Thung Wua Laen – Chumphon (15 km)
It's only the next day when I can really enjoy the view of Thung Wua Laen beaches. I have only 15 km left, so I take the time for a huge breakfast and a walk on the beach before I get back on bicycle and ride to the city of Chumphon. The city is only a short distance away but I do worry about getting again a flat tire. I do not get one more flat, and arrive happily in my journey destination, Chumphon city.
---
Planning a cycling trip in Thailand? Want to remove some of the guesswork when it comes to routes and information? BicycleThailand.com offers GPS route data for touring cyclists that can be used on a GPS device, smartphone, or tablet. These routes can be viewed on your device regardless of internet access during your Thailand cycling adventure. Learn more about our Thailand GPS cycle touring routes.
---