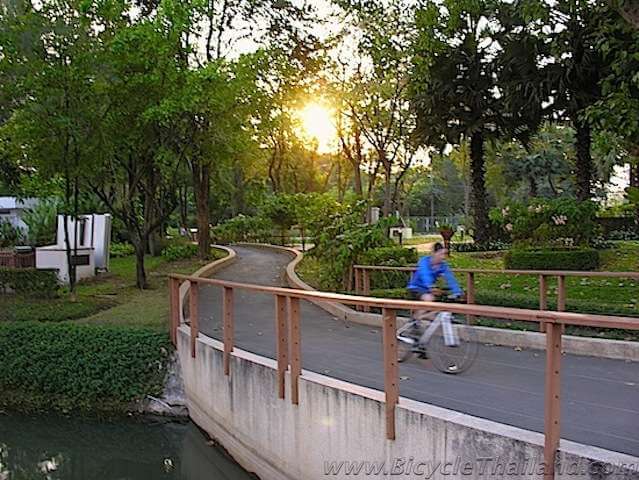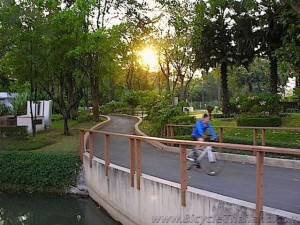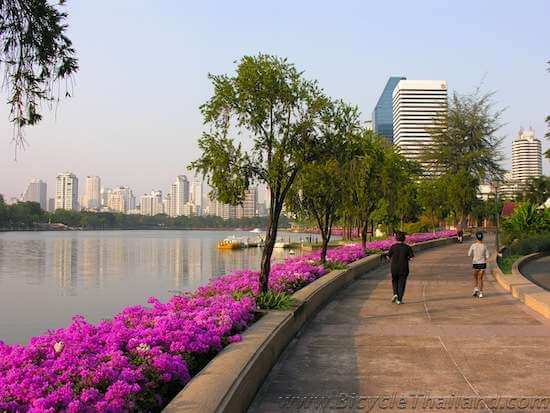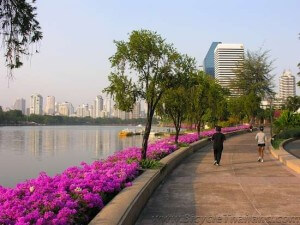 Benjakiti Park is open for cycling from 6 to 9 am, and 4 to 7 pm. The bike track loop is about 2 kilometers, clockwise riding only, but is not very wide, so one has to keep a watch for slower riders, especially novices who tend to panic and wobble dangerously when they become aware of another rider coming up behind them. Benjakiti the only park in the city that has a dedicated path for cyclists, separating cyclists from runners and other park visitors. Benjakiti Park does not seem to allow food and refreshment vendors inside the park so it is best if you bring your own drinks and snacks. Entrance is free. GPS – N 13.72940, E 100.55874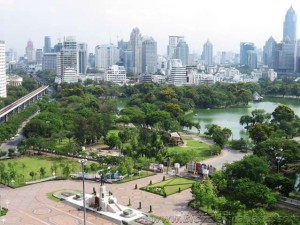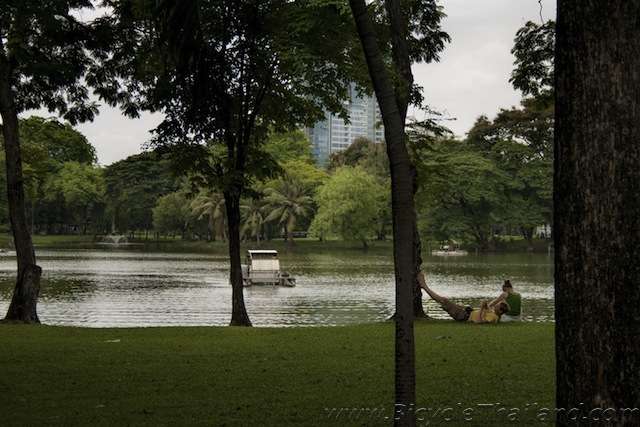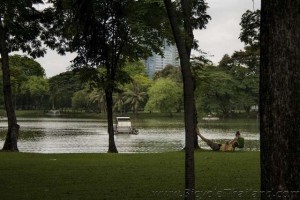 Lumphini Park permits cycling from 10 am to 3 pm, and the counter-clockwise riding bike path is painted on a very broad asphalt circuit, so there's plenty of passing room. Lumphini Park has plenty of food and refreshment vendors inside, and very near to the park. Entrance is free. GPS – N 13.73051, E 100.54093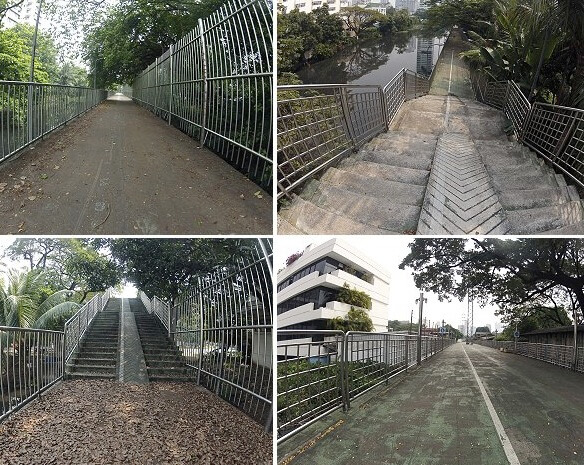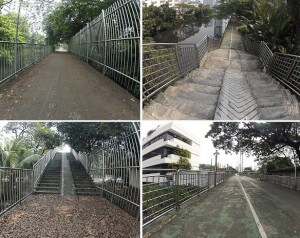 It is possible to ride a bicycle between the Lumphini and Benjakiti Parks on a paved pathway that seems to have been built solely for pedestrian use. The path is closed to traffic (although you may encounter the occasional rogue motorbike – they can be found everywhere in Bangkok, and I'm often surprised when I don't encounter them inside an elevator lift or riding down the staircase of my apartment building) and elevated at some points, which may require you to dismount your bike. On the staircases of the paved pathway you will find a smooth ramp area which allows for a bicycle to be easily pushed up or rolled down alongside you as you use the steps. The paved pathway can be accessed from the Lumphini Park side by an entrance ramp just near Culture Cycliste bicycle shop. The pathway finishes behind the Cigarette factory (at the bottom of Suk Soi 4) which then cuts into Benjakiti Park. There are various other entrance and exit points for this pathway that are worth exploring, but this route will get you from one park to the other without having to ride on or cross any of the big roads between the two parks.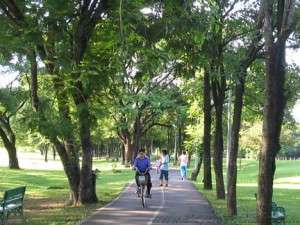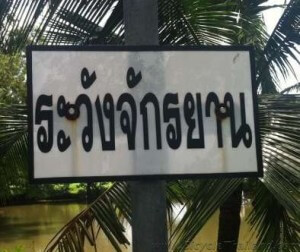 Wachira Benthat Park (a.k.a. Suan Rot Fai) located just behind Chatuchak Park, has the longest bike path. The path, which winds quite a lot and is a painted track on a broad asphalt surface, should be ridden in the clockwise direction. Along the path there is  plenty of greenery, flowerbeds, and grass. It is a great place for picnics, or for relaxing after a workout. Suan Rot Fai is open from 5 am to 9 pm. Cyclists have been observed riding in Suan Rot Fai Park fairly late, as long as the floodlit tennis, basketball, and volleyball facilities remain open. If you need a rental bicycle, you can rent a single-speed bike with a front basket for 20 Baht from one of the shops near the park entrance. Suan Rot Fai has plenty of food and refreshment vendors inside, and very near to the park. Entrance is free. Read an article by Richard Barrow about cycling with your family at Suan Rot Fai. GPS – N 13.8167, E 100.5548
Thanks go out to BicycleThailand.com reader Deepak Dutt for contributing to the information in this article.