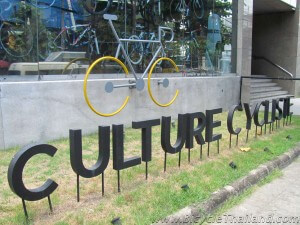 This month's featured Bike Store in Thailand is Culture Cycliste. Culture Cycliste is easy to find since it is located next to a well-known Bangkok landmark, Lumpini Park in Pathum Wan district. The shop occupies the ground floor of a business complex called Indo Suez House, which is visible from Sarasin Road just before it junctions with Witthaya Road. A metal works sign on the front lawn area of the business complex artfully announces the shop's presence.
When I visited Culture Cycliste last week I had the opportunity to catch up with Wiriyah Thanee (Nicknamed Khun Wee), the shop's owner and service technician. Khun Wee hasn't been at the shop much lately because of his busy schedule. He's been busy providing bicycle mechanic support for this year's Tour of Friendship, which took place in late April, and more recently running a large booth at the Bangkok Bike Expo 2013. Khun Wee speaks a fair amount of English and I was happy to learn that he has plans to open a second, larger store sometime in August of this year on Phuttha Monthon 4. Keep an eye out for that one. (Updated May 8, 2014 – read about the Phutthamonthon branch of Culture Cycliste)
Wilier, Look, Commencal, Avenue, and Scott are the main brands of bicycles on the shop floor while the walls are covered with parts and accessories from top manufacturers like Sigma, Mavic, Look, Exustar, Cole, Tacx, and Spank. The shop has a clean and tidy look to it, emphasizing the great lines of the bicycles on display.
We get a lot of requests here at BicycleThailand.com about electric, or electric-assist bicycles. Culture Cycliste regularly stocks LA Bicycle's E-Ride series of electric bikes. Rarely have I found any shop outside of the LA Bicycle brand shops here in Thailand that actually have these bikes on display and ready for sale. Most LA Bicycle brand shops have a catalog to choose from and state that they can order one for you. Not Culture Cycliste. Their E-Ride bikes are on the floor and ready to roll out the door.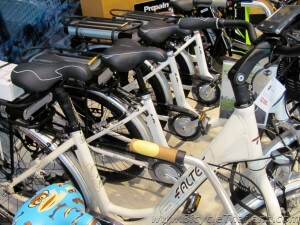 So, if it's an electric bike or a good old fashioned pedal power bicycle that you're in the market for stop in and say hello to Khun Wee or his shop manager Khun Atitayar and see how Culture Cycliste can help you with your cycling needs.
Culture Cycliste, Lumpini Branch
152 Sarasin Road (on the G Floor of Indo Suez House) (Map)
Khwaeng Lumphini, Khet Pathum Wan
Bangkok 10330
ภาษาไทย [+]
คัลเจอร์ ไซคลิสท์ สาขาลุมพินี
152 ถนนสารสิน อาคารอินโดสุเอซ ชั้น G
แขวงลุมพินี เขตปทุมวัน
กรุงเทพฯ 10330 Tel. 026-514-114
[Thailand Distributor: LOOK, AVENUE, WILIER, COMMENCAL, CUBE, INFINITE]
GPS – N 13.73431, E 100.54513