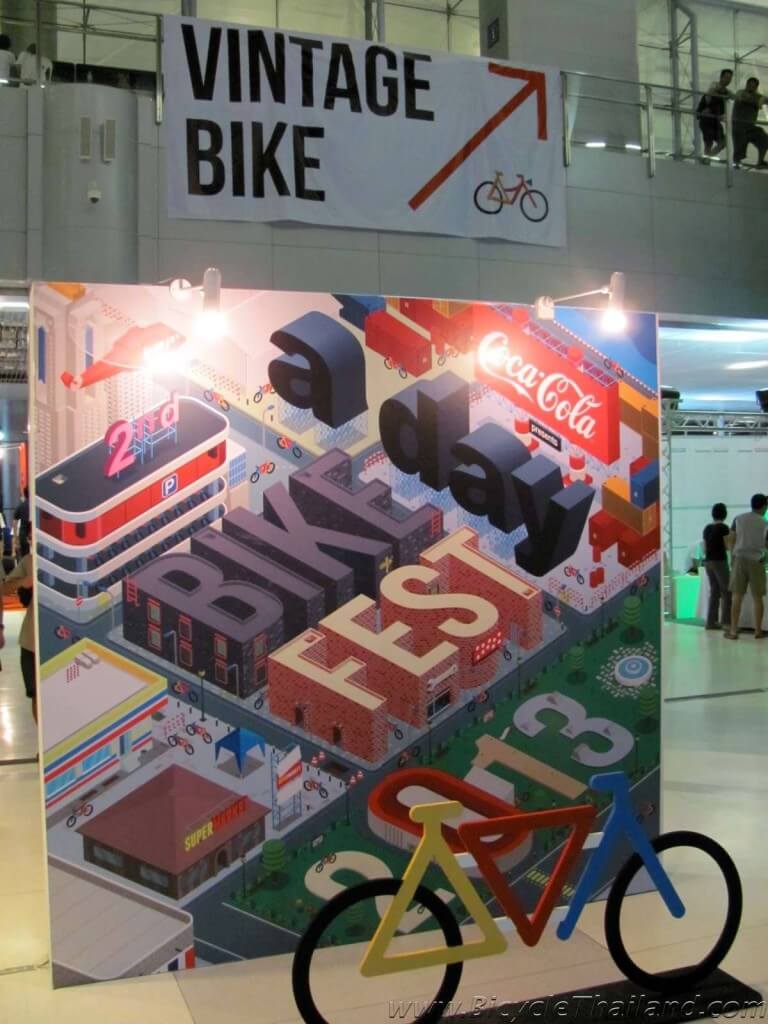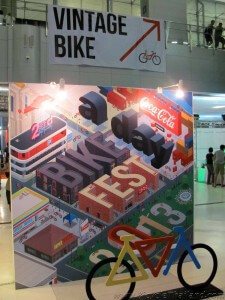 From Thursday, November 7th until Sunday the 10th I visited the A DAY Bike Fest at Makkasan Aiport Rail Link station in Bangkok. The 2013 Bike Fest was the second such show put on by the popular lifestyle magazine A DAY. The first Bike Fest hosted by A DAY magazine was last year in the same location, and also in November. Will there be a repeat in November 2014? If the increase in booths and visitors at this year's event is the determining factor, then I'd have to say the organizers are certainly keen to give it another go next year.
According to the organizers own promotional material, the four day festival was an effort to promote cycling in Thailand. And I can honestly say that from the diversity of the crowd that I saw on each day the event was most certainly visited by cyclists and non-cyclists alike. I think many would-be cyclists, and even more curious Bangkokians visited the Bike Fest just to see what the current cycling buzz is all about. The many different types of bicycles on display and the higher price tags of some of those bikes is helping to foster the idea in Thailand that bicycles are not simply toys; they are sport, fashion, lifestyle, and most importantly transport.
The central city location, along with the conveniences of BTS access, secure parking, and indoor air-con shopping venue might have appealed to Bangkokians who might not have made the effort to travel to Muang Thong Thani last month, or would not normally go to one of the city's outdoor bicycle markets. The Makkasan Airport Rail Link station was spacious and easy to get to and many visitors commented on how much more convenient the A DAY Bike Fest was to visit than the Bangkok Bike Expo, which took place earlier this year in May and again in October.
The main floor of the Bike Fest featured more than 150 booths from bicycle distributors and retailers as well as large areas hosted by sponsors and supporters like Coca Cola, Bangkok Bicycle Campaign, and the Sports and Health Authorities of Thailand. Adjacent to the main floor was a large outside area partitioned off into three separate zones for bicycle testing, DJ booth and BMX/Skate park, and food vendor stalls. A special 'Vintage Zone' was situated one floor above the main floor and featured a handsome collection of older bicycles as well as a select group of vintage parts & clothing retailers.
Throughout each day of the Bike Fest several guest speakers gave cycling related talks on the main stage, and every evening around 8pm visitors were treated to a free concert from Thai bands: Scrubb, Pae Aarak and the Peesard Band and Tul Apartmentkhunpa. The organizers also arranged guest appearances by Thai celebrities Top Pipat, Dome Pakorn Lum and Joe Jirayus. While I do imagine that more than a few people did show up to sight a celebrity or enjoy a free concert, I knew I was at the A DAY Bike Fest to see, touch, and occasionally taste (?) bicycles and all the cool stuff that goes along with them. If you were in attendance then your senses were treated just as well as mine. If you were not able to make it to this year's Bike Fest you can view more photos from the event on the Bicycle Thailand flikr account, or on the BicycleThailand.com FaceBook page.