Bangkok Bike Expo 2013 – Second time's the charm?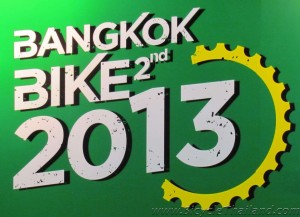 Cyclists who didn't make it to the first Bangkok Bike Expo in May of this year were given a second chance when Impact Arena's Hall #4 became home to the 2nd Bangkok Bike Expo 2013, from October 17th to the 20th. I was pleasantly pleased to see that organizers took note of suggestions made by visitors and exhibitors during the May event in order to produce more of an expo environment, indicative of where Thailand's cycling industry is headed rather than what it currently has on offer. There were certainly more exhibitor booths at this second expo, with a noticeable increase in distributor presence over the first event's large showing of independent retailers. This shift from independent retail to distributor booths may not bode well for cyclists who are keen to visit an expo in order to find great bargains in a market style mish-mash of booths, but it does, in my opinion, hold the greatest potential for drawing distributors from international brands to future installments of the Bangkok Bike Expo. Drawing brands from outside of Thailand to an annual Bangkok Bike Expo will increase international interest in Thailand's cycling market and simultaneously develop the event into a true EXPO where retail shop owners and everyday cyclists can peruse new products.
A few of the changes from suggestions made during the May event were immediately obvious upon entry into the exhibition hall. Gone were the massive Tourism Authority of Thailand and bicycle parking areas that gave the first event a very empty feel. Also changed was the dual bicycle lane and pedestrian walkway that snaked through every aisle between exhibitor booths. The new floor plan placed well-presented distributor booths right at the entrance and moved the bicycle parking and bike-testing lane to an outside wall area. Moving the bike parking area and test lane provided unobstructed foot traffic in the main booth aisles and gave shoppers a pedestrian-free area where they could get a bicycle up to speed in order to test the ride, shifting, and braking capabilities before making any final decision to buy.
Another suggestion made during the May event was that the wooden bike competition track located at the back of the hall was too large and intimidating for most cyclists, which resulted in very few expo goers giving it a try – effectively producing another big area with an empty feel to it. This was remedied at the 2nd expo by making the wooden track smaller and eliminating the jump gaps and drop-offs that kept most people on the sidelines as spectators during the first expo. Many more 2nd expo crowd members became test track participants as they were encouraged to saddle up on one of several mountain bikes on offer from Bergamont, Optima, and GT in order to give the kinder, more gentle track a quick double-lap run. The spectators were noticeably more enthusiastic when cheering on their father, brother, or friends.
A couple of the new distributors who made this event their first in Thailand were showing off new models of bicycles; namely BULLS, FABIKE, and GOGO BIKE. Bicycle rack distributor THULE had a strong showing with several displays throughout the expo hall. BKK STRIDER, while not entirely new to Thailand, was present and promoting their new Strider Gang Thailand Meetup rides. We like what BKK STRIDER is doing; any reason to get kids learning to ride earlier in life is a very good thing in our opinion.
With the floor plan improvements in place and the overall distributor expo vibe of the 2nd event noted it was time to move on to the bike schwag; the bicycles, the accessories, the bling-bling of the biking world, and most importantly the items that caught my eye for reasons of uniqueness, price-point, being a new product to Thailand, or something, in my opinion, that was just plain cool. Here is what I found: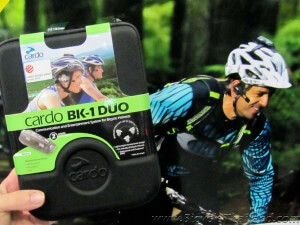 Cardo BK-1
Hands free communication that allows you to talk with your friends while riding. The headphones do not sit directly over your ear so ambient noise (traffic, horns, motorbikes, other cyclists calling out from behind you, etc.,) is not blocked out. These headphones are much safer than wearing a set of earbuds for cyclists. The microphone has a foam cover that cuts out wind and background noise from being transmitted to the headphones of your cycling partner.  Range is reported to be 500 meters, and when I tested them from one end of the expo hall to the other, the communication was crystal clear up until exiting the main building. The solid cement structure caused slight interference (as with all Bluetooth devices) but this shouldn't diminish usefulness on your next ride… unless you ride inside massive cement structures. The Cardo BK-1 fits virtually all bicycle helmets and is dustproof and waterproof. The system works for communication purposes but can accommodate inputs from mobile phones, music, and GPS devices as well. Imagine that, you could have the obnoxious GPS voice talking in your ear during your whole ride. Check it out at www.CardoSystems.com
Who sells it in Thailand? Mezio Showroom
FABike
If you attended the Bike Expo than this bicycle most certainly caught your eye, as it did mine. The FABike (Flexible Adjustable Bike) is from an Italian company with manufacturing in Taiwan.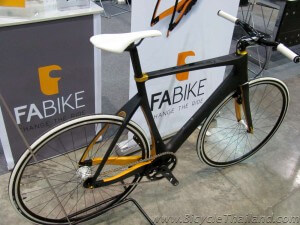 The strength of the FABike is in its diversity. It is three bikes in one! The rear dropout system built into this super-sexy frame allows the owner to swap between three configurations: single-speed, 130mm, or derailleur hanger. That means that this frame can be built up into a Single-Speed (fixed-gear or freewheel) bike, an internally geared hub (such as a Rohloff hub) bike, or a multi-geared (9/10spd cassette and derailleur) bike.  Oh, and did I forget to mention that it can also accommodate a belt-drive system? Well it can. The frame is carbon fiber (weight-1.9kg) with really beautiful finishing touches like internal cable routing, wind-cheating brake caliper placement, and SRAM pressfit 30 bottom bracket. The hardest decision about this bike isn't the price or what color to choose (available in 6 colors!), it's the decision of what configuration to build it up in… and whether or not you'll be tempted to try ALL three. Check it out at www.FABike.it
Who sells it in Thailand? FABike is currently in the process of establishing a Thailand distributor. Inquiries can be made to Fabio Putzolu (fabio@fabike.it), Tel. +420 774 273407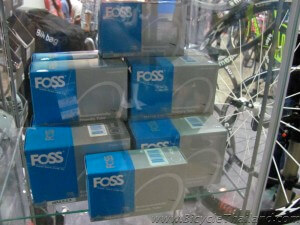 FOSS Bicycle Tubes
The idea of these tubes is simply great and I want them to fulfill all of their promises. They definitely caught my eye at the expo and since they are new to Thailand I'm super keen to give them a go. Every time there is a new bicycle tube on the market I always try it for myself before recommending. Same is the case with these FOSS bicycle tubes. So, I purchased a set for my own mountain bike and fully intend on giving them a rough ride test here in Thailand where I know pointy thorns and nasty burrs live – Kanchanaburi and Phetchaburi provinces.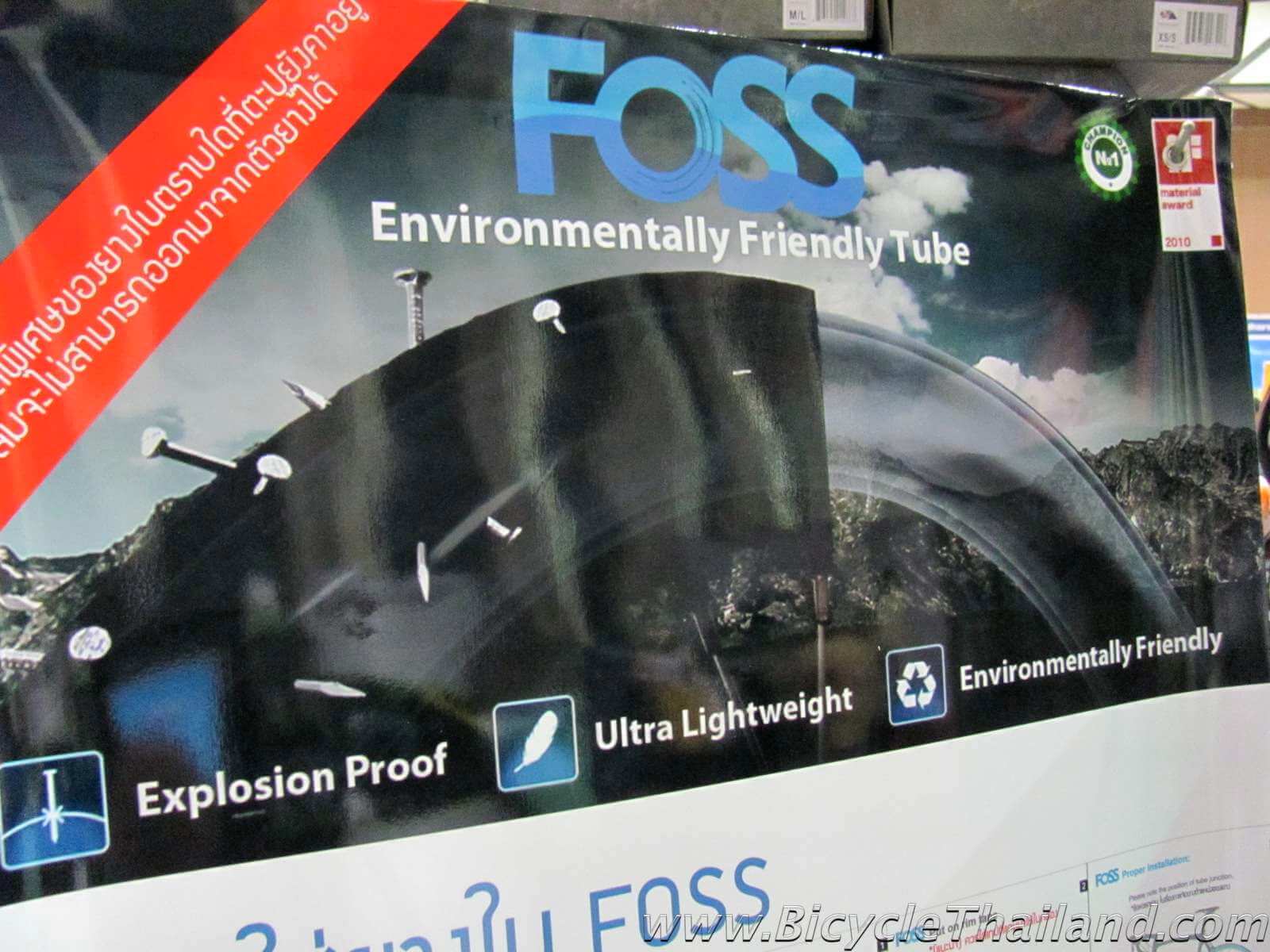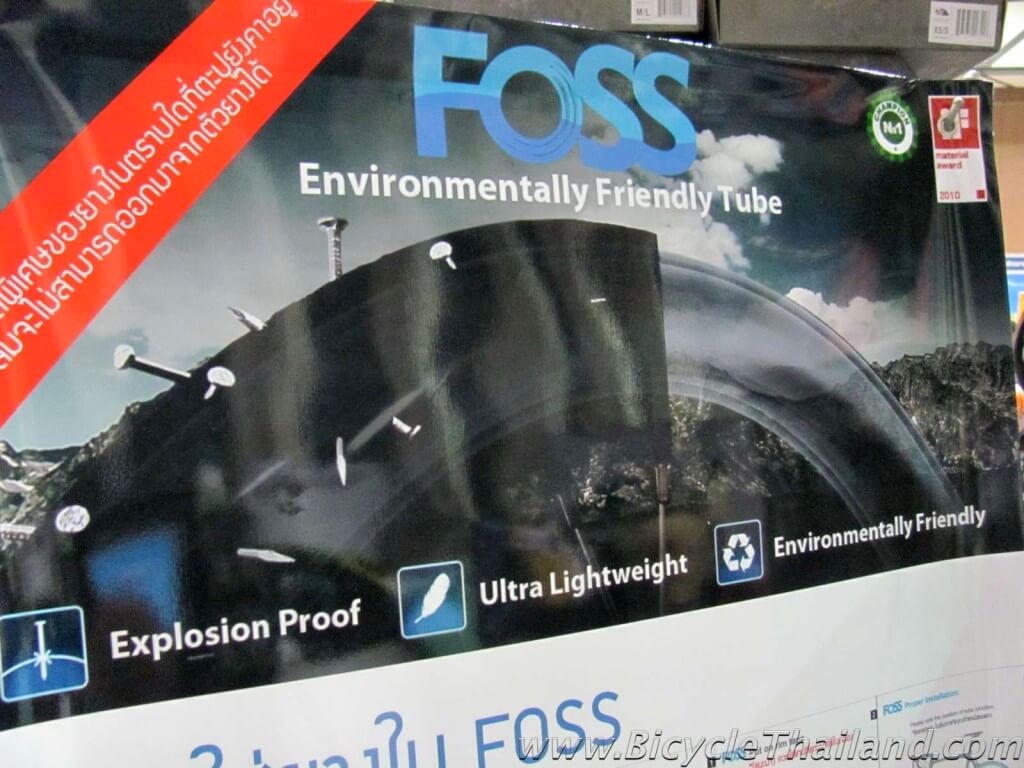 Here are the company's claims for these tubes:
1. Explosion Proof: When punctured, the tube material will create an air-tight seal around the object.  It will prevent an immediate puncture and slow down air leaks, which will grant riders more time to react. It functions similarly like the automobile tubeless system.
2. Light-Weight: The material density of FOSS tube is 0.88 g/cc, compared to ordinary tubes which are 1.3 g/cc on average, that makes FOSS tube 30% lighter than the others.
3. Environmentally Friendly Material: Made from Thermoplastic Elastomer compound (TPE), an un-vulcanized rubber, FOSS tube can easily be recycled with other TPE products in order to reduce pollution from our planet.
4. Easy to Repair: It's very easy to mend a puncture by using FOSS patch (self-sticking). Just wipe dirt off tube surface, and tape a patch on the puncture. It takes only a few seconds. No glue is needed.
5. Awards: Winner of iF Material Award 2010 and Champion of Wheel Set Group, Taiwan Innobike 2010.
Check it out at www.Foss.com.tw
Who sells it in Thailand? Mezio Showroom
L.O.R.D. Bicycle Racks
Ever notice how many of the big brand bicycle rack manufacturers have a myriad of models but the one you need isn't available where you live or doesn't fit just perfectly on your vehicle?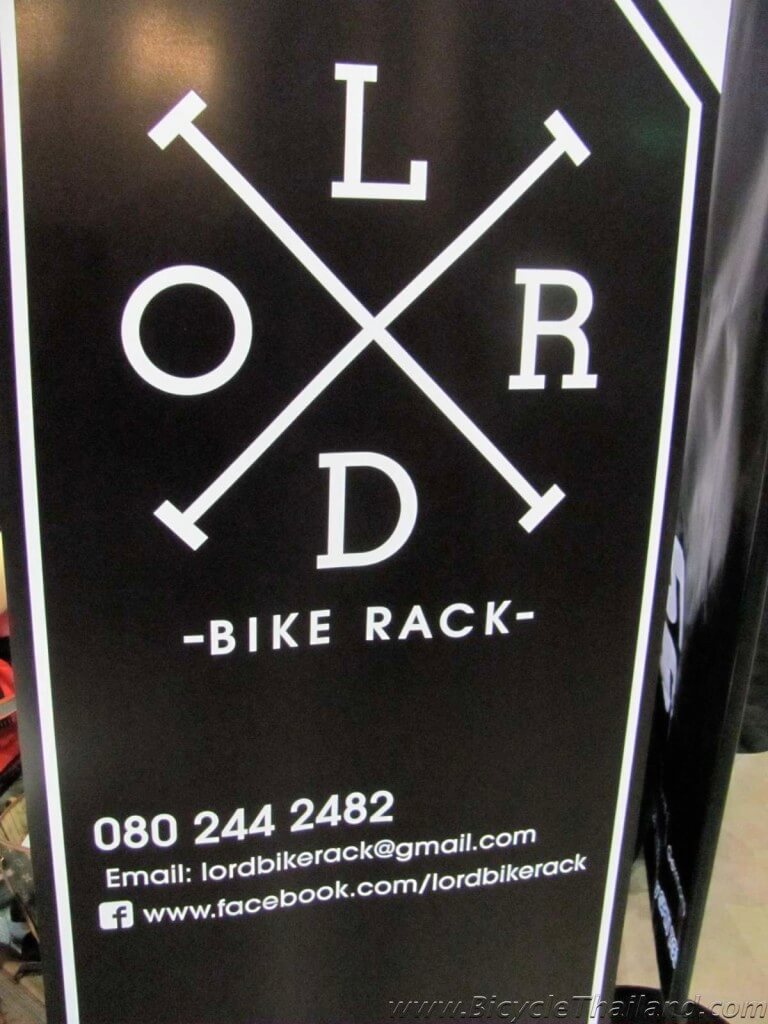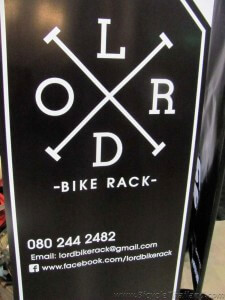 Enter L.O.R.D. custom bicycle rack manufacturers. Located in Bangkok (close to Mega Bangna/IKEA), they are whiz-bang experts at fabricating custom bicycle racks that meet your specific needs. Their clients include bike shops (wall mount and free-standing display racks), teams (vehicle mounted racks), and individuals (removable racks for pickups and cars). When you see the racks that L.O.R.D. produces you will recognize the high quality materials, finish, and hardware that go into every rack system they make. If you have a basic rack request for a known vehicle make/model give them a call or send them an email with your requirements (photos are welcome). If you need a custom made rack you should contact them to set up an appointment to discuss the details of your needs. No job is too big or small.  Check it out at www.FaceBook.com/lordbikerack
Tel: 080-244-2482 (Khun Lu for Thai language, or Khun Mink for English)
Email: lordbikerack@gmail.com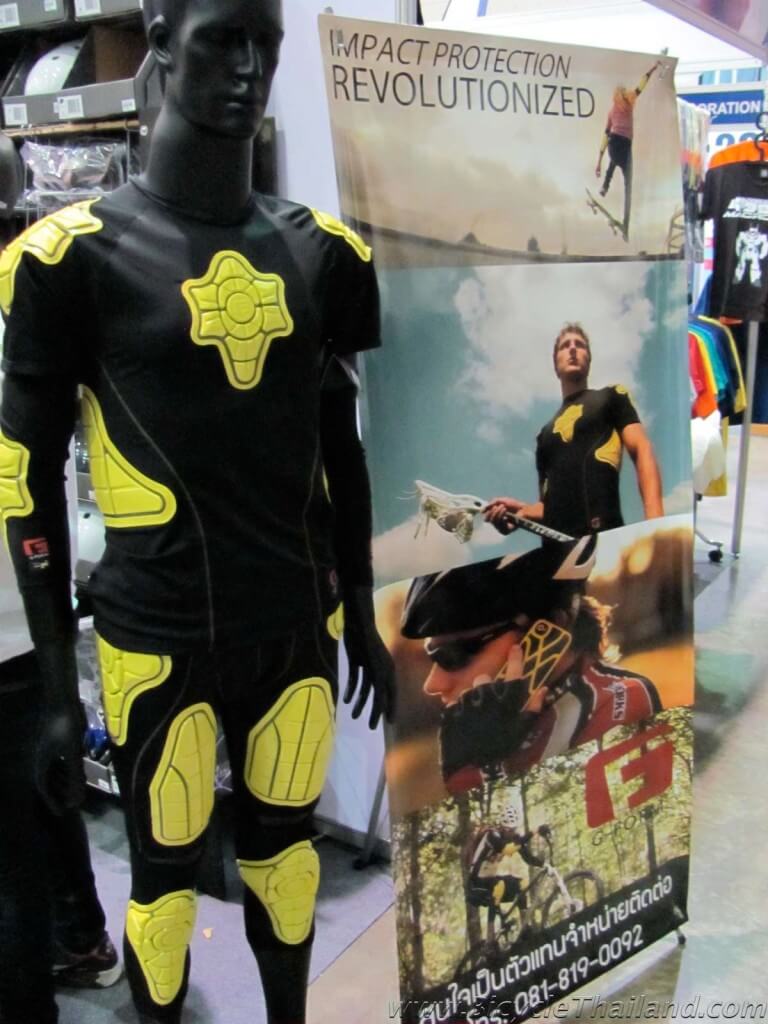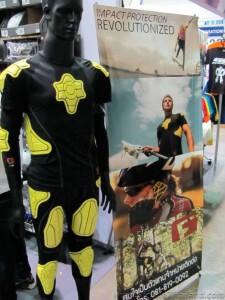 G-Form protective garments
I don't make a habit of crashing my bicycle. It's not because I'm overly concerned about skinning my knee or losing a bit of blood. I don't make a habit of crashing my bicycle because I have learned that bicycle parts, unlike my skin and blood, refuse to grow back after an abrupt and unscheduled introduction with terra firma (or tree firma, or rock firma). So, when I came across the G-Form garments at the expo I wasn't in complete awe of their claimed protective qualities. But, the more I read and the more I talked with people who wear these garments I started to think about them quite differently. Having worn the bulky (restrictive) protective gear associated with extreme Downhill Mountain biking myself I started to see the G-Form garments as a great solution for mountain bikers who are looking for a medium level of protection without having to sacrifice the mobility and flexibility required when tackling cross-country and all-mountain type trails. Seasoned riders as well as newbies to mountain biking could benefit greatly from the added assurance that G-Form garments offer. The G-Form garments wear like pieces of comfortable clothing that can easily be a base-layer underneath other cycling kit (baggy shorts and t-shirt style jerseys). I also liked that separate shin and elbow protection pieces are available for those riders who do not want to wear the entire long-sleeve top or full leg pants. Check it out at www.G-Form.com
Who sells it in Thailand? Mezio Showroom
KONG Cycling Bags
Messenger style bags and wheels bags; two things that I love and I'd always like to have more of.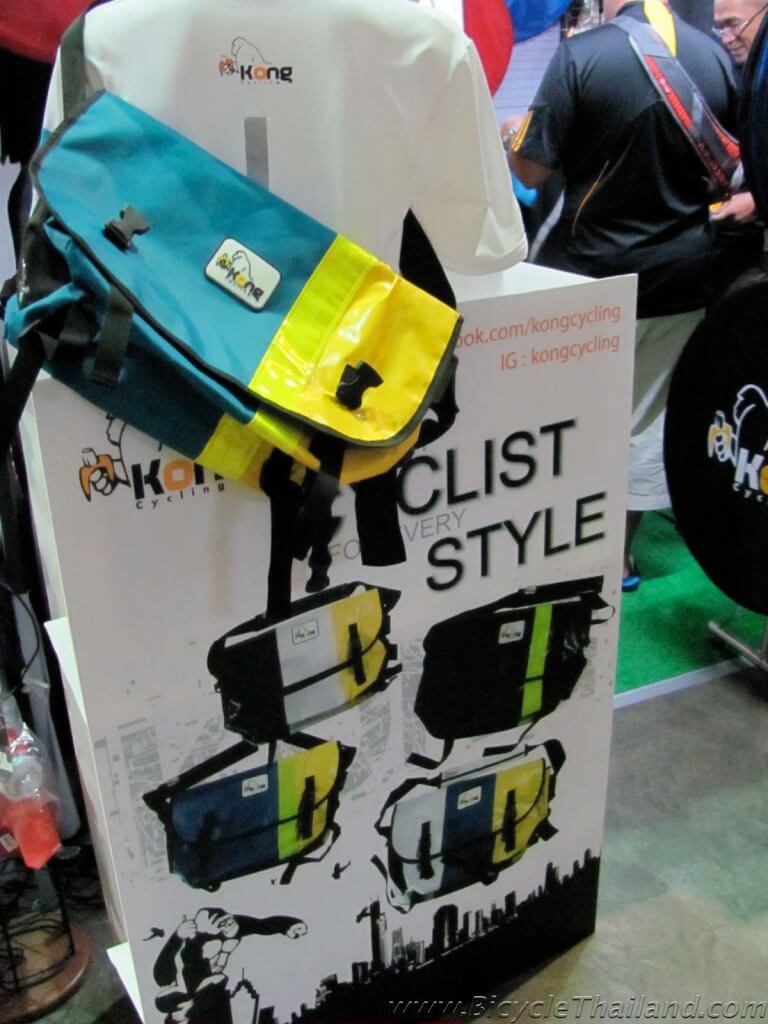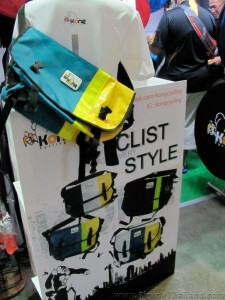 Kong Cycle bags are manufactured in Thailand to meet the requirements and price-point of those cyclists who want the look and feel of the highest end brands, but are not necessarily in the position to hand over such a large chunk of their monthly allotted bicycle funds to get them. A full line of multi-colored messenger bags priced below 2,000 Baht and a set of wheel bags (with thick plastic hub axle protectors) for less than a 1,000 Baht has me wanting two or three of these (in different colors of course) just for myself. Reflective sport clothing on offer as well. Check it out at www.FaceBook.com/kongcycling
Tel: 083-829-6154
Email: kongcycling@gmail.com
View more photos of the 2nd Bangkok Bike Expo 2013 on the BicycleThailand.com FaceBook page.
Bangkok Bike Expo 2013 photos from Oct 18
Bangkok Bike Expo 2013 photos from Oct 19
Bangkok Bike Expo 2013 photos from Oct 20
Now that the 2nd Bangkok Bike Expo 2013 is all wrapped up I'm looking forward to this year's repeat of A DAY magazine's Bike Fest event (Nov 7-10) at Makkasan. See you there!
---
All of the bicycle shops mentioned in this article can be easily located by visiting the BicycleThailand.com BIKE SHOPS INDEX page.