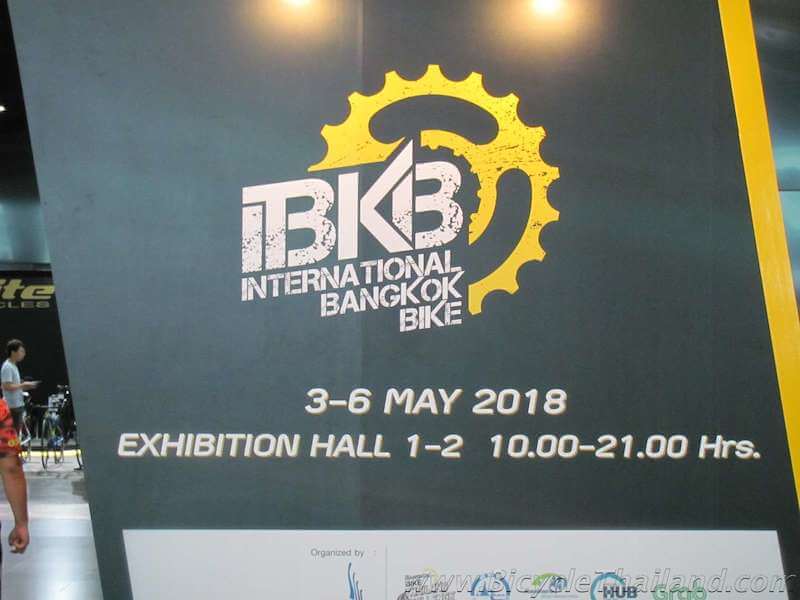 You'd be forgiven if you assumed that this year's Bangkok Bike Expo marked the 11th year that this expo had been held in Thailand. After all, it is being marketed as the 11th International Bangkok Bike Expo. Furthermore, you'd also be forgiven if you assumed the Bangkok Bike Expo was held in Bangkok, the capital of Thailand. On both assumptions you'd be wrong, but quickly forgiven, as I was myself when I attended the first ever International Bangkok Bike Expo way back in May of 2013, and quickly discovered it to be not in Bangkok and not overly international in nature.
To reiterate, that's 11 International Bangkok Bike Expo shows held over the course of 5 years, but hey, who's counting? Well… we are. And, on that second point, regarding the location of this expo, it's actually in Nonthaburi province, not Bangkok. But, again, who is keeping track? Well… once again, we are. So, without further adieu let me give you the full report of what captured my attention when I attended the 11th Bangkok Bike Expo on Sunday, May 6th.
View more photos of the 11th International Bangkok Bike Expo on the BicycleThailand.com FaceBook page.
The first change that I noticed was that the expo had been relegated to one of Impact Arena's smaller halls and, upon entry, that the smaller hall was nearly 25% empty of any vendor booths. Gone were the bicycle lanes, bike trials course, and visitor bicycle parking lot area of previous expos. This year's expo felt like a slimmed down version of previous shows, a subtle admission of defeat on the part of venue organizers unable to attract new, and even old, booth bookings from vendors who may be feeling overwhelmed by the high frequency of shows (11 in 5 years) and a steady increase to booth prices.
In addition to a few Thai company newcomers with some innovative twists on good product lines, the 11th expo was attended by a couple of Thailand's larger brand distributors (INFINITE/LA, GIANT, ASIA BIKE, One Fine Day, Bike Outlet, JAVA, and DECATHLON Thailand) who were offering rock-bottom prices on many previous year's models of bicycles. Road bikes were certainly the dominant category of bicycles on display, with mountain bikes, triathlon bikes, and everyday casual bikes making up the remainder of what was on display. Knowing that bicycles are exactly what I should expect to see at a bike expo, I quickly set about wandering the aisles of booths searching for products and services that stood out the most to me. I searched for products that were either new to Thailand, fulfilling the need of niche cyclists in Thailand, or presenting a new idea to cyclists in Thailand. Here is what I found:
CHAPTER 2 BIKES
If you're familiar with the reputation and craftsmanship of NEILPRYDE road bikes you'll be interested to look a little closer at the new project from Mike Pryde, CHAPTER 2 BIKES. Framesets and complete bikes from the New Zealand-based company made their first appearance at the 11th International Bangkok Bike Expo and had a sponsored team compete in this year's Tour of Friendship R1 2018. Visit the CHAPTER 2 BIKES website at www.chapter2bikes.com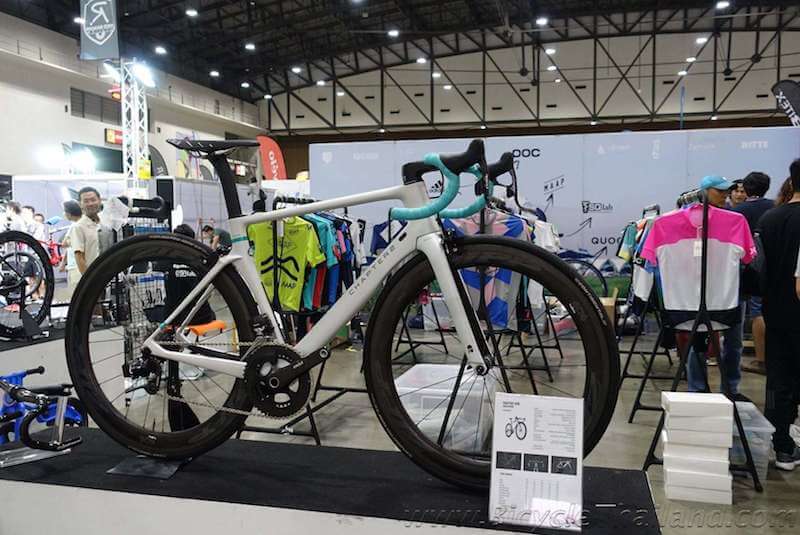 Bangkok E-Bike
From where to buy them and where to rent them, we have certainly covered the topic of electric bicycles in Thailand extensively. Bangkok E-bike is one of those local Thai company newcomers that is putting an innovative twist on a good product line that has been constantly evolving in Thailand with the complications presented by importing batteries from E-bike conversion kits coming out of China. To our knowledge, Bangkok E-bike presents the one-stop shop approach to getting an E-bike motor and battery combination fitted to your current bicycle, with the additional support of technical assistance and battery replacement in Thailand. No more ordering a Chinese-built system that works for 1-2 years and then needs a battery that can not be procured in Thailand. Visit the Bangkok E-Bike website at www.bkkebike.com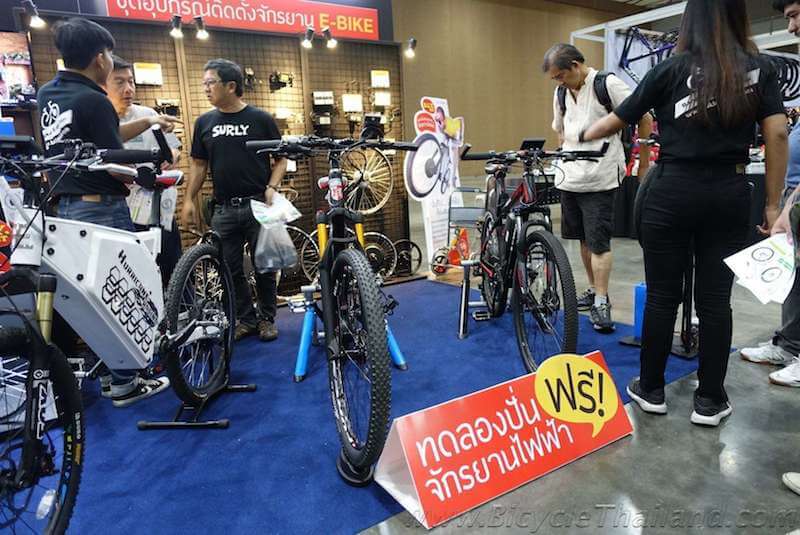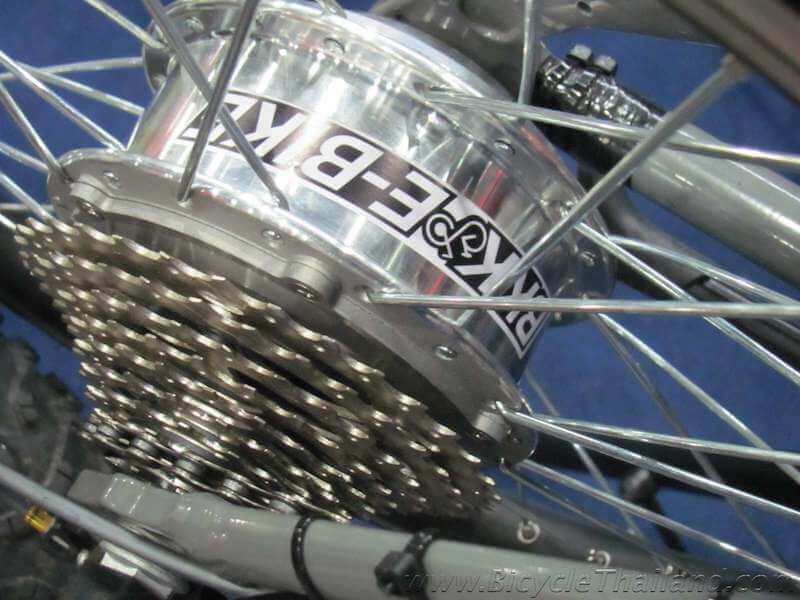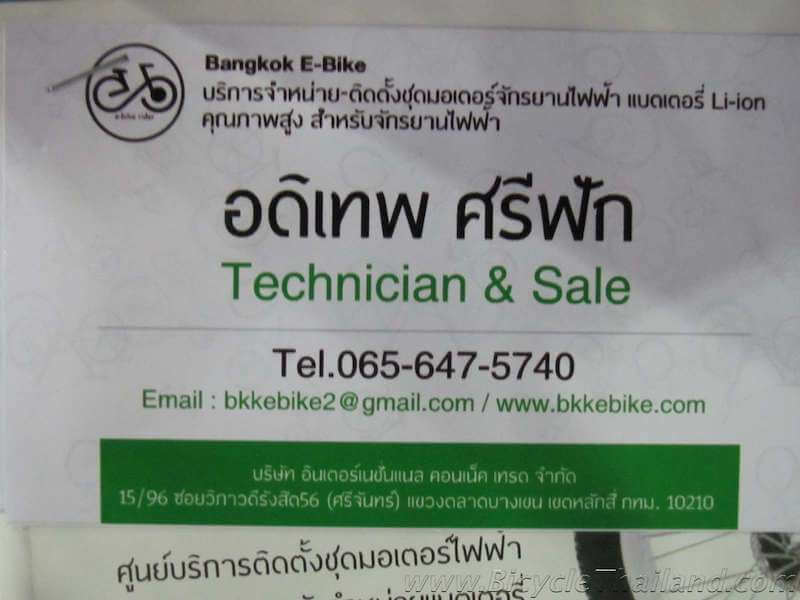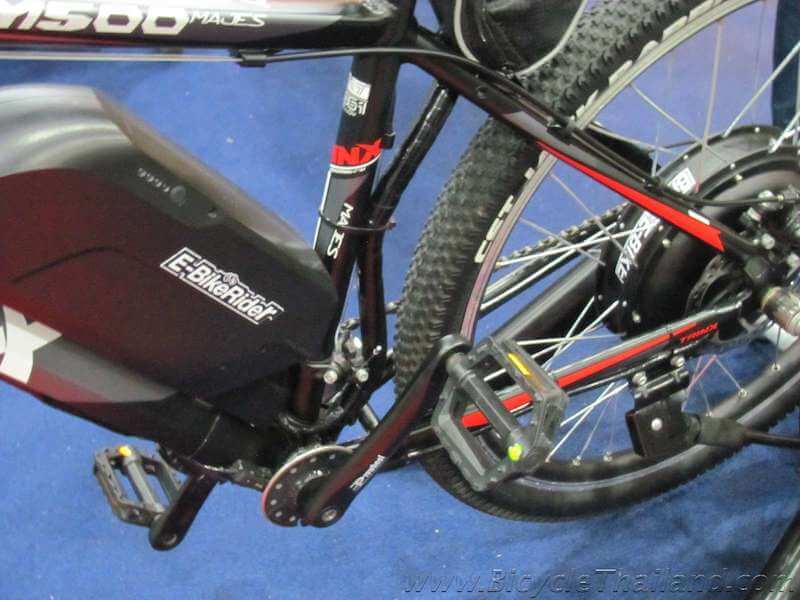 FRIDAY PEOPLE clothing
I have to admit that I had been watching the progress of the Friday People clothing line for quite some time now, probably since I had first seen it's introduction at a Bangkok bike shop I frequented in previous years called SEALEE URBAN. The bike shop is now closed, unfortunately, but the clothing line seems to be going strong, which makes me extremely happy for the two partners involved. One of the first things that caught my attention about this clothing line is its mission to provide casual, comfortable wear clothing with all of the built-in features that cyclists require (reflective strips, stretch fabric, mesh pockets, reinforced stitching, etc.,). The second thing that gave me the warm and fuzzy feelings about this company is the fact that they set up a designated website (with English language) where you could actually order their products online.
So, here I am, a proud owner (and wearer) of two pairs of Friday People shorts. At the 11th Bangkok Bike Expo I purchased 1 pair of their Cargo shorts (Navy) and 1 pair of their Urban shorts (Brown). Over the last 2 days I have put both pairs of these shorts to my daily commute test and they have served me well. I'm completely happy with my purchase and look forward to adding more items from the Friday People line of clothing to my cycling wardrobe. Watch for my upcoming 'commute to work in Thailand' review article of my Friday People shorts at www.BicycleThailand.com. Visit the FRIDAY PEOPLE website at www.friday-people.com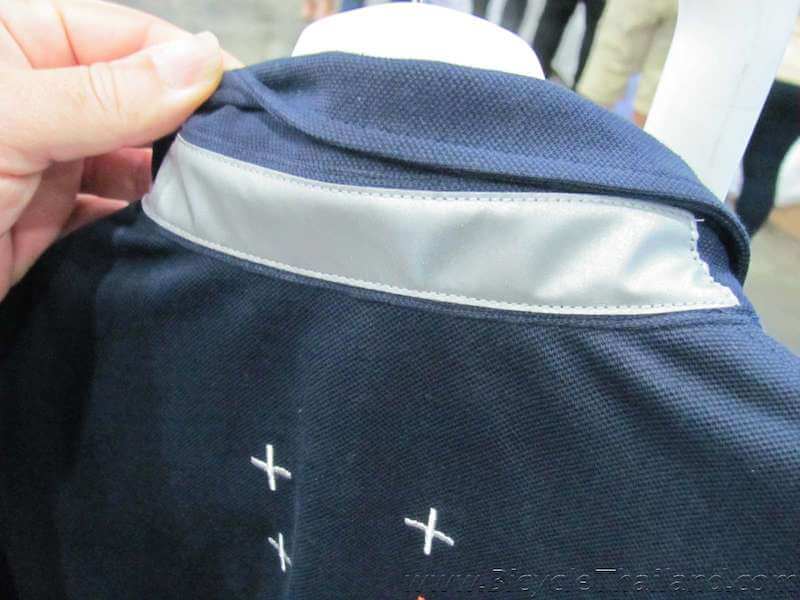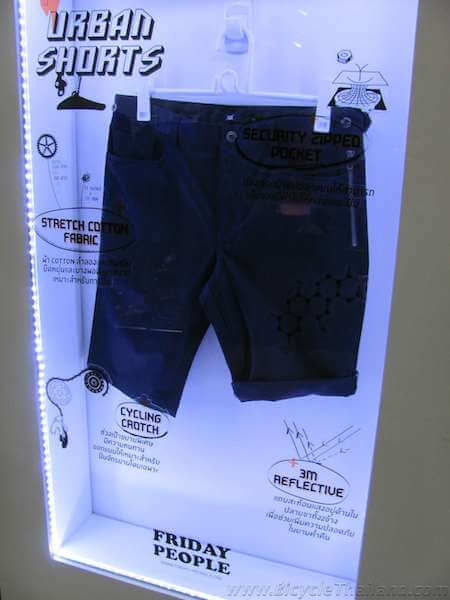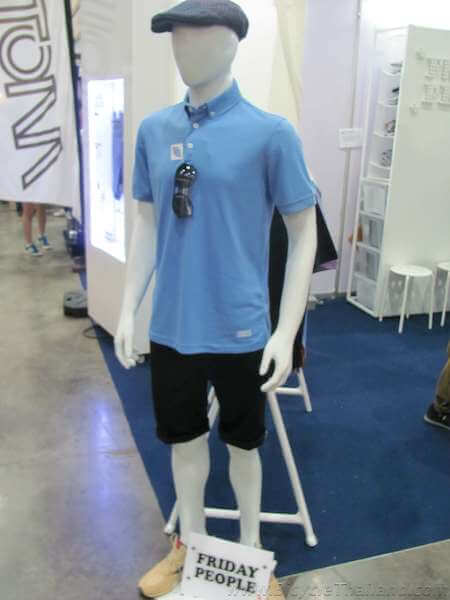 IBERA Thailand racks/bags
I was delighted to find the bag and rack selection available at the IBERA-Thailand booth. Some great offerings here in the waterproof pannier and under seat bag categories from a fairly new Thai company producing its products locally. The buckle and fixture quality level is not on-par with internationally recognized brands such as APIDURA or ORTLIEB but the quality of bag and rack combinations will certainly hold up to what most weekend warrior types have in mind. Visit the IBERA Thailand website at www.IBERA-Thailand.com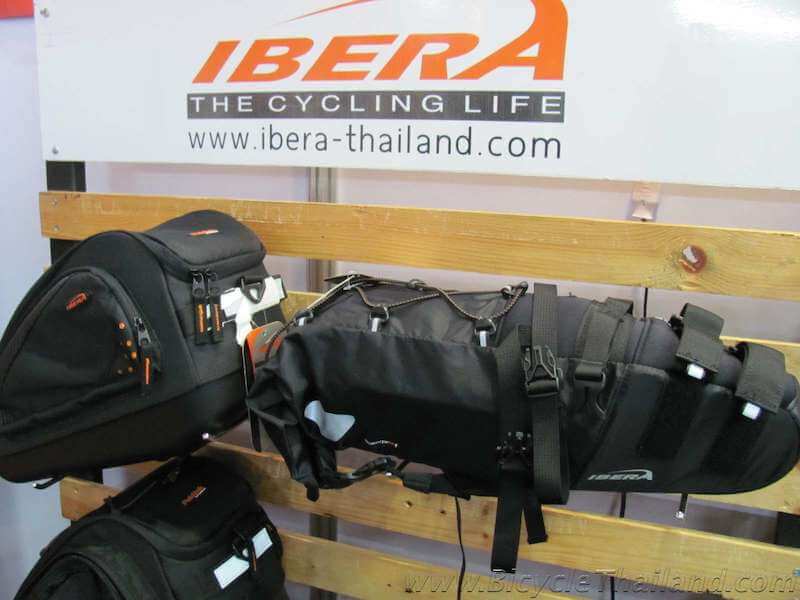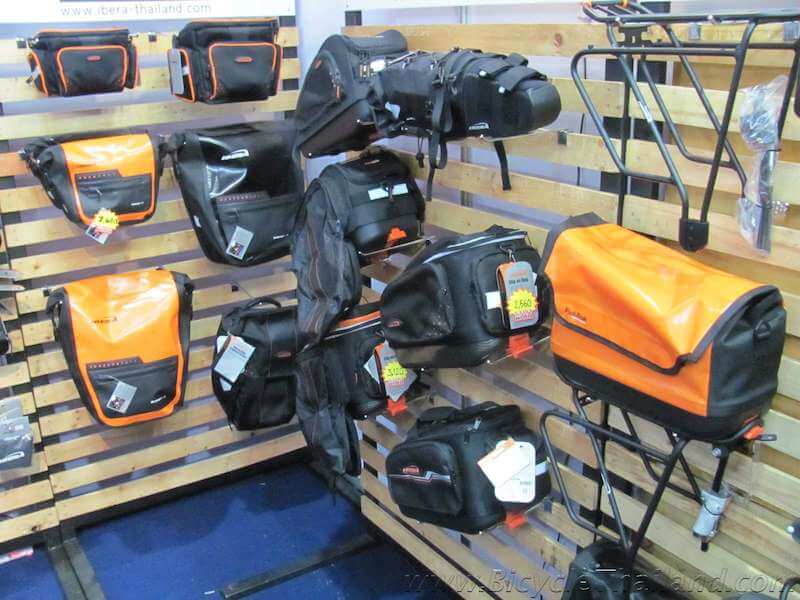 TUBE Thailand – bags and accessories made from recycled inner tubes
I like what TUBE Thailand is doing. Full stop. Take something that once served a purpose but is now useless and make something new and useful from it. If you can do that and help people and cycling in the process… win, win and win. In TUBE Thailand's own words, "The TUBE bags are hand made by our amazing tribal ladies in Myanmar and in Thailand. Fair, handmade, and recycled." Visit the TUBE Thailand website at https://www.facebook.com/tubethailandthai/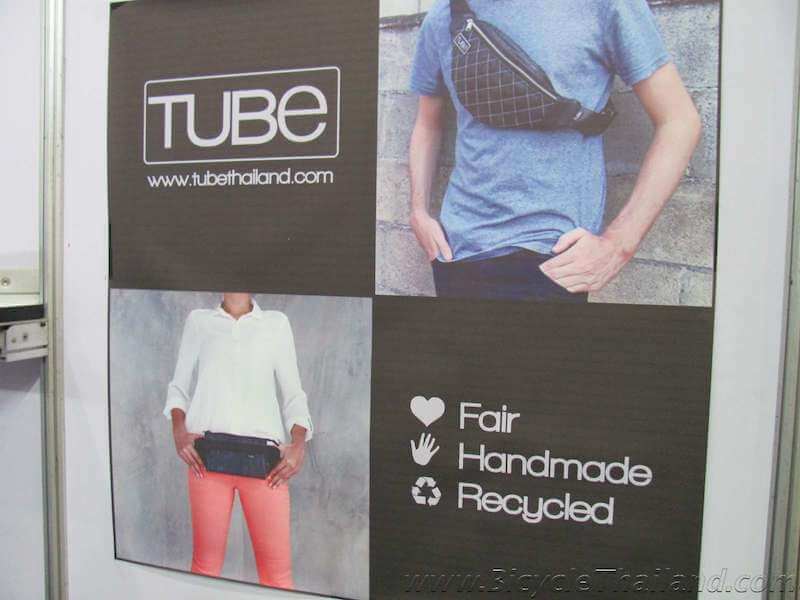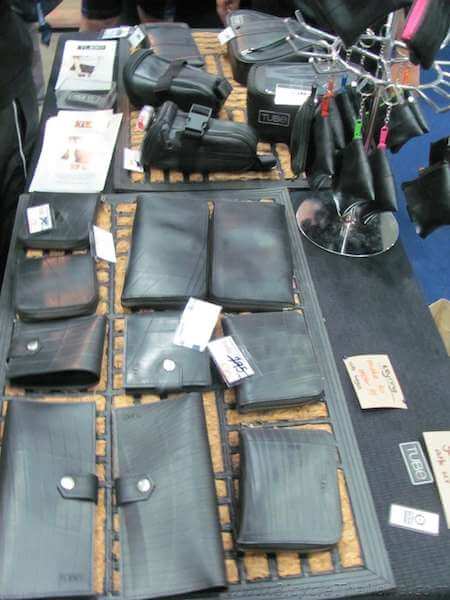 Bespoke tours for Thai cyclists
For the first time at the Bangkok Bike Expo I saw two separate vendors offering bespoke cycling tours targeted to Thai cyclists wanting to experience a cycling adventure outside of the Kingdom. The first vendor was offering tours to Taiwan and the second was offering tours to Japan, both destinations being countries easily accessible by relatively short flights from Bangkok. It's good to see these types of organized tours being made available to Thai cyclists who may be looking to venture further than their own 77 provinces.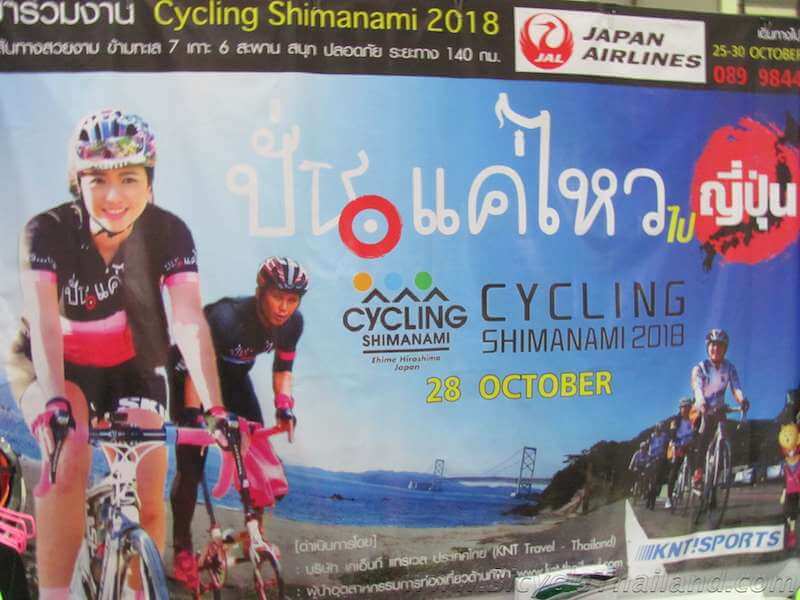 ---
Want to see more past and future events like this? Visit our comprehensive list of Bicycle Races and Events in Thailand on the main events page.
---