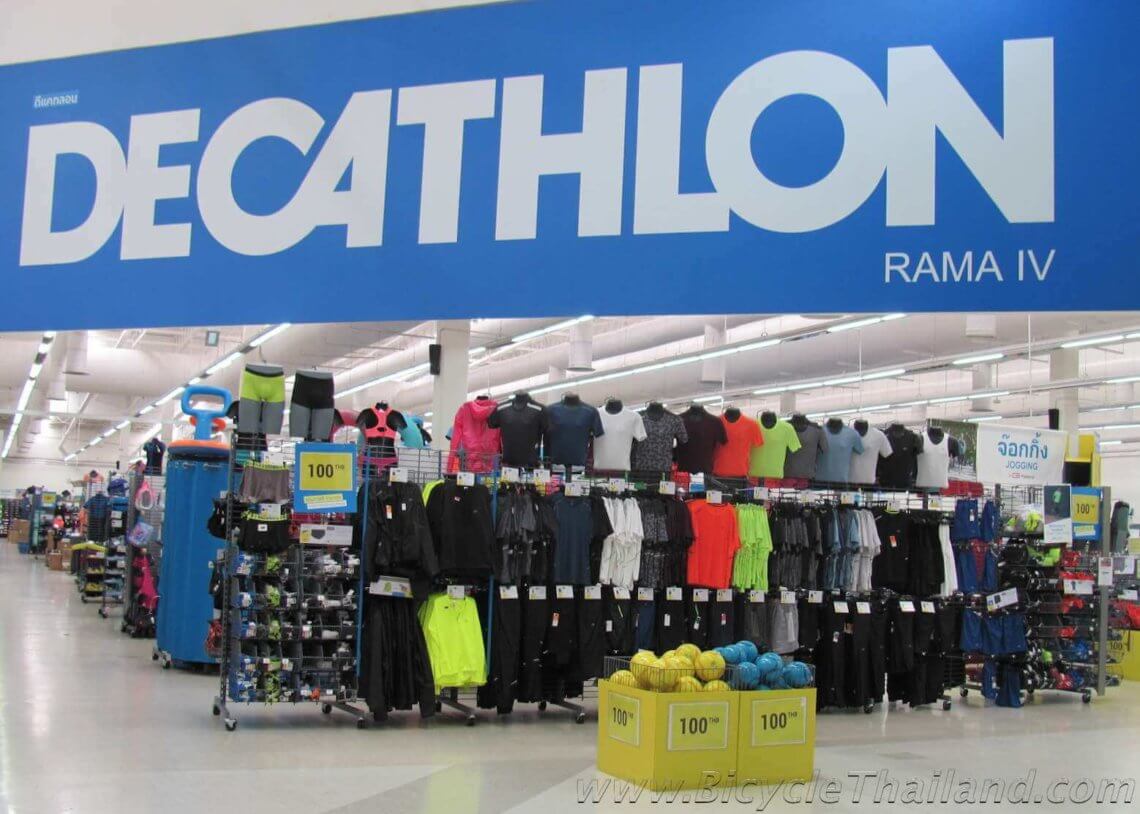 Bicycle tourists traveling in Thailand often find themselves in need of quick-dry sport clothing and camping equipment. One of the biggest tasks when preparing for a bicycle tour is determining what to pack, knowing what to bring and what can be purchased along the way.
One of the best, super sport stores that has recently come to Thailand is Decathlon. Originally from France, Decathlon is a chain store that houses every fathomable piece of clothing and equipment for multiple sports, all available under one roof. On a recent trip to Bangkok I had the chance to visit the Rama IV Decathlon store location.
A wide range of quick-dry cycle clothing is available at all Decathlon store locations. An advantage of having a store like Decathlon is that touring cyclists can arrive to Bangkok and find appropriately sized quick-dry sport clothing and camping equipment to be used across the Southeast Asia leg of their journey without having to carry it with them for the portion of their trip prior to arriving in Thailand.
Often times bicycle tourists end up overpacking, filling their pannier bags with too many items they think will be unavailable where they will be riding. Knowing what is available in the country where they will be traveling can help cyclists to pack lighter and stress less over items they may have forgotten.
Tent pegs (and poles), ground cover tarps, and air mattresses are just some of the camping necessities you can find at Decathlon stores.
Bangkok is one of the main starting points for many bicycle tourists visiting Thailand. While the city isn't rated as one of the best to navigate by bicycle it does serve as the country's best source for bicycle touring related equipment. Everything from full touring bicycles to racks, pannier bags, and camping equipment can be found in Bangkok.
Decathlon even has a range of clothing and equipment for Triathlon enthusiasts. Need a short or full wetsuit and a pair of swim goggles? Decathlon has it all.
Decathlon has a range of lightweight, seasonal, and even cold weather sleeping bags to choose from.
Some of the main brands available in all Decathlon stores: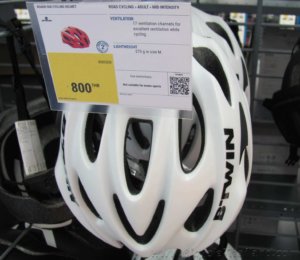 B-TWIN – Cycling clothes, helmets, padded MTB shorts, road cycling bib shorts, rain jackets, and quick-dry jerseys
Quechua – Tents, air mattresses, sleeping bags and hiking equipment
Arpenaz – Tents, ground cover tarps, and camping utensils
Geonaute – Dynamo charged lights for camping and headlamps
Simond – Rock climbing shoes, ropes, helmets, and equipment
Aptonia – Triathlon clothing, muscle massage aids, and elastic joint braces for sports-related injuries
Kalenji – Trail running clothing, footwear, and headlamps
Subea – Wetsuits and diving/snorkeling equipment
ITIWIT – Inflatable kayaks
Domyos – General fitness clothing and equipment
NewFeel – Sport footwear
Tarmak – Volleyball and basketball clothing, footwear, and equipment
KIPSTA – Football (Soccer) clothing and equipment
Artengo – Sport clothing and footwear
Much of the clothing available at Decathlon Thailand stores, including footwear, comes in a wide range of sizes, appealing to asian and foreign customers alike. I saw hiking boots and trail running shoes starting from size 35 and going up to 47, and even 49 in limited styles.
---
Every Decathlon store has a dedicated bicycle department complete with parts, clothing, service center, accessories and, of course, bicycles for children and adults. At the Rama IV store location I took note of the range of B-TWIN brand adult bicycles available, finding the Riverside 500 hybrid bicycle and the RockRider 540 mountain bike to be of especially good value, both with a mixture of quality parts and lasting ruggedness at prices well below the entry-level bikes of most other brands.
In Bangkok, there are several Decathlon store locations: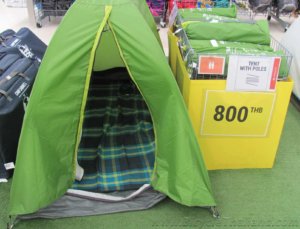 Decathlon Rama 4
Decathlon Charan ดีแคทลอน จรัญสนิทวงศ์ ( บางพลัด )
Decathlon Bangna – ดีแคทลอน บางนา
Decathlon Kaerai (Rattanathibet) – ดีแคทลอน สาขาแคราย (รัตนาธิเบศร์)
Decathlon Saphanmai – ดีแคทลอน สะพานใหม่
Decathlon Rangsit
Decathlon Nawamin (Sukhaphiban 1)
There are also Decathlon store locations in these other cities in Thailand:
Decathlon Chiangmai (Hangdong) – ดีแคทลอน เชียงใหม่ (หางดง)
Decathlon Pattaya – ดีแคทลอน พัทยา
There is even a Decathlon store in Cambodia:
Decathlon Cambodia
104 Russian Federation Blvd. (110), Phnom Penh, Cambodia
---
Visit Decathlon on the Web – https://www.decathlon.co.th/en/
Visit Decathlon on FaceBook – https://www.facebook.com/decathlonthailand/