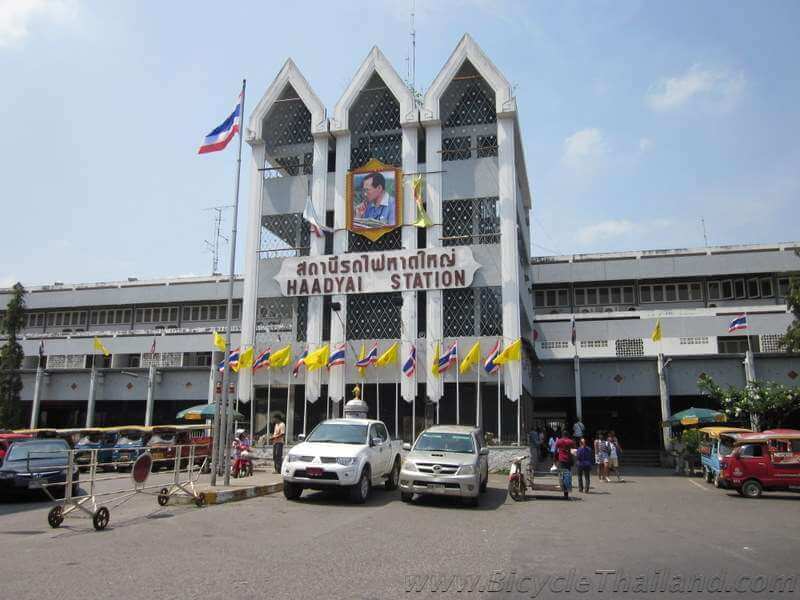 Hat Yai is a great start or end point to any cycling trip that involves a border crossing between Thailand and Malaysia.
Getting you and your bicycle to or from one of the Thailand/Malaysia border crossings is as easy as booking a ticket on the State Railway of Thailand (SRT) southern line. If your cycling adventure has you crossing the Thailand/Malaysia border one of the better options available to you is to make use of the train station in the southern city of Hat Yai, located in Thailand's Songkhla province.
Some people ask whether they can catch a train in Malaysia that crosses the border into Thailand and vice versa. And the simple answer is yes, as Butterworth station in Malaysia is the start/end point of the same southern rail line that passes through Hat Yai. But, I advise cyclists against getting on any train south of Hat Yai since first class cabins (Air-con sleepers), cargo/oversize baggage space (where your bicycle needs to be), and restaurant (better than airline food) carriages are added to trains only AFTER they have reached Hat Yai on their Bangkok-bound journeys.
Touring cyclists can learn How to Transport a Bicycle from Hua Lamphong train station in Bangkok Thailand, but this article is more specifically for those interested to transport themselves and their bicycles to/from Hat Yai train station on Thailand's southern railway line. While the Hat Yai train station is a bit smaller than Bangkok's Hua Lamphong station, the process for getting you and your bicycle transported is much the same.
First off, you will need to decide on your travel date and time and then proceed to the station to purchase or prebook your passenger train ticket.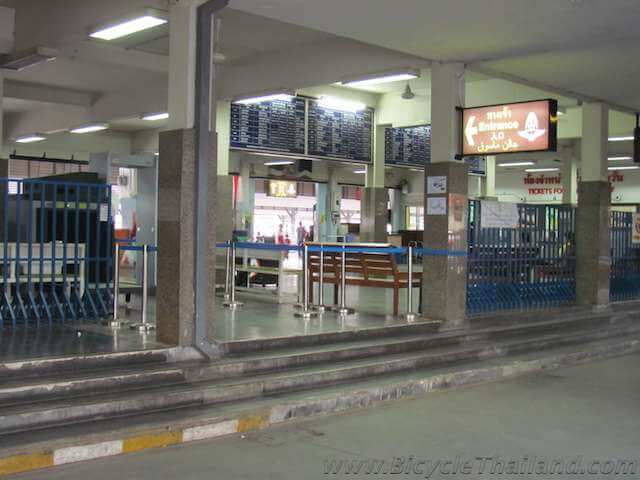 There are four different types of trains running on the southern line: Special Express, Rapid, Special Express (Diesel-DRC), and Ordinary. Ordinary trains stop at every station and are extremely slow. Rapid and Special Express (Diesel-DRC) are faster but do not offer 1st class sleeper cars. In addition to not offering 1st class sleeper cars the Special Express (Diesel-DRC) trains do not have a cargo carriage so they are not a good option for cyclists.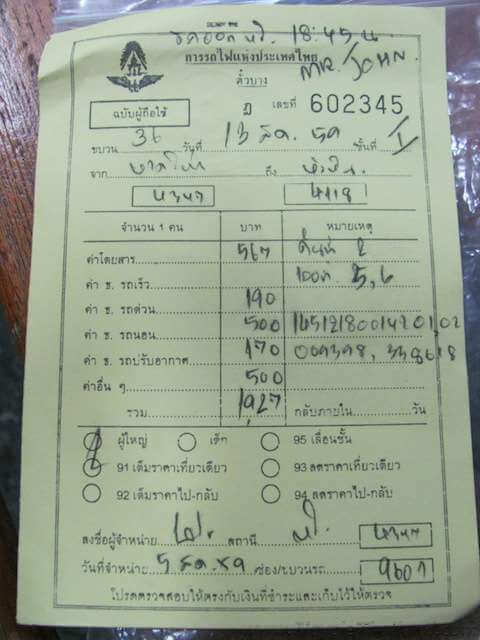 My personal favorite is the Special Express train as they offer 1st class sleepers, cargo and restaurant carriages, and their departure times make them overnight trips so you can arrive to your destination well rested. Each first class sleeper compartment can accommodate 2 occupants, but if you purchase the ticket for the bottom bed and pay an additional 500 Thai Baht you will be given the whole compartment.
Tickets can be purchased in one of three classes: 1st class sleeper, 2nd class sleeper, and 3rd class seats. The www.train36.com website is a very useful and informative website that details each of the trains, their respective schedules, and the class of tickets/seating available on each. Hat Yai to Bangkok Special Express trains #36 and #38 are good choices for northbound passengers while Bangkok to Hat Yai Special Express trains #35 and #37 are good choices for southbound travelers.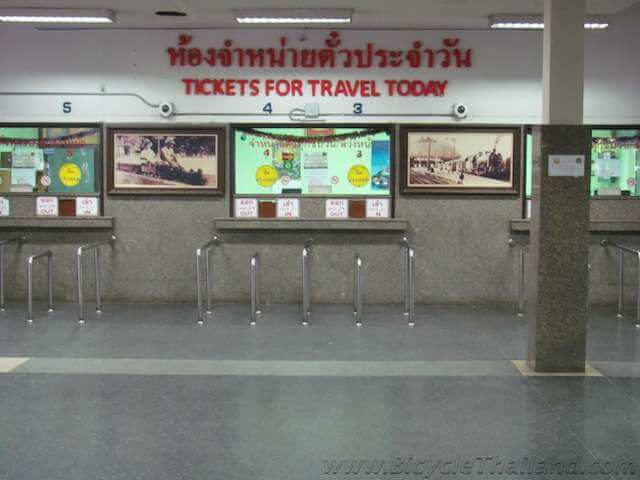 Second, get you and your bike to the train station approximately one hour before time of departure. At the Hat Yai train station there is a main entrance that leads directly to the ticket window sales area and out onto the train platforms. To the right of this main entrance area is a cement ramp where you will notice passengers exiting with large parcels and possibly even motorcycles. This ramp leads directly up onto the train platform area where cargo and oversized baggage is collected, weighed, and loaded on trains. After pushing your bicycle up the cement ramp and arriving on the train platform you will be standing in front of the cargo office. It's easy to recognize because it has a large amount of cargo directly in front of it and a nice (or not so nice) Thai lady sitting at a desk just outside of the glassed-in office. Enter the cargo office and tell them you have a bicycle (pointing to the bicycle parked just outside their office window works just as well as speaking fluent Thai). You will need to show your train ticket and tell them where you will be getting off of the train (Bangkok, Hua Hin, etc.,).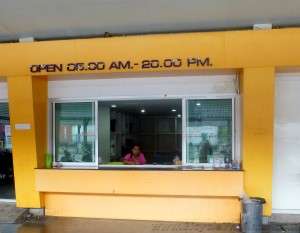 The fee for transporting 1 bicycle in the cargo carriage of the train is 130 Thai Baht regardless of your final destination. So, if you are taking the evening Hat Yai to Bangkok (Train #38, #36) Special Express train and plan to get off the train somewhere before its final destination of Bangkok the fee is still 130 Thai Baht. Remember that Special Express (Diesel-DRC) and Rapid trains do not have cargo carriages. Special Express and Ordinary trains do have cargo carriages.
After you have paid the 130 Thai Baht you will receive a cargo ticket. Exit the cargo office and show the cargo ticket to the nice (or not so nice) Thai lady sitting at the desk in front of the cargo office and pay her an additional 20 Thai Baht. This 20 Baht fee is the 'handling' fee for your bicycle. A ticket will be stapled to the handlebars and your bicycle will be added to the pile of cargo to be loaded. You will retain the cargo ticket given to you by the cargo office personnel. You will need to show this cargo ticket to the personnel on the train platform at your final destination in order to retrieve your bicycle.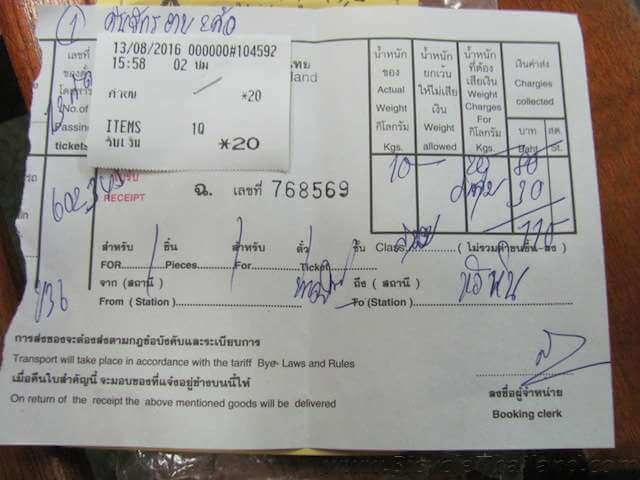 That's it. Once your bicycle has been added to the cargo to be loaded queue you can leave it and await the boarding call for your train. As mentioned before, it's a good idea to arrive approximately one hour prior to your train departure time in order to allow for sufficient time to get your bicycle cargo ticket all sorted. Unfortunately, it is not possible to prebook a cargo ticket for your bicycle, even though you can purchase your passenger ticket weeks in advance.
As mentioned in my Crossing the Thailand/Malaysia border near Hat Yai article the city of Hat Yai, with its train station and good selection of nearby bike shops and hotels, is worth noting if your cycling journey includes a Thailand/Malaysia border crossing.
---
Planning a cycling trip in Thailand? Want to remove some of the guesswork when it comes to routes and information? BicycleThailand.com offers GPS route data for touring cyclists that can be used on a GPS device, smartphone, or tablet. These routes can be viewed on your device regardless of internet access during your Thailand cycling adventure. Learn more about our Thailand GPS cycle touring routes.