Our latest Top Pick Event in Thailand is the Singha MTB 12 Hours Endurance Race 2015. Being held at the scenic Singha Park (also known as Boon Rawd Farm) in Chiang Rai province, this 12 hour endurance race will attract many individuals and teams from around the country.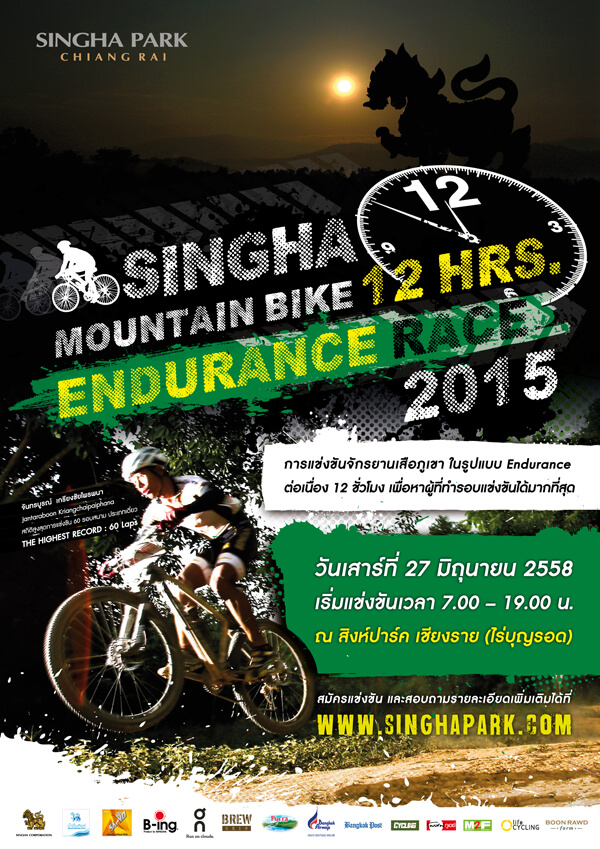 Competitors will ride the race course for a continuous 12 hour period, from 7am until 7pm, attempting to complete the most amount of laps within the allotted time. Partially completed laps will not count. Awards for age groups, teams, and individuals will be given. There are plenty of additional things to see and do while at the beautiful Singha Park, so this is definitely an event for the whole family to attend. View this and other great cycling events in Thailand on our EVENTS calendar page.
Race starts at 7am and finishes at 7pm (0700-1900). The mostly cross country track is an approximately 4-4.5 kilometer loop. Singha Park has a bike shop nearby to the race course known as the Barn House Bicycle Shop. Registration costs are less if you sign up prior to June 6th. Registration will close on June 20th.
JUNE 27 – Saturday: Chiang Rai
Singha MTB 12 hours Endurance 2015. Event Type: 12 hours continuous mountain bike competition. Distance: 4-4.5 km per round/lap. Location: Singha park (Boon Rawd Farm), 99, Moo.1, Mae Korn, Mueang Chiang Rai district, Chiang Rai province. Registration: Please register online at www.singhapark.com Fee: Team of 3 people: 2,100 THB (register until June 6th): 3,000 THB (register after June 6th), Individual: 700 THB (register until June 6th): 1,000 THB (register after June 6th). Registration closes on June 20th. Categories: Everyone is welcome, several categories by age and gender. Contact: 081-802-4632 or E-mail: info.singhapark@gmail.com
How to register:
1. Fill in the online application form at www.singhapark.com or call for details call 081-802-4632 or 089-980-0255 between the hours of 10:00am and 6:00pm.
2. Transfer entry fee to the bank account number 784-2-18407-4. Farmers Thailand Silom Soi 1 (Tower Hill Holiday House) account Winai Dardarananda.
3. Send proof of payment (image of transfer receipt) to info.singhapark@gmail.com. Wait for confirmation e-mail containing race number and timing chip information.
4. Verify that your name appears on the list of contestants at www.singhapark.com
5. If your name does not appear on the list of contestants call 081-802-4632 or 089-980-0255.
If you are organizing or know of a cycling event in Thailand that you would like to see listed on our EVENTS calendar page, or as a future Top Pick Event, contact us with event details at Events@BicycleThailand.com
Event details required:
1. Name of event
2. Date(s) of event
3. Exact location – Tambol, Amphoe, and Province. Include additional information if available such as GPS coordinates or description of registration and/or start point of event.
4. Type of event: MTB, Road, Casual, City Ride, Festival, etc.,
5. Cycling distance(s)
6. Registration: Process and location
7. Fee(s)
8. Event categories
9. Website, FaceBook page, email, phone number or other contact information
10. Other details of event