Our latest Top Pick Event in Thailand is a weekend double-header: the Sheraton Krabi Trophy 2013 and World Car Free Day.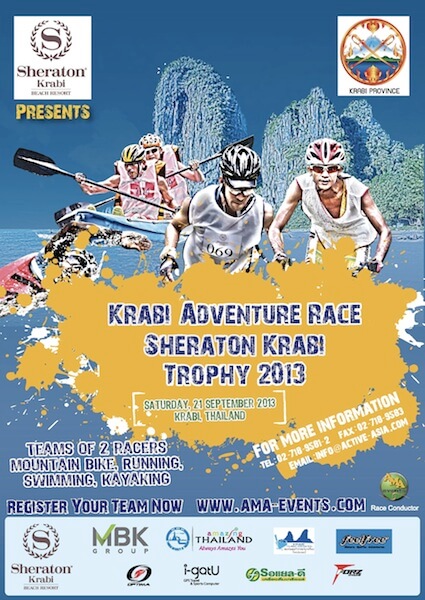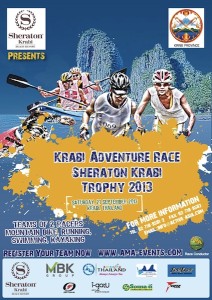 Both of theses events are happening this upcoming weekend of September 21 & 22, and there is plenty for cycling fans to like about each. First off, on September 21st is the 2nd running of the annual Sheraton Krabi Trophy Adventure Race. Off-road riding and adventure sports in the beautiful surrounds of Krabi Thailand; what more could you ask for? Second up is World Car Free Day on September 22nd. This world-wide gathering of cyclists in cities across several countries is a definite 'DON'T MISS' event for every cyclist. This weekend has something for everyone, whether you are an avid off-road adventure junky with a desire to put tire, foot, and paddle to work in the great outdoors, or you are a cycling advocate who is keen to show your local community that 'bikes belong'. Don't miss your chance to participate. Now, get out and ride! View this and other great cycling events in Thailand on our EVENTS calendar page.
21 – Saturday : Krabi
Active Management Asia (AMA) Events Location: Sheraton Krabi Beach Resort, Nong Thale, Muang Krabi, Krabi province. Presented by AMA-Events. Visit the Active Management Asia (AMA) Events for this event to find more details about the most scenic adventure race in Southeast Asia!
21 – 22 Saturday & Sunday : Major cities across Thailand & Bangkok
Car Free Day 2013. Presented by city municipalities across Thailand and in Bangkok, the Thai Cycling for Health Association (TCHA). Location: Several major cities around Thailand will hold their own 'Car Free Day 2013' events during this weekend. Main Bangkok event will collect riders from several different start points throughout the city on Sunday, September 22. Register at multiple gathering places in Bangkok and Bangkok Metropolitan Area. Bangkok cycle procession will end at Royal Plaza. In Bangkok, Cyclists can ride the Skytrain for FREE on September 21 & 22.

BicycleThailand.com is highlighting these events for their FUN IN THE SUN and CYCLING SOLIDARITY qualities. If you are organizing or know of a cycling event in Thailand that you would like to see listed on our EVENTS calendar page, or as a future Top Pick Event, contact us with event details at Events@BicycleThailand.com
Event details required:
1. Name of event
2. Date(s) of event
3. Exact location – Tambol, Amphoe, and Province. Include additional information if available such as GPS coordinates or description of registration and/or start point of event.
4. Type of event: MTB, Road, Casual, City Ride, Festival, etc.,
5. Cycling distance(s)
6. Registration: Process and location
7. Fee(s)
8. Event categories
9. Website, FaceBook page, email, phone number or other contact information
10. Other details of event