Our Top Pick Event for the month of July is the Nok Air "Ride for Life' in Nakhon Si Thammarat. With nearly a thousand cyclists already registered to participate and over 160,000 Thai Baht pledged to benefit the Cardiac Children Foundation of Thailand this event is sure to be a good time with lots of good people on two wheels. Furthermore, this event made our Top Pick because of its awesome and informative website (in both Thai and English). The website provides route information, event schedule and easy online registration (again, in English).
This activity aims to raise money for charity to support the Cardiac Children Foundation of Thailand. Everyone can join the activity, not only can cyclists register and pledge a donation amount but a non-cyclist pledger can also donate and designate a biker to ride for them. Share this event with your friends and family so that they can be a part of helping children have a better life.
JULY 16 – Saturday: Nakhon Si Thammarat
Nok Air 'Ride for Life'. Event Type: Long distance bicycle competition and festival. Nok Air invites all cyclists to support NOK AIR RIDE FOR LIFE to benefit The Cardiac Children Foundation of Thailand. Time: 5:30am until 6:00pm (0530-1800). Nok Air concert 'Khanom Festival 2016' begins at 6:00pm (1800) and is free to all cyclists who complete the ride in the allotted time. View the route here. Location: Khanom Golden Beach Hotel, Na Dan Beach, Khanom, Nakhon Si Thammarat province. Registration: online registration in English language is open from June 1 thru June 30, 2016. Everyone is welcome to join. Fee: 300 baht.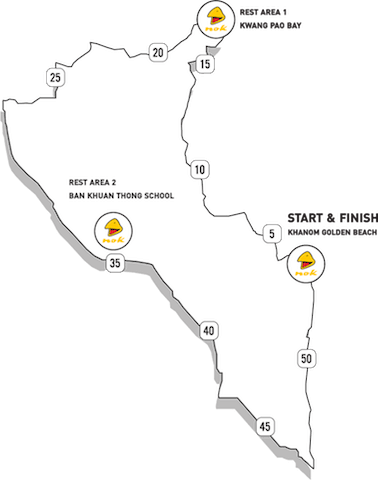 ---
If you are organizing or know of a cycling event in Thailand that you would like to see listed on our EVENTS calendar page, or as a future Top Pick Event, contact us with event details at Events@BicycleThailand.com
Event details required:
1. Name of event
2. Date(s) of event
3. Exact location – Tambol, Amphoe, and Province. Include additional information if available such as GPS coordinates or description of registration and/or start point of event.
4. Type of event: MTB, Road, Casual, City Ride, Festival, etc.,
5. Cycling distance(s)
6. Registration: Process and location
7. Fee(s)
8. Event categories
9. Website, FaceBook page, email, phone number or other contact information
10. Other details of event