Our latest Top Pick Event in Thailand is the Bhumidol Dam International MTB Championship 2013. This annual MTB race is now in its eighth year and draws an enthusiastic crowd of MTBers from all over Thailand and Malaysia. This popular race in Tak province is organized by the Electric Generating Authority of Thailand, the Tourism Authority of Thailand, and the Sport Authority of Thailand. View this and other great cycling events in Thailand on our EVENTS calendar page.
24 – 25 Saturday & Sunday : Tak
Bhumibol Dam International Mountain Bike Championship 2013. Mountain Bike competition. Location: Bhumibol Dam, Sam Nyao, Tak province. Registration: At the event. Categories: several categories by age and gender. Contact details: 081-2833775, 081-8877527. Read about the 5th Annual installment of this race here.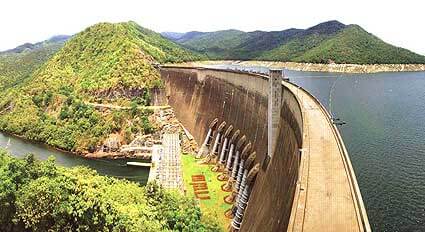 Register & pay on race day
BicycleThailand.com is highlighting this event because the organizers have continued to put on an enjoyable annual mountain bike race without making massive changes to the expected date and venue location of the event. Eight consistent years of great mountain biking in the month of August! If you are organizing or know of a cycling event in Thailand that you would like to see listed on our EVENTS calendar page, or as a future Top Pick Event, contact us with event details at Events@BicycleThailand.com
Event details required:
1. Name of event
2. Date(s) of event
3. Exact location – Tambol, Amphoe, and Province. Include additional information if available such as GPS coordinates or description of registration and/or start point of event.
4. Type of event: MTB, Road, Casual, City Ride, Festival, etc.,
5. Cycling distance(s)
6. Registration: Process and location
7. Fee(s)
8. Event categories
9. Website, FaceBook page, email, phone number or other contact information
10. Other details of event