Our latest Top Pick Event in Thailand is the 6th Annual Conquer Doi Inthanon Ride. Take the challenge, and join others in conquering Thailand's tallest peak. View this and other great cycling events in Thailand on our EVENTS calendar page.
February 3 – Sunday : Chiang Mai Province
6th Annual Conquer Doi Inthanon Ride. This ride/race, which ascends Thailand's highest peak (2,565m), has 2 starting locations depending on the distance and category you choose. One starting point is the Doi Inthanon National Park headquarters and the other starting point is at Wat Phra That Si Chom Thong. Location: Chong Thong, Chiang Mai province. Categories: several categories for age groups, bicycle type (and tire size), and male/female participants. Range of distances: 16km-50km. Register on morning of race. For more details call: 089-755-0275.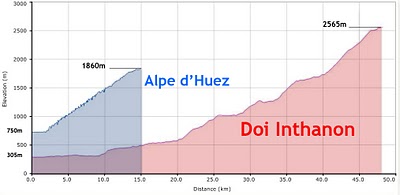 Image credit: Crouching Tiger Cycling Tours
BicycleThailand.com is highlighting this event because of its popularity, appeal, and consistency. If you are organizing or know of a cycling event in Thailand that you would like to see listed on our EVENTS calendar page, or as a future Top Pick Event, contact us with event details at Events@BicycleThailand.com
Event details required:
1. Name of event
2. Date(s) of event
3. Exact location – Tambol, Amphoe, and Province. Include additional information if available such as GPS coordinates or description of registration and/or start point of event.
4. Type of event: MTB, Road, Casual, City Ride, Festival, etc.,
5. Cycling distance(s)
6. Registration: Process and location
7. Fee(s)
8. Event categories
9. Website, FaceBook page, email, phone number or other contact information
10. Other details of event