Our latest Top Pick Event is the 14th Annual Bhumibol Dam International Mountain Bike Competition. This event is also being called the Bhumibol Dam Mountain Bike Championship 2015. The '14th Annual' part of the name is a bit misleading because the 5th Annual Bhumibol Dam Invitation MTB Championship was held in 2010. Either the math just doesn't work out or more than one event has been held in a year's time, we're just not sure.  Regardless of the name this event always proves to be a great weekend of riding for all ages, drawing massive groups of competitors from around the country. This event was one of our Top Picks of 2010 and 2013.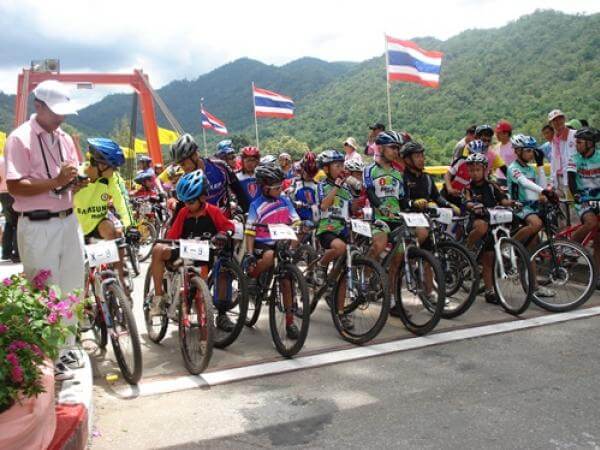 The event, organised in honour of His Majesty King Bhumibol Adulyadej's 88th Birthday Anniversary this year, consists of the mountain biking activities and competitions among various biking groups, both professionals and amateurs.
On August 29, the activities include a 60 kilometer MTB competition in honour of H.M. the King starting from Tak City Hall to Bhumibol Dam. On the same day there will be an 18 kilometer mountain biking competition for families, and a 12 kilometer competition for loving couples.
The main event – On August 30, the international mountain biking competition will take place. The distance of the MTB course is 36 kilometers (3 laps of 12km course) and is being recommended for more experienced riders. Amateur riders can compete in a shorter distance course of 20 kilometers.
Application fee for biking competitions is 400 THB. All competitors will receive a T-shirt and a participation medal.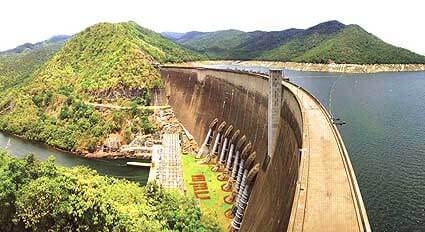 This event also incorporates the campaign to promote good health by biking, to raise awareness on environmental conservation, and to promote bike travel as well as the activities to promote Tak province as a preferred destination during the green travel season.
Other activities include a fair of OTOP (one-tambon-one-product) from every district in Tak, local food, folk song performances, and mini concerts from Thai artists and bands. There are also booths selling bikes and biking products and many other fun-filled activities throughout the event.
For more information, contact: Tourism Authority of Thailand (TAT) Tak Office
Tel: +66 (0) 5551 4341-3
Email: tattaktravel@gmail.com or tattak@tat.or.th
Website: www.bhumiboldam.egat.com
View this and other great cycling events in Thailand on our EVENTS calendar page.
AUGUST 29 – 30 Saturday & Sunday: Tak
14th Annual Bhumibol Dam International Mountain Bike Competition. Event Type: MTB competition. Location: Bhumibol Dam, Samnyao (Sam Ngao) district, Tak province. Registration: At the event 06:00-07:30 am. Fee: 400 THB. Categories: Everyone is welcome, several categories by age and gender. Contact: 081-2833775, 081-8877527. Read about previous year's event here.
If you are organizing or know of a cycling event in Thailand that you would like to see listed on our EVENTS calendar page, or as a future Top Pick Event, contact us with event details at Events@BicycleThailand.com
Event details required:
1. Name of event
2. Date(s) of event
3. Exact location – Tambol, Amphoe, and Province. Include additional information if available such as GPS coordinates or description of registration and/or start point of event.
4. Type of event: MTB, Road, Casual, City Ride, Festival, etc.,
5. Cycling distance(s)
6. Registration: Process and location
7. Fee(s)
8. Event categories
9. Website, FaceBook page, email, phone number or other contact information
10. Other details of event