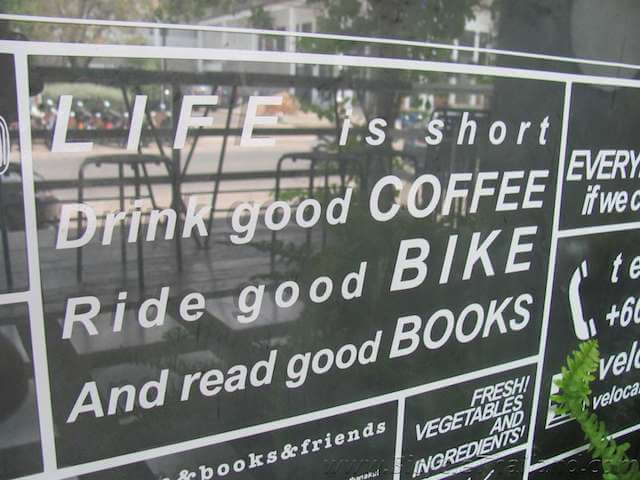 LIFE is Short. Drink good COFFEE. Ride good BIKE. And read good BOOKS. If a sign on the door of a cafe admonishing you to drink coffee, ride bikes, and read books doesn't get your attention then perhaps paying a visit to Velo Cafe @ Hua Hin might not be to your liking. I mean, who really wants to sip on a tasty coffee beverage (served Hot or Cold) while enjoying the chill atmosphere, not to mention soothing music, of a cafe decorated in industrial and earth tone wood design.
Cycling books and magazines adorn the bookshelves of the cafe's reading nook area while artwork and figurines from local Hua Hin artists cover the walls and are discreetly deposited throughout the shop. Some of the cafe's most prominent artwork belongs to local artist Thaweesak Srithongdee, who goes by the moniker Lolay.
The breakfast menu at Velo Cafe @ Hua Hin has one item on offer, a made-to-order omelet, while the sandwich menu is a bit more robust. The Smoked Salmon or J.P.E. sandwiches are sure to please. The coffee menu has all of the usual offerings and a delicious hot cappuccino will set you back 55 THB. The overall feeling of the cafe is cozy with inside seating allowing for about eight people and a covered outside seating area that will accommodate another four.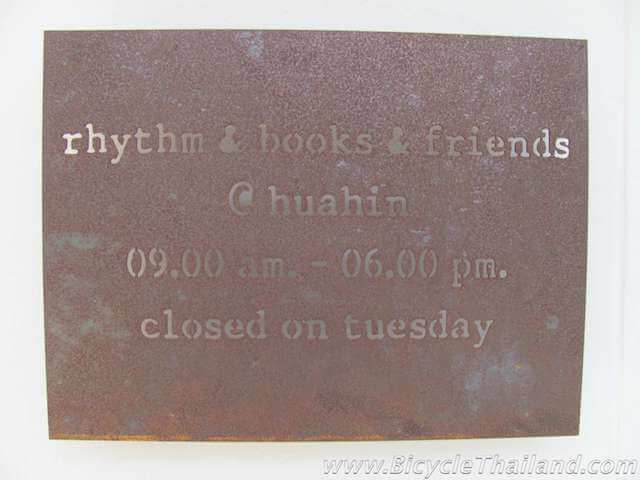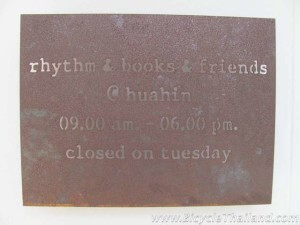 A nice benefit of visiting Velo Cafe @ Hua Hin is that the Rhythm & Books & Friends shop is just behind it, accessible via a small alleyway. Rhythm & Books & Friends is a book shop inside a small converted residence with a lovely little front garden area. The owner speaks excellent English and is a writer and photographer who stocks his small book shop with titles covering what interests him the most: Food & Drink, Art, Music, Sex, and Cycling. He has devoted one room of the small shop to music appreciation where his beloved collection of LP records are played amidst what can best be described as a chill-out zone, complete with colorful floor pillows. Rhythm & Books & Friends is open every day (except Tuesday) from 9:00am-6:00pm.
Velo Cafe @ Hua Hin / Rhythm & Books & Friends
Food : Coffee, Sandwiches, and Breakfast
Seating : Indoor & Outdoor
Hours: Open every day 7:30am-5:30pm
Price range: 55 – 150 THB
Address:
12/34 Hua Hin Place , Naeb Kehardt Road
A. Hua Hin
Prachuap Khiri Khan 77110
ภาษาไทย [+]
เวโล กาแฟ @ หัวหิน
12/34 ถนนแนบเคหาสน์
อำเภอหัวหิน
ประจวบคีรีขันธ์ 77110 Tel. 080-282-5156
Velo Cafe @ Hua Hin FaceBook: https://www.facebook.com/velocafehuahin
GPS – N 12.576403, E 99.956614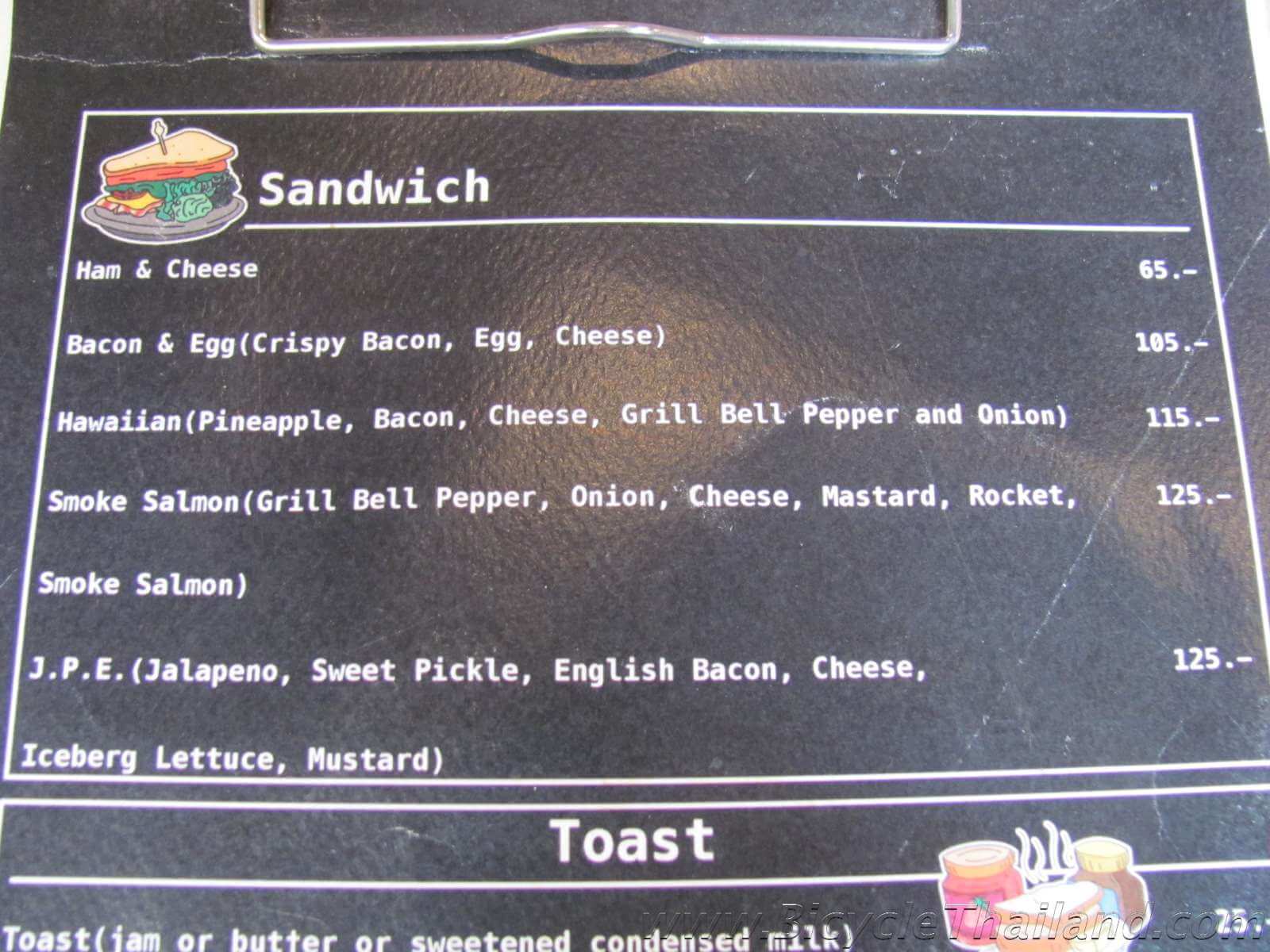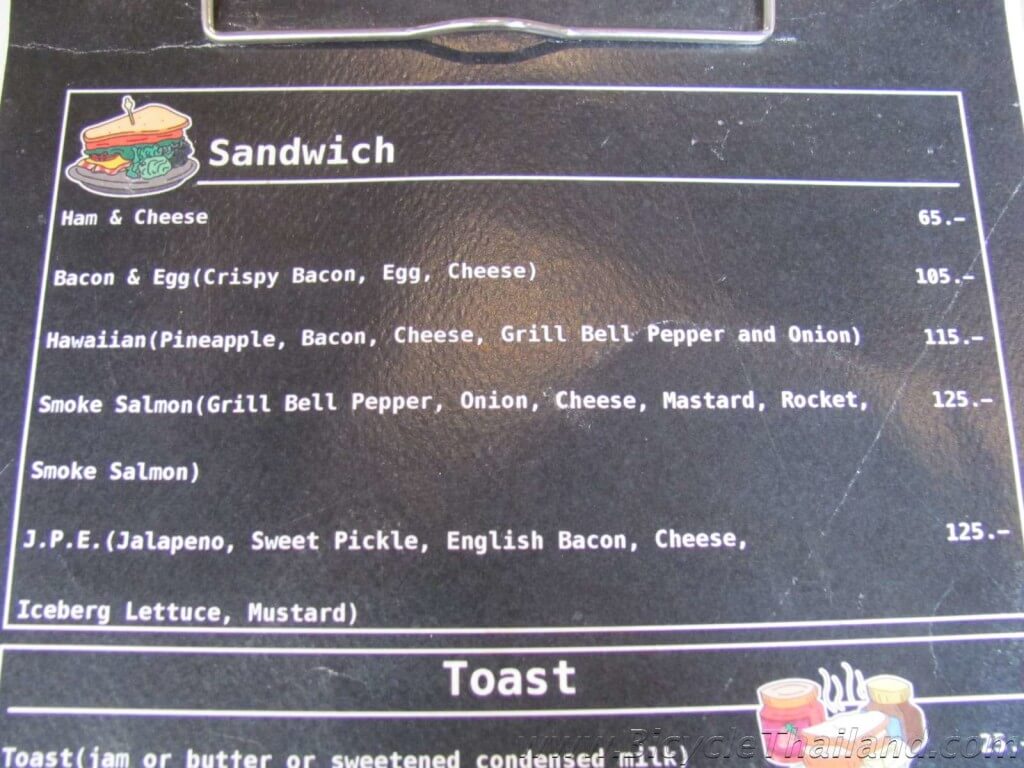 ---
Planning a cycling trip in Thailand? Want to remove some of the guesswork when it comes to routes and information? BicycleThailand.com offers GPS route data for touring cyclists that can be used on a GPS device, smartphone, or tablet. These routes can be viewed on your device regardless of internet access during your Thailand cycling adventure. Learn more about our Thailand GPS cycle touring routes.