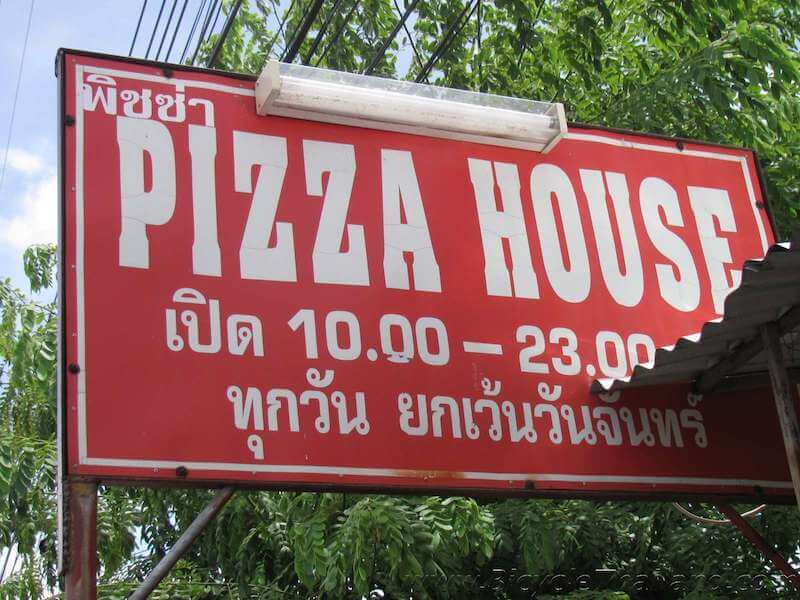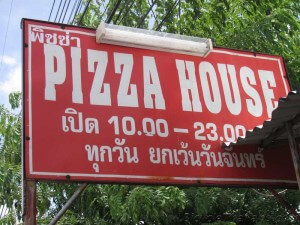 I recently went on a short, five day, cycling trip with a friend who wanted to show me some great routes in Kanchanaburi and Suphanburi provinces. Kanchanaburi is a great province, full of cycling opportunities, both on and off-road. And, if you stay close to Mueang Kanchanburi (Provinicial capital of Kanchanaburi) you have plenty of resort and restaurant options to meet most any tastes. But, when my friend said that we would also be doing a couple of days based out of Amphoe Dan Chang, in Suphanburi province, I prepared myself for the inevitable 'roughing it' conditions that I have become accustomed to when visiting the less touristy provinces and cities of Thailand. Not that I need 5-Star accommodation everywhere I go, but a nice plate of pasta, or a delicious pizza at least once a week is what I consider a necessity in my life. So, I am infinitely more pleased with my cycling trips in Thailand if I can locate some good 'ol comfort food along the way. My friend knows this about me, and he admits to needing a break from Thai food every couple of days while on a ride, so I was delightfully pleased when he mentioned that he knew of a place in Dan Chang that is well-known for its Italian and Western dishes.
Located on a quiet backroad of Dan Chang city's downtown market area, Pizza House is a winner. Friendly owner, Khun Inn, greeted us with a big smile and rustled us up a couple of formidable menus full of pizza, pasta, steak, ribs, and burgers. Sure, there was salad… but, who eats salad?!?! Some of the menu choices seemed to good to be true and I half expected a 'no have' reply when I ordered the bacon-wrapped beef steak with mashed potatoes. The response I got instead was 'no problem' and out it came less than 10 minutes later. My friend's plate of Spaghetti Bolognese showed up quicker than my steak, which gave us both a bit of time to marvel at the massive portion of noodles and sauce.
While eating, my friend and Khun Inn related to me that the restaurant is well-known amongst the Suphanburi expat community, business owners and teachers alike. I think the popularity of pasta and pizzas draws a lot of locals as well, since I saw the majority of tables occupied by Thais on the day we visited.
Pizza House is located on Danchang Road 3, in Dan Chang district of Suphanburi province. The two bike shops in Dan Chang are located in the same downtown market area, less than three short blocks from Pizza House. The restaurant is open Tuesday through Sunday from 10am until 11pm. The restaurant is simple and functional, without any elaborate decorations. People come here for the food. Period. My personal recommend from the menu is the Bacon-wrapped beef steak (with mashed potatoes and steamed veggies).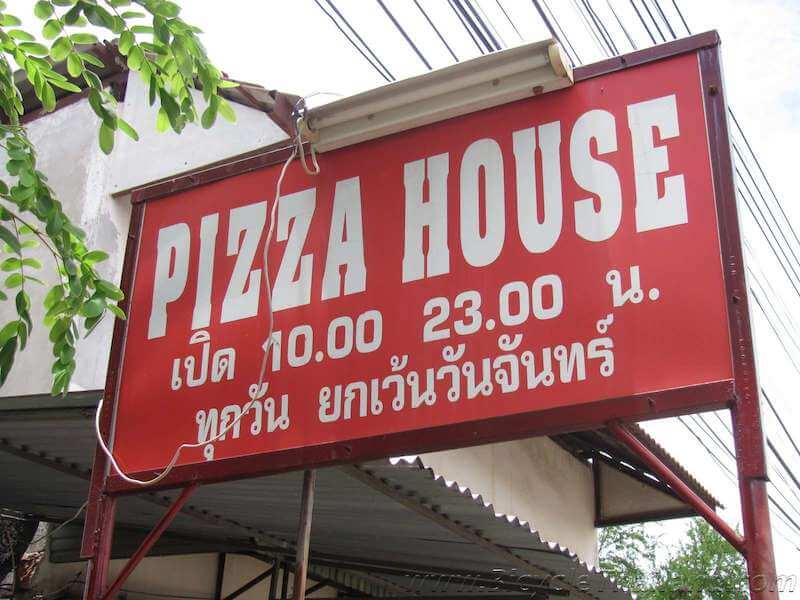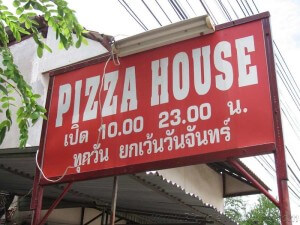 Pizza House
Food : Italian, Western & Swedish
Hours: 10:00am – 11:00pm (1000-2300). Closed on Monday.
Address:
Danchang Road 3
T. Nong Makha Mong A. Dan Chang
Suphanburi 72180
ภาษาไทย [+]
พิฃฃ่า House
ถนนด่านช้าง 3
ตำบลหนองมะค่าโมง อำเภอด่านช้าง
จังหวัดสุพรรณบุรี 72180 GPS – N 14.84294, E 99.69393
---
Planning a cycling trip in Thailand? Want to remove some of the guesswork when it comes to routes and information? BicycleThailand.com offers GPS route data for touring cyclists that can be used on a GPS device, smartphone, or tablet. These routes can be viewed on your device regardless of internet access during your Thailand cycling adventure. Learn more about our Thailand GPS cycle touring routes.