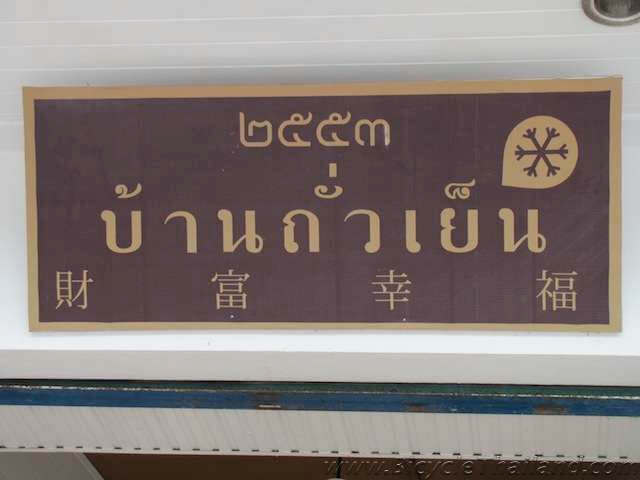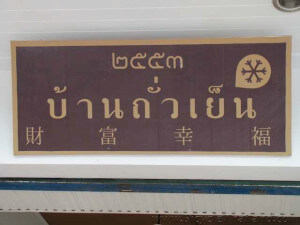 While riding my bicycle in Hua Hin last week, I came across a small restaurant and cafe with a designated bicycle parking area in the front. Wanting to get out of the midday sun to enjoy a cool beverage, I took a moment to inquire of the cafe's employees as to the name of the restaurant and the reason why it had such a fantastic bicycle parking area. The wait staff were extremely friendly and, in addition to answering my questions about the bike parking area, they provided me with a welcome drink, free of charge. I was told that the restaurant owner has close ties with the popular A DAY Thai lifestyle magazine, and created the parking area for his customers use because of the magazine's inspired biking initiative known as HUMAN RIDE.  I was also happy to learn that the welcome drink, which was a refreshing iced tea with Thai jellies and mint leaves, is given to every patron who arrives to the cafe on bicycle.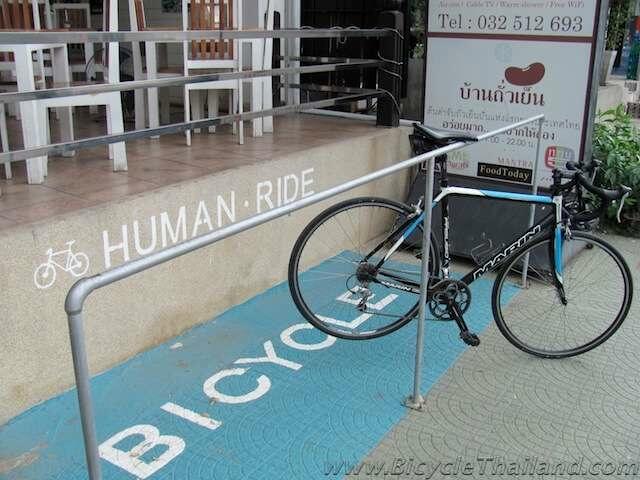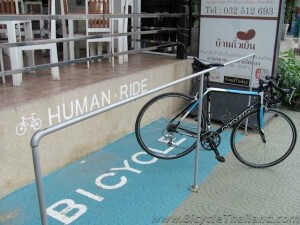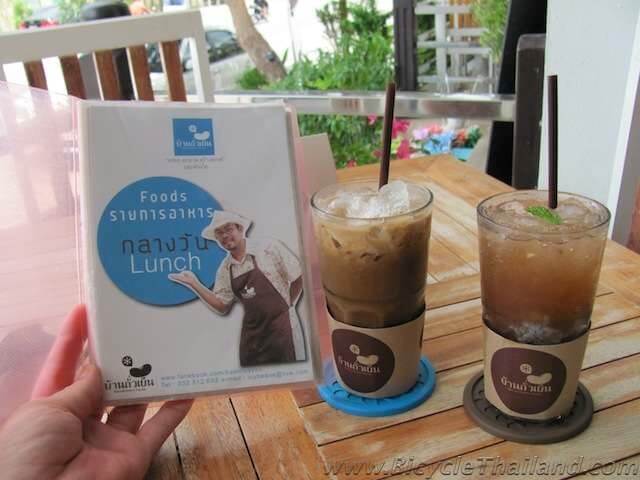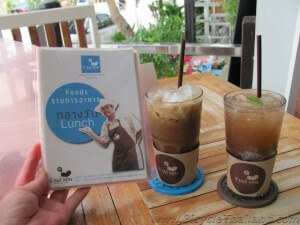 The two-storied building, which rests on the corner of Naebkehardt Road and Naebkehardt Soi 6 in Hua Hin city is a restaurant, cafe, and boutique hotel. On the first floor is the Icy Beans (or Baan Tua Yen in Thai) restaurant and cafe. The restaurant is open every day from 7am until 10pm, and serves up a variety of inexpensive Thai menu dishes as well as delicious desserts. And, of course, tasty fruit and coffee-based drinks are the cafe's main attraction, with many choices available for 40-60 THB.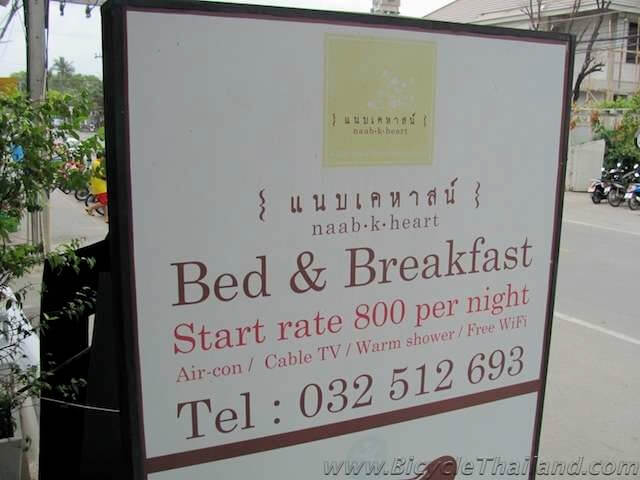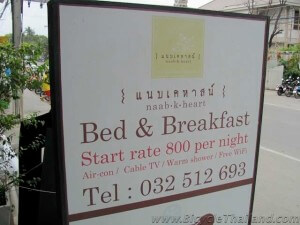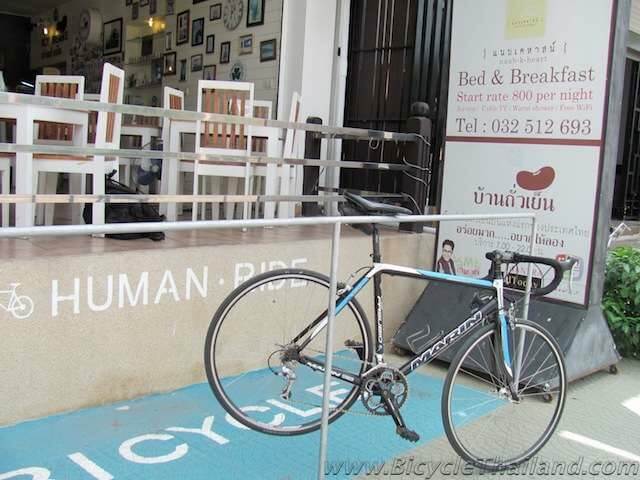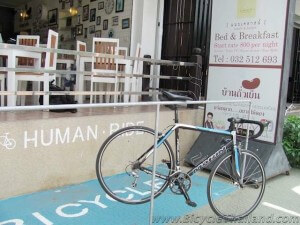 Upstairs from the Icy Beans restaurant is the Naab-K-Heart boutique Bed & Breakfast. Cozy rooms complete with Hot Shower, Cable TV, Air Con, and Free WiFi start at a reasonable 800 THB/night. The name Naab-K-Heart is a bit of a play on the pronunciation of the name of the road where the hotel is located. Room rates are 800-1,700 THB (Sun-Thu) and 1,200-2,000 THB (Fri-Sat & Holidays).
Icy Beans (Baan Tua Yen) / Naab-K-Heart Bed & Breakfast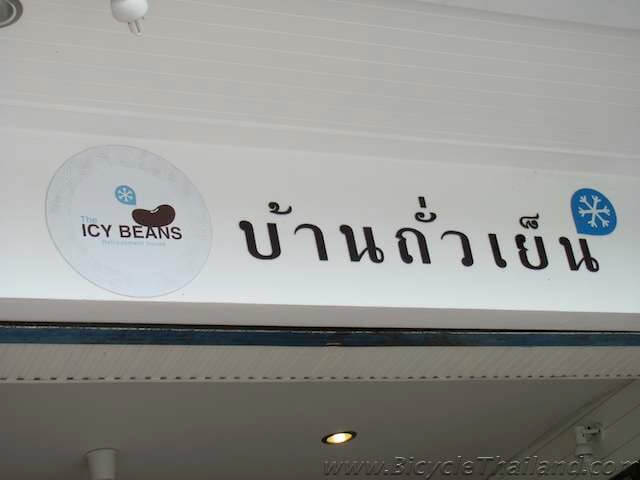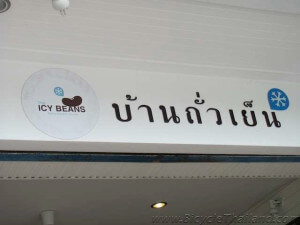 Food : Thai & Delicious Desserts
Seating : Indoor
Hours: breakfast, lunch & dinner 7:00am-10:00pm
Price range: dishes 70 – 150 THB
Address:
10 Naeb Kehardt Road
A. Hua Hin
Prachuap Khiri Khan 77110
ภาษาไทย [+]
บ้านถั่วเย็น แนบเคหาสน์
10 ถนนแนบเคหาสน์
อำเภอหัวหิน
ประจวบคีรีขันธ์ 77110 Tel. 032-512-693
Icy Beans (Baan Tua Yen) FaceBook: https://www.facebook.com/baantuayen
Naab-K-Heart Bed & Breakfast FaceBook: https://www.facebook.com/naab.k.heart
GPS – N 12.583274, E 99.955387
Room reservations for Naab-K-Heart Bed & Breakfast can be made by telephone 032-512-693, or by email naab-k-heart@live.com. Walk-Ins / Ride-Ins are also welcome.
---
Planning a cycling trip in Thailand? Want to remove some of the guesswork when it comes to routes and information? BicycleThailand.com offers GPS route data for touring cyclists that can be used on a GPS device, smartphone, or tablet. These routes can be viewed on your device regardless of internet access during your Thailand cycling adventure. Learn more about our Thailand GPS cycle touring routes.
---