Last month I stayed at the Phuket Bike resort. The resort was a quiet, comfortable and modern base for me during my time exploring around Phuket.
Location: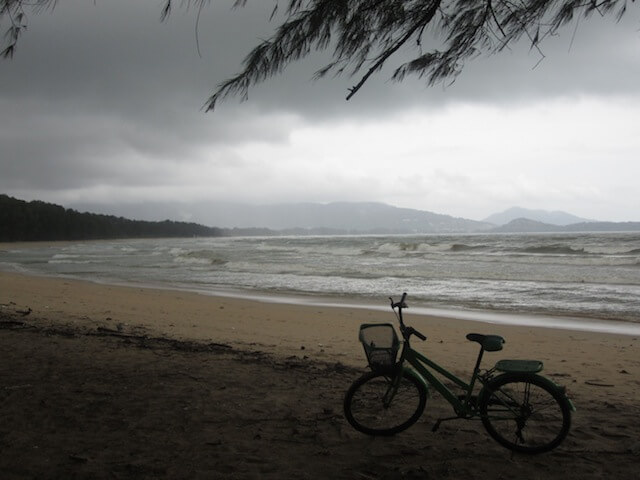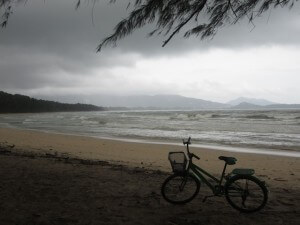 The Phuket Bike Resort is located on the west coast of Phuket, near Layan Beach and the luxury Laguna precinct. It's worth mentioning here that Laguna is home to the annual Laguna Phuket Triathalon, so the Phuket Bike Resort is worth considering if you are attending that event (or other events in the Laguna area).
While the resort is not beach front, there are some quiet beaches within cycling distance. Layan Beach is about 3 km away and Nai Thon Beach is a bit more of a pedal – approximately 10 km (with a few serious hills – you've been warned).
The Phuket Bike Resort is about a 20-minute drive from Phuket International Airport (the hotel offers airport pick-up for a fee of 700 Baht if you don't want to haggle with taxi drivers), and is away from the crowds of Phuket Town further south on the island.
Bike rental:
The resort offers some of its bikes for free rental but as these are small and only single speed they are really only suitable for cycling as far as Layan Beach or Laguna. While there are a couple of other bikes at the resort available to hire for a fee, if you are keen to clock up some serious kilometers it's probably worth visiting a bike shop in Laguna for a greater selection.
Staff: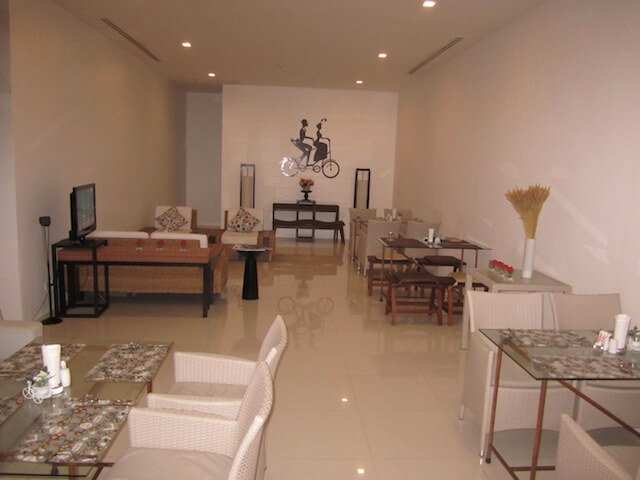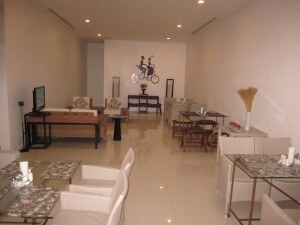 The staff were friendly, attentive and spoke good English. It certainly wasn't too much trouble when I asked for directions to nearby attractions, needed the room-safe reset, or requested a late checkout. The staff were also forthcoming in offering to assist me with planning any activities, even before I arrived.
Atmosphere:
While the resort is branded as a bike resort, this is currently a bike resort mainly by name and decoration. For example, besides a pump, lock and a helmet, the only other bike tools and accessories on-site appeared to be those which were painted on the walls in the restaurant. I'm not saying the resort isn't bike friendly, I'm just saying it is a general resort that has chosen bicycles as a theme.
During my three nights, the resort was very quiet (there were some locals in the restaurant but I didn't encounter anyone else staying in the resort overnight). However, this is probably not unexpected in many places in Phuket during low season. Even during busier periods, those who have spent a fair bit of time travelling in Thailand would appreciate how variable the holiday-making crowds can be.
Rooms and facilities: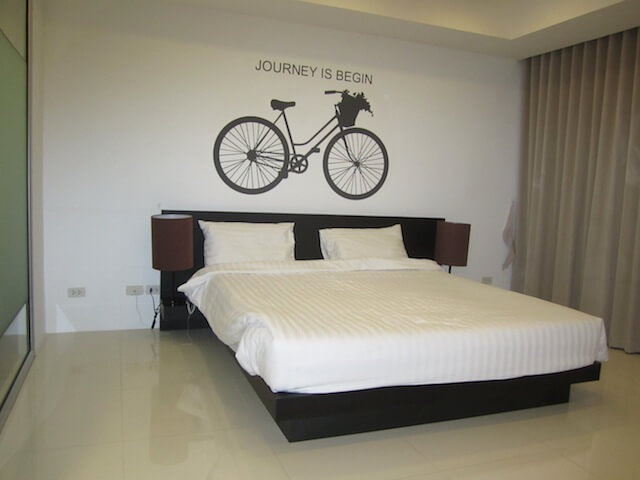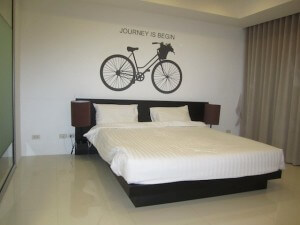 My bike studio room was clean and modern (the resort has only been open since April 2012). It included a comfortable king size bed and ensuite bathroom with bath-tub, safe, and cable television. Larger duplex style rooms are also available which accommodate up to four people and include two bathrooms, a pantry, a dining area, and a poolside entry point.
Other resort features included a games room with a pool table, books, cable television and comfortable furniture.  The restaurant (very important both before and after a day of exploring, or whilst waiting out the monsoon rains during low season) was also a good hang-out.
Food:
The restaurant attached to the resort, which is also popular with the locals (it does a steady trade in take-away pizzas), was a good option. There was a lot of variety on the menu (especially for lunch and dinner) -which included both western and Asian options – and the cook was happy to prepare non-menu dishes as well. There were also many beverages – coffee, shakes and a variety of other alcoholic and non-alcoholic options – on offer at very reasonable prices.
Supermarkets and street food can also be found within walking distance of the resort.  In addition, there are many more restaurants in the nearby town of Laguna.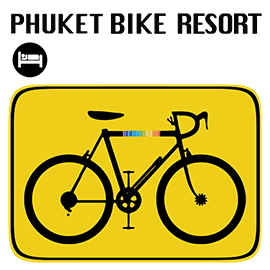 Overall, this resort is a clean and comfortable resort for anyone looking for short or long-term accommodation in a quieter area of Phuket.
Phuket Bike Resort
Address: 108/M.4, Bandon-Koktahod Rd.,
Thepkasattri, Thalang, Phuket, Thailand 83110
Tel : +66 (0)76-305503, or +66 (0)89-8732178
Email : booking@phuketbikeresort.com
Facebook: https://www.facebook.com/phuketbikeresort5168
---
Planning a cycling trip in Thailand? Want to remove some of the guesswork when it comes to routes and information? BicycleThailand.com offers GPS route data for touring cyclists that can be used on a GPS device, smartphone, or tablet. These routes can be viewed on your device regardless of internet access during your Thailand cycling adventure. Learn more about our Thailand GPS cycle touring routes.
---