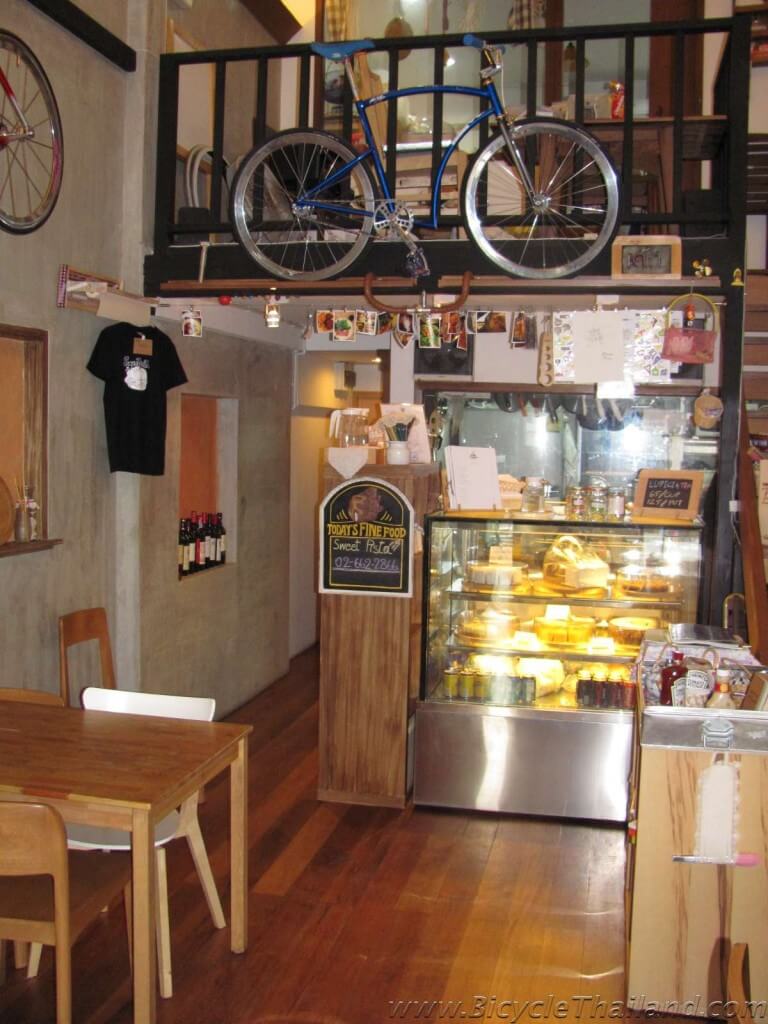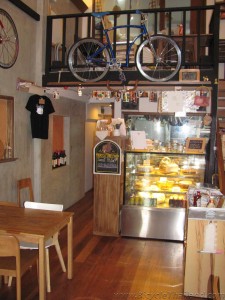 Here at BicycleThailand.com we love to visit bicycle shops, and to inform our readers about the flourishing bike culture in Thailand. On a recent visit to Bangkok, I intended to pay a visit to Sixty Fixy, a bicycle shop previously featured in an article about the fixed-gear scene in Bangkok, when I noticed two new 'bike culture' shops directly adjacent to their Sukhumvit 31 location. This row of businesses, replete with bike shop, restaurant, and hangout bar is a wonderful example of the growing number of bicycle culture spots in Bangkok that support and encourage cycling in the capital.
The first of these two bike culture shops is called 'Cyle' and is what I can best describe as an evening and late night hangout for Bangkok locals with a love affair for everything on two wheels. Cyle opens at 5 in the evening, serves beer and light snacks, and remains open late into the night. Most patrons arrive on bikes and impromptu city rides are a nightly occurrence.  The owner of Cyle is a velo enthusiast and award winning vocalist.
The second of the two shops is called 'Sweet Pista.' Owned by Khun Donge and Khun Aey, this cozy restaurant and bakery has an extensive menu of the owners' favorite dishes and desserts. Khun Donge is the resident chef and barista while Khun Aey concocts magically delicious cakes and pies in the shop's upstairs bakery.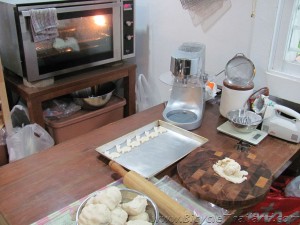 Donge, who describes himself as one of Bangkok's second generation fixed gear riders, is well known from his days of running the Pista Pasta bike shop (where he sold LDG and Affinity brand bikes) and for being a key player in the burgeoning fixed gear culture of Thailand. His creation of the Fellow Freestyle Fixed (FFF) group, which sought to unite fixed gear enthusiasts and bike shops in an effort to produce events and large gatherings of Thai and international riders, has helped him to recognize just how much the fixed gear movement in Thailand has increased and changed over the past three years. While his new shop, Sweet Pista, is not specifically a bicycle shop, he still remains active in the fixed gear community and is constantly buying, selling, and building vintage and fixed gear bicycles. The comfortable interior design of Sweet Pista utilizes some of his current bicycle acquisitions (a LOW and a Pops Fabrication 8-series) in a fashionable and functional way.
Sweet Pista is open Tuesday through Sunday from eleven in the morning until ten at night. Private parties of up to fifteen can be accommodated. Stop in for lunch, dinner, or just to grab a coffee and a slice from one of Khun Aey's wonderful creations. I had the coconut cream cake and it was awesome!
Sweet Pista (Bicycle culture Restaurant & Bakery)
235/21 Sukhumvit Soi 31
Khwaeng Khlong Tan Nuea, Khet Watthana
10110
ภาษาไทย [+]
Sweet Pista
235/21 ซอยสุขุมวิท 31
แขวงคลองตันเหนือ เขตวัฒนา
กรุงเทพฯ 10110 Tel. 026-622-866
GPS – N 13 44.545, E 100 34.038
If you are going to cycle down to enjoy a meal at Sweet Pista, consider also stopping in at Cyle (opens at 5pm) and Sixty Fixy (opens at 3pm) while you are in the neighborhood.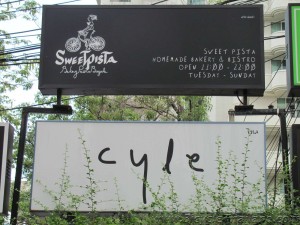 Cyle (Bicycle culture Beer Bar & Hangout)
235/23 Sukhumvit Soi 31
Khwaeng Khlong Tan Nuea, Khet Watthana
10110
ภาษาไทย [+]
Cyle
235/23 ซอยสุขุมวิท 31
แขวงคลองตันเหนือ เขตวัฒนา
กรุงเทพฯ 10110 GPS – N 13 44.545, E 100 34.038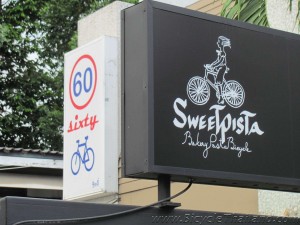 Sixty Fixy
235/20 Sukhumvit Soi 31
Khwaeng Khlong Tan Nuea, Khet Watthana
10110
ภาษาไทย [+]
Sixty Fixy
235/20 ซอยสุขุมวิท 31
แขวงคลองตันเหนือ เขตวัฒนา
กรุงเทพฯ 10110 Tel. 084-123-6655, 084-908-5158
GPS – N 13 44.549, E 100 34.032
**Sixty-Fixy shop has relocated to Sukhumvit 71. Check their most up-to-date location details on the BIKE SHOPS INDEX page.