Article and Photos by Andrew Bhasavanich
Most will be unfamiliar with the term 'fixed-gear' and may unknowingly confuse it with the 'single-speed' bicycle. The fixed-gear bicycle is a testament to simplicity: nothing more than a frame, two wheels, and a crank. Its drive train is a single sprocket locked onto a non-freewheel hub. There are no tangled brake lines or jumpy derailleurs to speak of when it comes to this particular breed of bicycle. It is this simplicity and pureness that fixed-gear enthusiasts value the most.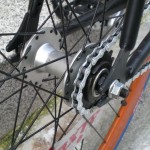 Brakeless bicycles are neither new nor innovative. The idea has been around since cyclists started balancing themselves on two wheels. Prior to the invention of the 'freewheel', it can be said that fixed-gears were amongst the first bicycles. In professional sport, they are more properly known as track bicycles, which are meant to be raced in an oval-shaped track known as a Velodrome.
A fixed-gear bicycle is one that cannot coast whilst in motion, meaning that the pedals and crank are always moving. It is impossible for the rider to stop pedaling as he would on a normal 'free-wheel' bicycle. In order to effectively slow down the rider must apply force against the constant pedal movement, which can either gradually decrease the speed of, or ultimately lock, the rear tire.
Fixed-gear bicycle popularity has boomed in recent years and has developed into a cult following with a sub-culture of its own. The sudden reemergence of the fixed-gear has mainly been attributed to the New York Bicycle messenger scene where NY messengers started using brakeless bicycles as their mode of transportation. Those who could master the use of the brakeless fixed-gear came to possess an elite status. Since then it has exploded across the globe and has been heavily adopted by the 'hipster/retro' crowd.
These bicycles are now an outlet for creative expression and an extension of their riders, who can be easily recognized by their multi-colored Ray-Ban sunglasses and ragged Vans sneakers. Khun Tee, the owner of Sixty Fixie shop, says that he considers the fixed-gear in an urban setting to be a lifestyle all its own. Local riders who frequent his shop are aggressive riders and enjoy riding at a fast pace. According to him, the riders can be divided into three categories: mashers (sai pun), trickers (sai trick), and hipsters (dek neo).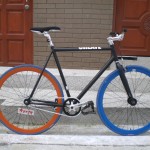 A masher is a fixed-gear rider who enjoys speed and their bikes are more tailored to the drop-bar look of classic retro road bicycles. They can be found doing massive group rides around town or just dodging traffic at fast speeds. Trickers, on the other hand, like to use narrow riser bars, BMX forks, and fatter tires. This is because they prefer to focus on performing tricks and stunts on their bicycles. Lastly, you have the colorful hipsters who, for the most part, just like to cruise around on their flashy bicycles.
Mashers and trickers aside, the existence of the fixed-gear scene can be credited to trends and fashion. It is the colorfulness, aesthetics, and freedom of expression that has attracted so many into the scene. The local scene here in Bangkok was non-existent three years ago. It started out from a few riders who got their bikes from Hong Kong, when none were available locally. Jay Monthon, a well known local celebrity, was one of the first riders who practiced their tricks at Siam in front of the Hard Rock Café. He, and other pioneers, are responsible for founding the forum-style website www.bkkfixed.net  for Thai fixed-gear enthusiasts.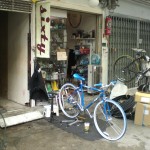 Khun Tee feels that the fixed-gear scene is growing in popularity and the local bicycle business is benefiting. He claims that fixed-gear bicycles are now attracting people from all age groups. His own customers range from teenagers to adults.  There is even a local Thai company that has started producing fixed-gear bicycles under the brand name of 'Fairy-Fixed'. Khun Tee also feels that even if fixed-gears are just a trendy fad, then at least it is attracting more and more people from all walks of life to riding bicycles.
For a better look at these bicycles Khun Tee welcomes anybody to his shop, which is located just behind the Lotus SuperStore at Rama 4**. Khun Tee can be contacted for more details at: 084-123-6655, Email: kalantamas@yahoo.com
**As of March 2016 the Sixty-Fixy shop has relocated to Pridi 19 road, just off of Sukhumvit soi 71. Check their listing on the BIKE SHOPS INDEX page for current location.