Article and photos by Restu Aji Siswanto
"I have been riding bicycle for 17 years and I will keep on riding as long as my health is good", Said the 65-year old Thorleif Andersen, a Norwegian who won the 2nd and the 3rd place for the 30 km International and 60 km Sweat Mountain Bike category in the 5th Bhumibol Dam Invitation International Mountain Bike Championship 2010.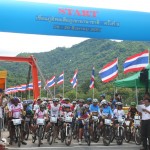 The annual event to promote cycling in Thailand is organized by the Electric Generating Authority of Thailand, the Tourism Authority of Thailand, and the Sport Authority of Thailand. This year's event was held on the weekend of August 28-29.
The multi-day event featured races divided into 5 categories: Sweat Mountain Bike 60 km, Family Bike 16 km, Funny Bike 10 km, International Mountain Bike 30-45 km, and Amateur Bike 24 km. Bikers were able to choose any category and race according to their age group. Top performances in each category and age group were awarded trophies and cash prizes.
In addition to the race routes, which were located on the crest of the Bhumibol Dam, there were food stands and bicycle accessories booths for the race participants and their families to enjoy.
To find more events like this keep checking the EVENTS page at BicycleThailand.com
Sweat Mountain Bike 60 km
Men's open
Chatuphom Lewat – PueanSatahib
Pongsatorn Promharn – Watkolkarn Tak
Under 18 years old
Porachat Tueak-anak – Lampang LCCT Roadrunner
Kittiphong Wong-on – Suechaiprakarn Chiangmai
Suebphong Hombobpa – Maesod Bike Tak
30-35 years old
Surachet Singchui – Wheeler Asia
Pataphong Keawmanee – Wheeler Asia
Paradorn Saesim – Life and Living Bike Net Chantaburi
40-49 years old
Jirasak Nonthakeaw – Police Sport Bike Net
Thongchai Biadnok – Live and Living Bike Net Chantaburi
Wichian Suthan – Bunrueang Bike Chiang Rai
Over 50 years old
Udomlak Somrit – Tiger Kingdom Chiangmai
Thorleif Andersen
Women's open
Suphaksorn Nantana
Apinya Saisamorn – ASTER
Chuthamas Wongpadklang – Provincial Administration of Prachinburi.
International MTB 30 and 45 km
Men's open
Peerapol Chaochiangkhwang
Geeradti Sukbprasat
Nattawat Supacheewalgoon
30-39 years old
Sayree Ruangsiri
Surachet Singchui
Paradorn Saesim
40-49 years old
Thongchai Biadnok
Prasert Chitmat
Saroen Paisantam
Over 50 years old
Ekgarin Tampawon
Thorlief Andersen
Seechai Eeyamtawon
Amateur Bike 24 km (Men)
Men's open
Addisak Dtailangka
Tirasak Boonchooag
Ponanan Suttawirisan
Under 15 years old
Suppawit Somsim
Woramet Kumkong
Apirak Sonpet
Under 18 years old
Nattawoot Yupan
Jadtupong Panlert
Boorachat Thaktaosan
30-39 years old
Poompoori Lamjaroen
Supachai Noychayapuek
Suttin Jambpagaeow
40-49 years old
Surapon Thepwong
Ratagon Ningamjohn
Surat Nantabanjapon
50-59 years old
Thongkam Kansom
Wasan Pimwichit
Thongkam Tangchitsamatee
Over 60 years old
Suchai Orfoowong
2. Panlop Pankrang
Suchat Suninmit
Amateur Bike 24 km (Women)
Women's open
Jutamat Wongpadgrang
Apinya Saisamon
Sirijaree Sittima
Under 18 years old
Jitpisut Kittimoon
Maeseeya Suksuwat
Chonapon Seebpanya
Over 30 years old
Kingkarn Boonpa
Malai Nanthapanjaporn
Chanram Srisawan