ซัก – Wash
อบ – Dry
รีด – Press (Iron)
Finding one of the MANY laundry shops in Thailand is quite easy if you learn to quickly recognize what their Thai language sign looks like. Luckily, EVERY laundry shop displays the same three Thai words on their roadside banner and/or shop window – Sak, Op, and Rit. Teach yourself to keep an eye open for this when riding along and you'll be one step closer to solving your laundry woes while cycling in Thailand.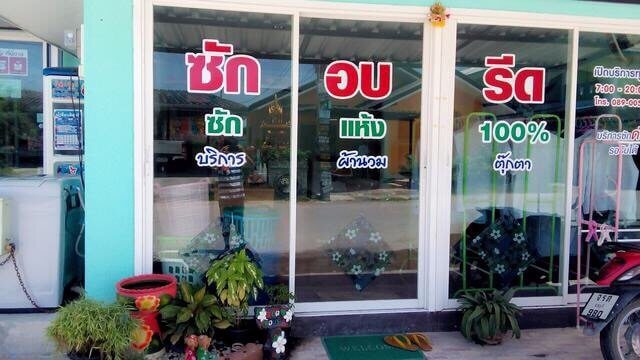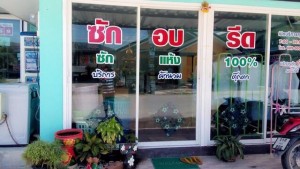 Wherever your cycling adventure takes you in Thailand there will almost always be some type of in-house laundry service (at guesthouses and hotels) or roadside shop nearby to your accommodation that will gladly wash, dry, and iron your clothes. Hopefully, you didn't overpack for your cycling trip and have brought along just enough on-bike and off-the-bike type clothing to have you needing the services of a laundry shop about once every three to four days on your trip. Although it may be a bit more convenient, using the laundry services of guesthouses and hotels, where you will be charged per item, can be rather expensive when compared to finding a roadside shop where you will be charged by weight (prices are usually set and you pay by the kilogram). 30-50 Thai Baht per kilogram is quite normal. Many shops offer next day service but some places will be able to return your clothes to you by evening if you drop them off early in the morning.
Washing – All laundry shops make use of electric washing machines. It is highly unlikely that any laundry service shop offering to do washing for profit will hand wash your items. Many shops will mark your items with a small piece of colored string in order to ensure your items are not confused with another customer's items. Special note: Some shops will not accept women's undergarments. The reason that they will not accept them has a little bit to do with Thai culture (traditionally in Thailand, there was a stigma attached to washing a woman's underwear) and a little more to do with them not wanting to accept responsibility for destroying undergarments made of delicate material. Men's undergarments never seem to be a problem. So, if you are woman cyclist you should plan to wash your own undergarments (bras and panties specifically) while you are traveling through Thailand.
Drying – Drying of clothes will be accomplished by hanging them outside in the sunlight or in a shaded area with plenty of wind flow. Very few shops in rural areas make use of an electric clothes drying machine. Some laundry shops in bigger cities, and those shops that handle large quantities of laundry, certainly make use of electric clothes drying machines. Also, big hotels make use of electric clothes drying machines so just beware if you have items that can be damaged by being dried at high temperatures.
Ironing – Pressing of clothes can mean either that your clothes will be neatly folded or pressed with a hot iron. Most shops will iron all of your items (socks, boxer shorts, T-shirts, etc.,). Usually, the more rural shops will only neatly fold your clothes even though their sign says they offer ironing. Some shops use starch spray as well when ironing clothes. If you have items that can be damaged by a hot iron it is strongly recommended that you request Mai Rit (meaning NO iron). This last point is particularly important to remember when handing over your cycling shorts and jerseys. I have had several pairs of cycling shorts returned to me in slightly 'melted' condition and, apparently, have only myself to blame because I forgot to ask for them not to be ironed.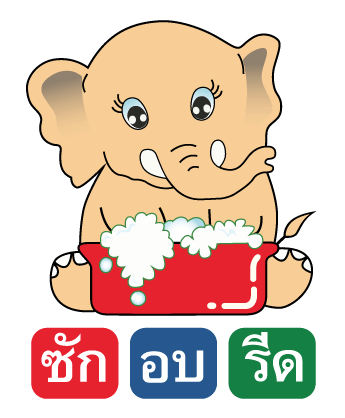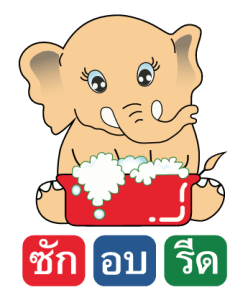 Here are a few Thai words and phrases that will be helpful at the laundry shops:
Do NOT Iron = Mai Rit
ไม่รีด
Do not add starch = Yaa Long Paeng
อย่า ลง แป้ง
Can't machine dry = Op Kreung Mai Dai
อบ เครื่อง ไม่ได้
Can't machine wash = Sak Kreung Mai Dai
ซัก เครื่อง ไม่ได้
Coin-operated washing machine = Sak Yot Rian
ซัก หยอด เหรียญ
Dry Clean = Sak Haeng
ซักแห้ง
---
Planning a cycling trip in Thailand? Want to remove some of the guesswork when it comes to routes and information? BicycleThailand.com offers GPS route data for touring cyclists that can be used on a GPS device, smartphone, or tablet. These routes can be viewed on your device regardless of internet access during your Thailand cycling adventure. Learn more about our Thailand GPS cycle touring routes.