If you've traveled in Thailand then you've seen the ever-present signage that heralds a tire repair shop, whether you're aware of it or not. Regardless of your ability to read Thai script the ubiquitous red and white colored tire signs that dot the roads and highways of Thailand can tell you one thing; all sizes and types of tires can be fixed at the shop directly adjacent to the sign. This includes bicycle tires! This knowledge may become quite useful when having to deal with a punctured tube or ripped tire wall during your next self-supported touring trip or cross-country mountain bike ride.
Once you locate one of these roadside tire signs, simply walk into the shop and point out the problem to the repairman who will get you going again by gluing a patch on your tube and/or tire wall as needed. Since these shops have air compressors on hand they are also useful if you need to top up the air in your tires for a better ride. Schrader/American valve tubes are never a problem to fill at these shops since they are identical to those found on cars and motorcycles. If your bicycle uses Presta/French valve tubes you should always carry an adapter with you.
Here is what the tire repair shop signs look like and a brief explanation of what they are telling you.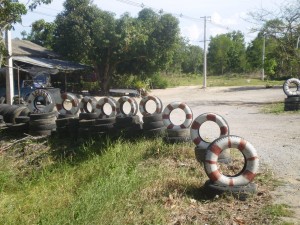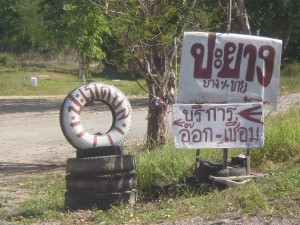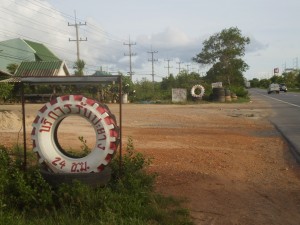 The Thai script says PaYang, which is a combination word of Pa (meaning to repair/to patch) and Yang (meaning rubber). Some tires will not have Thai script – only the red and white coloring. Variations in the Thai script usually indicates quick service, tire sales, or the business name. If the repair shop provides service twenty-four hours a day they will indicate this by painting the numbers 24 on the tire as well. You can come and knock at the shop door day or night and have your tire repaired.
---
Planning a cycling trip in Thailand? Want to remove some of the guesswork when it comes to routes and information? BicycleThailand.com offers GPS route data for touring cyclists that can be used on a GPS device, smartphone, or tablet. These routes can be viewed on your device regardless of internet access during your Thailand cycling adventure. Learn more about our Thailand GPS cycle touring routes.
---