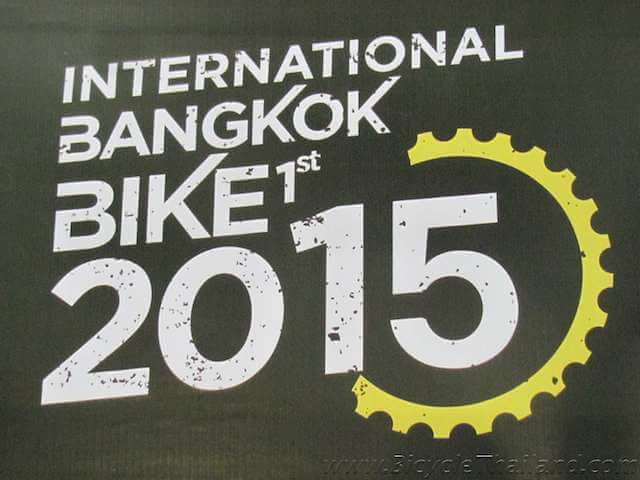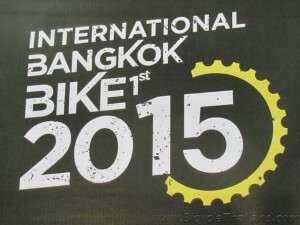 I visited the International Bangkok Bike 2015 on it's first day, April 30th, to catch a few deals and to keep my eye open for any new shops or products making their debut at the show.
The show, as in previous years, is being held at Halls 3 and 4 of the Impact Arena center in Muang Thong Thani and will run from April 30 until May 3.
The layout is pretty much the same as the 2013 and 2014 shows with a noticeable decrease in size to the bike parking and test ride areas. The 2015 expo has far less retail booths than in previous years, the majority of entranceway floorspace being dedicated to a large Tourism Authority of Thailand (TAT) area, and seems to have placed an emphasis on bicycle distributor booths as well as information and banking kiosks. I guess as the price of bicycles soars higher and higher there is a practical need for representatives from all of Thailand's major lending institutions. I was hopeful that I wouldn't need their services as I perused the aisles of deals.
And deals there were – many of the distributors taking the opportunity of the show to slash prices on last year's models in preparation for newly arriving inventory.
Not only was I impressed by the huge discounts being offered on bikes, some up to 70% even, I came across some great initiatives being launched this year that will certainly have an impact on the 2015 cycling events calendar.
Lastly, being at the show and having the chance to talk with distributors and event organizers, and seeing what the current market has to offer I'm going to make a prediction – Cyclocross is going to be the next 'thing' in Thailand. You heard it here first, and to back up my claim I've already placed my cyclocross bike order with a shop in Bangkok.
With that being said here is a list of the items and events that jumped out at me from the show. There was plenty of other products, the shirts, the jerseys, the bikes and the bags, but these are the above and beyond stuff that caught my eye for reasons of uniqueness, price-point, being a new product to Thailand, or something, in my opinion, that was just plain cool. Here is what I found (click on any of the images to see a larger version):
Thanyapura Phuket
The good people at Thanyapura resort in Phuket are getting into cycling in a BIG way. We know Thanyapura resort because of its great triathlon coaching and events with IronMan legend Jurgen Zack. Now the resort is adding to that success by committing to road cycling training camps, events, and trips. Thanyapura resort organized the April 19th Gran Fondo ride with Baden Cooke and more similar events are in the planning phase. Stop by the Thanyapura booth and speak with Marketing Director Belinda Gates about the 2015 cycling packages on offer. Future cycling events organized by Thanyapura, like the Gran Fondo, will be updated on the BicycleThailand.com events calendar.
Bike Basket
The idea is simple, cool, and classic. I like seeing things like this at the bike shows. It's not a new idea, but it does grab your attention because of the possibilities that it conjures up in your mind. Every time you open a fashion or lifestyle magazine, or walk into a coffee shop you see a bicycle with one of these baskets attached. You see them, you want one, but you never know where to get one. Well, now you do. So go get one.
STEVENS
Stevens is now in Thailand and if you're not familiar with this brand from Northern Germany than keep reading. Designed in Hamburg, the Stevens brand is truly a family bicycle business. Run by two brothers, the brand strongly supports under 23 junior racers in road, mountain and cyclocross races. The current cyclocross World Champion, Mathieu van der Poel rides a Stevens. While the Stevens brand makes an entire line of bikes from city cruiser to triathlon speedsters the Authorized Retailer in Thailand (Velo Fabric in Bangkok) is concentrating on the Road and Tri bikes, but can order anything from the brand. My prediction is that they'll be importing more of the cyclocross bikes very soon.
Speak with Alex Stolting of Velo Fabric for more information about Stevens brand bikes.
Mobile Tel. 081-646-2434 (Thailand)
Shop Tel. 086-575-6657 (Thailand)
Email: AlexanderStoelting@gewinnconsult.com
CIPOLLINI & BMC
Two cool bike brands, now available in Thailand. BMC has been here a while now but Cipollini has just arrived. Cipollini obviously is all about road bikes and the entire line is worth a look, especially if you're in love with the name brand. BMC is handled by Asia Bike here in Thailand and while I enjoyed looking at all of the bikes at their mega booth I was most impressed by the CX01 cyclocross bike they had on display. I'm telling you, the attention these bikes are getting at the show – and the questions they are generating from Thai consumers, if answered correctly by distributors could bode well for the sport of cyclocross here in Thailand.
CERVELO & MARIN
Big name brands Cervelo and Marin from Thailand distributor Bike Zone. All of the offerings from Cervelo just want to come home with me, but as I said I wasn't willing to enlist the services of one of the Thai banks, so I have to be appeased by knowing the deals going on at this booth are going to be scooped up by some other Cervelo loving cyclist.
A Cervelo S5 (frame only-size 51cm) which usually retails for 230,000 THB on sale now at the Bike Zone booth for less than 150,000 THB.
A Cervelo P3 (complete bike) which usually retails for 170,000 THB on sale now at the Bike Zone booth for 99,000 THB.
A MARIN Mount Vision XM8 (complete bike-17" frame size) which usually retails for 170,000 THB on sale now at the Bike Zone booth for 110,000 THB.
Don't forget that Bike Zone has its new location open at A-Square on Sukhumvit 26.

Vincita
Vincita brand cycling bags are made in Thailand and have received several awards since starting production in 1987. But perhaps their most prestigious award to date is the one they received at this year's Taipei International Cycle Show. Vincita won the coveted products award for their SEMINYAK 27 wearable bicycle pannier bag.
You can view and purchase the Seminyak 27 bag at the Velotique booth during the show, or contact a Vincita retail location.
The official name of the Bangkok bike expo this time around is the "International Bangkok Bike 1st 2015" so there seems to be an assumption by the organizers that at least one, if not two more shows will take place this year. We'll keep you posted if and when future Bangkok bike expos are announced.