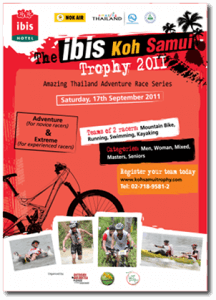 On Saturday, September 17th, Koh Samui once again played host to adventure racers from both near and far who were keen to challenge themselves against the rugged terrain and lush topography of one of Thailand's most popular vacation destinations. The Ibis Koh Samui Trophy race, now in its 3rd year, is set to become a much anticipated annual event for racers, spectators, and sponsors alike. Event organizer Active Management Asia (AMA) Events produced another safe, fun, and adventurous race with support from local and international sponsors like Ibis Hotels, Columbia Sportswear, Nok Air, Beer Chang, Feel Free, the tourism authority of Thailand, and the health and sports activities associations of Koh Samui and Sura Thani.
This year's race drew 86 teams of competitors from Hong Kong, Malaysia, Singapore, Vietnam and Thailand. Two unique racecourses with some overlapping sections allowed participants to compete at either the Extreme or Adventure level.
The Extreme racecourse consisted of approximately 15km running, 1000 meters swimming, 10km sea kayaking, and 45km of mountain biking while the Adventure racecourse consisted of approximately 10km running, 500 meters swimming, 5km sea kayaking, and 30km of mountain biking.
In addition to being tested in the main sport disciplines of adventure racing the competitors were thrown a few surprises by the organizers who included checkpoint stations along the racecourse that challenged the navigation, climbing, and slingshot skills of the racers. In adventure racing the emphasis is on teamwork, good sportsmanship, and fun!
The race saw teams of two competing, and being awarded cash and prizes, in 5 different categories: Men, Women, Mixed, Masters, and Grand Masters.
To learn more about this event and how you may participate in future events organized by AMA-Events visit their website at Active Management Asia (AMA) Events.
To find similar events in Thailand go to the EVENTS page at BicycleThailand.com
Extreme level race results

Top 3 extreme-level teams in each category.
Men
Cosmo Richards & Jeremy Ritchey (Chiru Endurance Bikes)
Saman Gunan & Seree Ruangsiri (Sport Bicycle)
Erwann Mahe & Richard Ford (TTCT – TriNerds)
Women
Patricia Weismantel & Sarah McCosh (Team #121)
Mixed
Lynda Sharp & Thierry Gaudet (AMA Detente)
Anurak Atthacheep & Sirikwun Huangprai (Forz Sport 1)
Dan Downham & Moire O'Sullivan (The Irish Springboks)
Masters (combined age 80+)
Thongchai Biadnok & Ekapol Phupuak (Feel Free & LA Bicycle)
Nico Bouheij & Nawamin Kamsaguan (Samui Team 3)
Florent Pirero & Stephane Bringer (Pattaya Team)
Grand Masters (combined age 100+)
Gregory Rasp & Sylvain Perret (Funky Hundreds)
David McCormick & Stephen McCormick (Band of Brothers)
John Lawlor & Kiattisak Premanant (Ban Tai Warriors)
Adventure level race results
Top 3 adventure-level teams in each category.
Men
Puchit Jairungsri & Amnaj Yiampaisarn (Team #54)
Somchay Thamuni & Narong Sukseang (Poppies Samui)
Alexandre Schouler & Gregory Thomassin (Salade Tomates Oign)
Women
Angela Royle & Genevieve Ahl (The RoyAhl Couple)
Nampetch Porntharukcharoen & Tassawan Sirivongs (Whatever)
Mariana Suarez & Brenda Manfredi (Hope we can make it)
Mixed
Andrew Glenville & Heather Murray (Glenville Murray)
Lamon Christophe & Lamon Karin (Swiss Team)
Anna Packham & Tim Garrett (No Cutler)
Masters (combined age 80+)
Chonracha Patitpatwasin & Charnchai Chotiabhisitkul (Karma Sutra)
Dirk Horemans & Andreas Fabricius (Cardammom Mummi)
Apisit Chatpornjarat & Trirak Reangruk (Montien House)
Grand Masters (combined age 100+)
Suthep Pinkeaw & Manit Manorungreungkij (Aksa 2000)
Jean Duru & Luca Matthey (Samui Sweet)
Geney Gilbert & Desriac Christophe (Nothing Better)