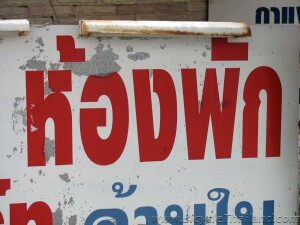 In previous articles I have shown what roadside kilometer markers look like in Thailand, and also advised cyclists on how to recognize a local shop capable of repairing flat tires. So now that you are rolling happily along on your bike trip it is time to start thinking about where you are going to lay your head at the end of the day's ride. Being able to recognize a sign indicating the offer of a night's accommodation can come in quite handy during a bicycle touring trip here in Thailand, especially during those late afternoon moments when your eyes are straining to find anything that says the word 'Hotel' in English amidst a multitude of colorful Thai language signs.
I always imagine that such a myriad of incomprehensible signs must have many visiting cyclists concerned that they may be unknowingly riding right by the last hotel in town, or simply worried that the sign they assumed was pointing them towards a pleasant guesthouse was really beckoning them towards a restaurant or shop.
Thailand highway signage for tourist attractions and large hotels are quite often written in both Thai and English, especially in cities frequented by foreign tourists, but a fair amount of signs in smaller areas and along quieter roads will be almost always written in Thai script. The budget-minded cycling tourist will benefit greatly by being able to recognize signage that leads to smaller, local accommodation choices. Here are examples of the most common accommodation signs along with the Thai words (in a few different fonts) that touring cyclists should familiarize themselves with. After a couple of days into your cycling trip you will begin to quickly recognize these.
ห้องพัก
Pronunciation: Haawng Phak
Haawng Phak is the most prevalent type of accommodation available in small towns, and the word itself, loosely translated, means temporary room, which implies the accommodation will be very basic. Notice in the two photos above how the word Haawng Phak (in blue letters) is still discernible even when written in a different font style. Of course some signs will have additional information about daily and monthly rates, address details, and possibly the name of the business, but as long as you recognize the word Haawng Phak on the sign you have found yourself a basic and inexpensive room.
โรงแรม
Pronunciation: Rohng Raaem
Rohng Raaem is the Thai word that literally means hotel. This word can sometimes be misused by smaller establishments, leading some travelers to expect facilities more like hotels they may be familiar with back in their own country. It is fairly safe to say that this type of accommodation can be found throughout Thailand, and that the word Rohng Raaem is used so extensively on signage that only an on-site inspection of the accommodation itself will reveal just where on the one to five star rating system it actually does fall. Notice in the image above on the right how the word Rohng Raaem is in the upper left corner of the sign while the name of the hotel – 'Paradise Inn' – occupies the bulk of the space on the sign. But, once again if you recognize the word Rohng Raaem anywhere on a Thai script sign you know you are under the correct assumption that this IS a sign for a hotel.
เกสท์ เฮ้าส์
Pronunciation: Gaehd Hao
Gaehd Hao is certainly used far less frequently than the words Haawng Phak and Rohng Raaem on signs in Thailand. Gaehd Hao is the transliterated Thai word for the English word Guest House. The accommodations at Gaehd Hao can range anywhere from something similar to a really basic home stay experience all of the way up to a unique boutique style of room with garden surroundings. Price range of a particular Gaehd Hao is usually a pretty good clue when trying to determine the quality of the facilities. An easy assumption is that Gaehd Hao falls into the category of a place that is possibly boutique, has better surroundings and amenities than a Haawng Phak, but is certainly not a resort or hotel.
รีสอร์ท
Pronunciation: Ree Saawd
Ree Saawd is the transliterated Thai word for the English word Resort. Most places that use the word Ree Saawd to describe their accommodation do so with the understanding that a resort is usually a facility set in partcularly beautiful surroundings that includes amenities which allow guests to remain for a long and restful stay. But, having said that, you will come across examples of places that may not live up to your own definition of a resort. Take it all in stride, remember that you're on holiday. Revel in the fact that you were able to recognize the sign that led you to your night's accommodation.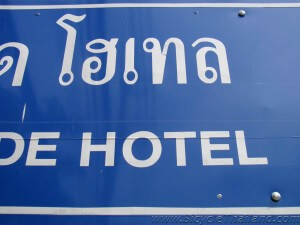 โฮเทล
Pronunciation: Hoh Dten
Hoh Dten is the transliterated Thai word for the English word Hotel. Hoh Dten is used very infrequently on signs in Thailand.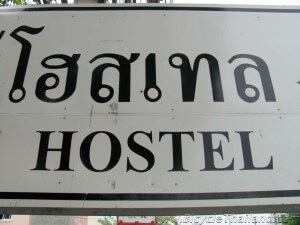 โฮสเทล
Pronunciation: Hoht Thaehn
Hoht Thaehn is the transliterated Thai word for the English word Hostel. Hoht Thaehn is used very infrequently on signs in Thailand.
Now that you know what to keep your eyes open for, go out and enjoy your bicycle trip. Click here if you want to be able to order popular Thai dishes at restaurants that do not have an English language menu
---
Planning a cycling trip in Thailand? Want to remove some of the guesswork when it comes to routes and information? BicycleThailand.com offers GPS route data for touring cyclists that can be used on a GPS device, smartphone, or tablet. These routes can be viewed on your device regardless of internet access during your Thailand cycling adventure. Learn more about our Thailand GPS cycle touring routes.
---