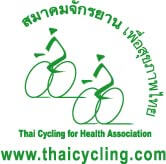 Thai Cycling for Health Association (TCHA) regularly organizes cycling trips to different locations throughout Bangkok and its surrounding provinces. Most one-day trips are free of charge while multi-day/overnight trips remain relatively inexpensive. During overnight trips the accommodation is usually *very* basic, and riders are required to look after most of their own expenses, but it is a very unique Thai way of doing a cycling trip. Participating in this type of cycling trip is an experience that every foreigner should try at least once while in Thailand. You might find out that it's not your cup of tea, but what you will find is a large group of Thai cycling enthusiasts that really enjoy social bicycle touring.
Most TCHA trips are not designed to be fast as you can see from the Sunday itinerary below, where they travel 85km in approximately 9 hours. With their average cycling speed touted as 20km/h you can calculate they spend nearly as much time off their bicycles as on, assuring a relaxed and fun ride for riders of different fitness levels.

So if you want to try something different, grab a friend and book yourself onto their March Ratchaburi trip. Make sure you tell them that BicycleThailand.com sent you, and please record the route on your GPS and share it with everyone here once you get home! Or if you're feeling extra wordy, we'd love to publish your 400-500 word review of the trip on BicycleThailand.com

TCHA cycling trips are well-organized ahead of time, as you can see from the schedule, trip details, and payment procedure outlined below. Most TCHA cycling trips depart from their office on Banthadthong Road, Pathumwan, Bangkok. If a particular trip has an alternate start or ending point it will be noted on the trip schedule.
The scheduled ride to Ratchaburi, with an overnight stay at a Scout Camp in Potaram, is a great example of the many upcoming cycling trips TCHA has planned for 2012. So what are you waiting for? Sign up today, make new cycling friends, and ride your bicycle to areas in Thailand you may have not seen yet.
Periodically check the EVENTS page at BicycleThailand.com to stay informed of upcoming cycling events like those organized by the TCHA.

TCHA Backpack Cycling Trip to Ratchaburi
Saturday 3 – Sunday 4 March 2012
Thai Cycling for Health Association (TCHA) would like to invite you to join a backpack cycling trip to Ratchaburi.  Enjoy activities at a Scout Camp in Potaram, Ratchburi.
Trip Schedule :
Saturday 3 March 2012
Cycling Distance for the Day  :  85 km
6.00 am
Meet at New TCHA Office, No 1969 Banthadthong Road, Pathumwan
6.30 am
Start cycling to Potaram
2.00 pm
Buy fresh food at a local market for cooking your dinner
Arrive Ban Luang Scout Camp in Potaram
3.00 pm   
Have fun with Scout Activities
Sunday 4 March 2012
Cycling Distance for the day  :  85 km
5.00 am   
Get up and exercise
7.15 am
Breakfast
8.00 am   
Start cycling to Bangkok
Visiting interesting places on the way
5.00 pm
Arrive New TCHA Office, No 1969 Banthadthong Road, Pathumwan
Trip Details :
Charge is 200 baht per person including neckerchief, accident insurance and breakfast
Total cycling distance approximately 170 km
Cycling speed approximately 20 km per hour
Must wear a helmet
Must bring spare tyre, bicycle lock and only necessity things
Necessary to check your bike prior to the trip
Payment :
Cash at TCHA
Bank Transfer to

Siam Commercial Bank, Banthadthong Branch
Account Name :  Thai Cycling for Health Association
Account Type :    Saving
Account No :    063-252276-1
Please send deposit slip with traveler name, age and contact number to fax no 02-611-6267 or e-mail tchathaicycling@gmail.com