Although exercise has numerous health benefits for our bodies, it is possible to exercise too much. The endorphins released during exercise and the positive changes in the body, as well as mind, can become addictive. However, over-exercising, often caused by exercise addiction, can be detrimental for your health and even harmful, especially in hot countries, like Thailand, where hydration is key to staying healthy.
What causes exercise addiction?
Exercise can be pleasurable. It releases happy hormones in the body, which gives us a rewarding, elated feeling after we work out. However, as with most activities or substances that make us feel good, this feeling can become addictive. Combined with compliments regarding your physique and improvement in performance, exercise can be highly intoxicating and result in you constantly chasing progress.
Often, exercise is linked to eating disorders, such as Anorexia Nervosa or Bulimia Nervosa. Exercise can help with weight loss and is an effective way of burning calories, so eating disordered individuals, who already have obsessive mindsets when it comes to their bodies, often over-exercise to accelerate fat loss.
Risks of exercise addiction
Exercise addiction can be extremely dangerous because not only does it come with physical and mental risks, it often is underestimated and regarded as a 'positive' addiction. However, over-exercising can affect both your body and mind negatively. Overworking your body can result in pulled muscles, loss of muscle mass, reduced bone density, and even loss of menstrual cycle in women. This kind of physical reaction will result in the individual having to stop exercising for a while so that their body has sufficient time to heal.
In hot, humid countries like Thailand, dehydration and overheating related to over-exercise is a huge problem. Keeping hydrated and wearing loose, workout clothes can help prevent this during regular exercise. However, if you're over-exercising without maintaining proper levels of hydration you are at a higher risk of suffering heat stroke, which is life threatening.
---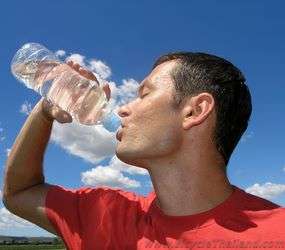 Cyclists are especially prone to heat exhaustion and other heat illness, such as heat stroke and dehydration, when exercising in the hot and humid conditions of Thailand. Taking precautions and recognizing the symptoms or early warning signs of heat exhaustion is essential if you ride in hot weather.
What Is Heat Exhaustion?
Heat exhaustion is the body's response to dehydration and an excessive loss of water and salt through sweat. Heat exhaustion typically occurs after long periods of heat exposure. Heat exhaustion occurs when the body becomes overwhelmed by heat and the sweat response stops working properly.
The following are the most common signs and symptoms of heat exhaustion:
nausea
dizziness
weakness
headache
pale, cool and moist skin
fast and weak pulse
disorientation
muscle cramps
tiredness
fainting
Heat Exhaustion vs. Heat Stroke
If heat exhaustion is left untreated, it may lead to heat stroke. The key difference between heat stroke and heat exhaustion is the presence of confusion and other mental status changes during heat stroke. During heat stroke, the neurological system is affected and can cause odd behavior, delusions, hallucinations, and eventually seizures or a coma.
At the first signs of heat exhaustion, you should stop riding and cool the body by seeking shade, shelter or a cool room, and drinking cold fluids. Seek medical attention immediately if symptoms are severe.
If you recognize the symptoms of heat exhaustion, take the following actions:
Stop riding and rest for a short period in shade
Drink cool, non-alcoholic beverages
Take a cool shower (or apply cool towel to face, neck, and arms)
Move to an air-conditioned room
Remove extra clothing
Follow these tips to minimize your risk of developing heat exhaustion while riding: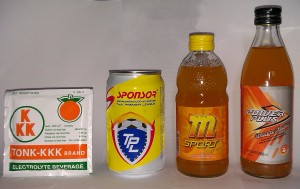 Allow time for your body to acclimatize to the heat in Thailand (4-5 days before beginning exercise)
Hydrate well before and during your rides (drink 16 to 20 oz/hour)
Avoid exercising during the hottest time of day; train closer to sunrise or sunset
Use sunscreen to prevent sunburn, which can limit the skin's ability to cool itself
Do not drink alcohol or beverages with caffeine before riding (they increase the rate of dehydration)