Feeling like a Yasotorn paddy field in mid-April?  Is cruising khlong roads leaving you with the need to rehydrate a bit, or a lot?  It isn't surprising considering that riders in tropical Thailand have to deal with average temperatures no less than 21c in January and up to nearly 35c in April.  This exacts a serious toll on cycling performance; elite cyclists lose 6.5% of time trial power at 32c as compared to 23c.  Why?  Your body is working extremely hard to pump out sweat for cooling, while still spinning the pedals.  As wisely suggested in August 2010's Tech Tips, you could ride only before 10 AM and after 4 PM but that isn't always feasible, or sociable.  And even then, sucking down a large water bottle every hour is commonplace.  So what should you have in all those bottles?
First, a ground rule for this soapbox: hydration for day-in, day-out training should be locally-sourced.  Cyclists tend to occupy the upper percentiles of the social responsibility bell curve; we also like to save money!  So in those critical milliseconds studying the options at the nearest 'Seven-', select Thai-bottled products.  Your baht remains in-country and the carbon footprint is reduced.  Of course ultimately, filtered tap water has the least economic and environmental cost but it's unrealistic to carry enough for long rides here. So when plain water is what you want—and for short rides up to an hour, it is all you need—grab the largest Namthip or Minere' you can and share it around.
Cyclists train longer and more continuously than almost any other athletes though, so plain water is usually insufficient.  Sodium, calcium, potassium, zinc and other essential electrolytes are lost in sweat at potentially dangerous rates.  Muscles cramp, bones waste, alertness suffers.  There are three Thai-style ways to both hydrate and replace electrolytes.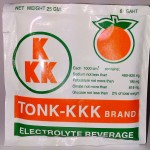 Most economical is gleua rae, a.k.a. fruit-flavored oral rehydration salt.  Pick it up at any pharmacy.  A pack is just 5 baht and you'll need 3 ½ for every large (26 oz/768 mL) bottle.  Gleua rae weighs hardly anything so keep some refills in your seat bag.  It provides a medically ideal ratio of sodium and potassium, as well as some glucose.
Sponsor and M-sport are the premier, ready-to-drink, local sports beverages. A newcomer to the Thai sports drink market is Power Plus.  With much more sugar than gleua rae they are, to the writer, a tad sweet, but for just 10 baht a bottle to 12 baht a can, they can be lifesavers.  Dilute a little if necessary; your muscles will appreciate the extra energy (from both sucrose and glucose) anyway.  Cyclists pouring out the sweat can safely ignore the 4 bottle daily consumption limit.  And by the way, if you're going the distance—more than two or three hours—mix them up; M-Sport has sodium, calcium, zinc and the antioxidant Vitamin C, though you'll only find potassium in other products.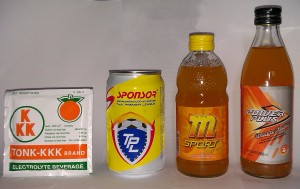 Fruit juice you ask?  Thailand has several fantastic natural hydration alternatives.  Controlled studies prove that fresh coconut water (from young, green coconuts; nam maprao) has high electrolyte levels and is as powerful a rehydrater as sports drinks.  Fresh-squeezed sugar cane juice (nam oi) is also excellent; score some from the ubiquitous roadside vendors with their pickup-mounted extractors.  Make sure to consume either one with a salty snack, since they are low in sodium.
Then there is DIY sports drink: a ¼ cup orange juice without pulp, 2 to  3½  tablespoons sugar and 1/8 teaspoon salt shaken together in your large bottle.  Fill with chilled water and ride.  Very tasty and proven during Thai rides to stave off dehydration and the energy bonk.
Next month look for Thai foods that will support your electrolyte needs and keep calories flowing to your hard-working muscles.  Until then, bottom's up!