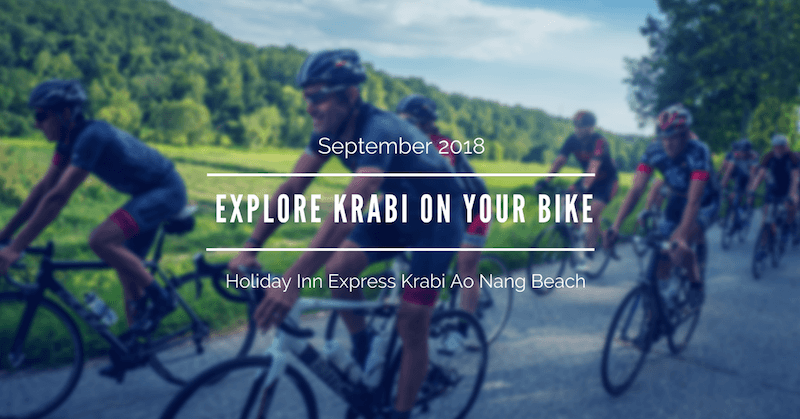 Bicycle Friendly Hotel in Thailand by Holiday Inn Express Krabi Ao Nang Beach.
To inspire active lifestyle and unique experience while traveling.
Set to launch Bike Friendly Hotel from September 2018, Holiday Inn Express Krabi Ao Nang is one of the pioneer hotels in Thailand to facilitate the amenities for bikers.
This initiation marks the effort of the hotel's management in providing the convenient, easy experience for bikers when traveling. This hotel's services will inspire healthy lifestyle pursuits with its outdoor living spaces, distinctive traveling options for an individual as well as group travelers.
"We are passionate to create the convenient experience for biker community to enjoy the memorable time in Krabi. We look forward to organizing Bike Tours and Events that will bring families and friends closer to a healthy lifestyle" said Mr. Suri Jitjang General Manager.
The new bicycle amenities for guests include bike-friendly concierge, area bike maps, bike fixing store recommendations, bike washing stations with washing tools, bike valet, ability for guests to bring their bike in their room, social area for bikers, secure indoor and outdoor parking, proximity to a bike share station, proximity to a cycle track or bike trail or an organized bike tour upon request.
The 2-year self-service hotel is the smart and convenient choice for savvy travelers, offering a relaxed, affordable and hassle-free stay every time. The hotel is also conveniently situated within walking distance to a variety of local restaurants, bars, and shopping options.
Arrival Experience
Upon arrival in the lobby, guests will be guided to a parking area the hotel has reserved for bikes only with the appropriate protection from the sun, rain, and dust. There are CCTV cameras & security staffs to assure that the bikes would be safe and secure. Hotel's reception staffs will provide cycling routes map and other bike services available.
Guestrooms
Bicycle stands are provided to keep the bike in the room in case guests prefer to keep their bikes in the room. The shelf to keep the bike bag, helmet, as well as other accessories, was installed in rooms.
Bike Rental
There are a number of bikes available for rent in the hotel, these bikes can range from basic to high end with various styles and brands for guests to choose for their bike tour. With a minimum rental charge of 100 THB/day, the operation hour 08.30-17.30 hrs. The rental service aims to bring the convenience for guests traveling from far away but want to ride around to view the scenery of Krabi.
ABOUT HOLIDAY INN EXPRESS KRABI AO NANG BEACH
Holiday Inn Express Krabi Ao Nang Beach has 217 nonsmoking guest rooms with concept of smart and convenient choice for savvy traveler. Located adjacent to Holiday Inn Resort Krabi Ao Nang, guests staying at this Ao Nang beach hotel will enjoy close proximity to the beach just a short walk away. The hotel is located 30 minutes away from Krabi International Airport (KBV) with optional airport shuttle service and is conveniently situated within walking distance to a variety of local restaurants, bars, and local snack options. There is a shopping area in front of the hotel and it is only a 10 minute walk to Ao Nang Centre.
For more information, please visit the Holiday Inn Express website:
http://www.krabiaonang.holidayinnexpress.com
---
Planning a cycling trip in Thailand? Want to remove some of the guesswork when it comes to routes and information? BicycleThailand.com offers GPS route data for touring cyclists that can be used on a GPS device, smartphone, or tablet. These routes can be viewed on your device regardless of internet access during your Thailand cycling adventure. Learn more about our Thailand GPS cycle touring routes.