BicycleThailand.com is committed to providing useful Thailand-specific cycling information to its Thai and international web audience. Here at BicycleThailand.com we are always receiving emails from our valued readers. Some of those emails contain helpful suggestions about how to improve the website itself while most are cycling-related questions with a wide range of topics.
Understanding that this information may prove helpful to others we decided to post a selection of reader emails along with our responses.
Have a question? Contact us info@bicyclethailand.com
Want to submit information, a cycling story, bicycle shop location or event details?
Click on any of the images below
---
Dear people of BICYCLE THAILAND,
You offer a great homepage for biking in Thailand, but I can't find information about rent a bicycle.
There was only a hint in forum, to have a look to the list of BIKE STORES. I contacted a lot of stores and I got only rejections.
Then I found a hint in forum, it could be better to have a look to BIKE TOURS companies. I contacted all of them and I found 4 companies in Bangkok.
Grasshopper Adventures
SpiceRoads
Just Nok Bicycle Tours
Velo Thailand
It was a lot of work to contact about 40 companies.
It would be quite simple and very helpful if you could offer an extra item in the menu bar like"RENT A BIKE" nearby "BIKE SHOPS" and "BIKE TOURS".
It would be fine if this proposal becomes reality.
Kind regards,
Wolfgang Fischer
Our response to Wolfgang
Wolfgang Fischer,
Thank you for your great suggestion. Our website builder will begin creating a new menu bar with a Rent A Bike link.
BicycleThailand.com


---
Greetings Bicycle Thailand,
First of all let me start with: my name is Hilmar Hansen from the exotic Faroe Islands I am a professional mountian biker! I just got my new Trek Top fuel 9.8 29er.
I train 18 hours a week. I will be riding races in Denmark most of the year 2016 as a training as I go to the Nat West Islands games who are in Gotland in 2017!
I was competing in Nat West Island Games in 2015 in Jersey with great score, team score got 4th place out of 7.
As a favor I will use all my power to make you famous on instagram and get you even more customers, and I know how to reach out to a lot of people around you there in Thailand!
My instagram: http://iconosquare.com/hilmar.mtb
Kindly regards,
Hilmar Hansen
Our response to Hilmar
Thanks Hilmar!
We can't wait to be made famous by you. We're totally stoked to hear that you are one of the fortunate people who get to ride your bike for a living. Congratulations on your new Trek 9.8, it's a beauty. Thanks for including photos with your email.
We do hope to hear from you again. Please keep us advised of your mountain biking accomplishments. Let us know if and when you'll visit Thailand. We really suggest you visit northern Thailand for some really great mountain biking, Downhill and All-Mountain trails galore.
Let us know if there is anything we can do here to make you famous.
Cheers!
The BicycleThailand.com Team
---
Hello!
I am a traveller and now travelling in Thailand. I have found a photo on your site. Can you please tell me where is it. I fall in love on this place.
Thank you.
Viktor Kinshov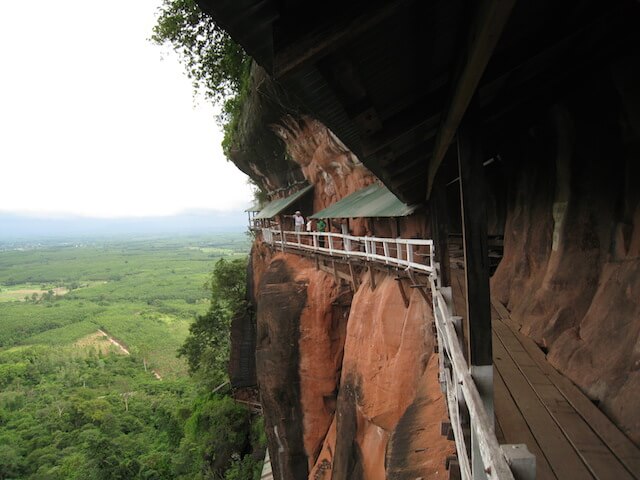 Our response to Viktor
Viktor Kinshov,
Thank you for your inquiry. The photo you like is of a temple mountain in Northeast Thailand called Wat Phu Tok.
To get there, you would have to travel to the Si Wilai district in Bueng Kan province of Thailand.
Phu Thok means an isolated mountain in Isan dialect. Located in Ban Na Kham Khaen, Tambon Na Sabaeng, this sandstone range stands out and can be seen from a distance. It consists of two hills: Phu Thok Yai and Phu Thok Noi. Previously, this area was dense woods with many wild animals. Because of its tranquility, Phra Achan Chuan Kunlachettho, a meditation master, initially established a meditation place here for Buddhists to practise the Buddha's teachings.
Phu Thok Noi is where Wat Chetiya Khiri Wihan (Wat Phu Thok) is situated. This temple is the starting point of a walk up to the top of Phu Thok, via a wooden bridge winding around the steep mountain. The bridge was built with faith from monks, novices and villagers. The construction began in 1969 and took five years to complete. This bridge is compared to a path of virtue that leads a righteous man to leave a world and enter into emancipation by their own efforts and determination. Phu Thok is still a meditation practice centre and a place for the community's religious affairs. The bridge's stairs to the mountain top are divided into seven sections.
Opening Hours: Daily from 8:00 am. – 6:00 pm.
Contact: Tel. 045451152 (Tourism Authority of Thailand)
BicycleThailand.com
---
Hello,
I am planning on doing a self-supported bicycle tour throughout Southeast Asia, and I am looking for some advice. I am wondering if you had any suggestions on road maps. I cant seem to find maps that would have the detail that I am looking for in order to find the side-roads of Southeast Asia. Any advice or suggestions would be greatly appreciated. Thanks.
Vince Roubitchek
Our response to Vince
Vince Roubitchek,
Thank you for your inquiry.We would suggest that you make use of road maps in either digital form (GPS device) or paper form. The best paper maps available in Thailand are made by a company called ThinkNet. ThinkNet maps (some include a CD) can be purchased online (prior to your arrival in Thailand) or at larger book stores in Thailand (after you arrive). Check international chain book stores like SE-ED Book Center and Asia Books that can be found in most shopping malls. You will not be able to find ThinkNet maps in local Thai book stores.
Here is a great article covering this information – https://bicyclethailand.com/thailand-bicycle-touring-information-maps-accommodation-transport-food/
If you purchase a GPS unit from a company like Garmin, you will need to also purchase the Thailand country map.
https://bicyclethailand.com/gps-devices-make-cycling-in-thailand-more-enjoyable/
Here are a few other articles you may find useful:
https://bicyclethailand.com/august-making-sense-of-kilometer-markers-in-thailand/
https://bicyclethailand.com/touring-cyclist-menu-how-to-order-the-7-most-common-dishes-in-thailand/
https://bicyclethailand.com/price-per-day-touring-in-thailand/
BicycleThailand.com