Chumphon to Lang Suan – Bicycle Touring Route
---
Route: Southern route that takes you from the Thung Wua Laen Beach, located north of the provincial capital city of Chumphon, to the beach area just East of Lang Suan.

Download GDB file here (.gdb file format)
Download GPX file here (.gpx file format)
Length: 111km
Configuration: Point to point.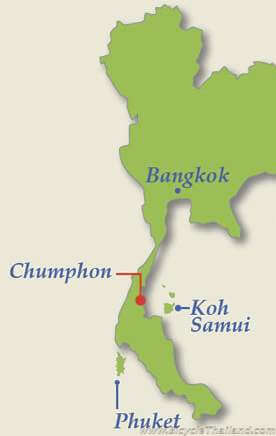 Start point: The start point of this route is on Thung Wua Laen Beach, which is the most popular beach area closest to the provincial capital city of Chumphon. An overnight stay in Thung Wua Laen Beach is recommended for those touring cyclists who are keen to maximize the 'holiday' feel of their trip. Staying in Chumphon city itself is only recommended if you absolutely need the amenities of a big city (i.e. Bank, Pharmacy, 7-11, etc.,). Also, if your travel plans have you getting alternate transport (Bus, Train, Plane, Ferry Boat, Mini-Van, etc.,) early in the morning from Chumphon out to the islands in the Gulf of Thailand or elsewhere, you should consider staying in Chumphon city rather than the beach area.
End point: The main (small) road that passes in front of the beach, just East of Lang Suan city. Riding along the beach road is far more scenic and quiet than the main road, Highway 41. Hwy 41 passes through Lang Suan city center, even though the city itself is quite small.
Notes: The Chumphon railway station and travel agency shops selling transportation tickets to Ko Samui, Ko Phang Nga, and Ko Tao can be easily found in Chumphon city. High speed ferry service from Chumphon is available from a company called Lomprayah.
When you reach Lang Suan – Accommodation can be found along the Lang Suan beach road. This touring route will have you cycling on quiet beach side roads with occasional forays inland to cross over inlets and bays. Not many highway miles on this route. You will encounter a couple of steep but short hills. Family style snack and drink shops along the route. Roads – 100% paved.
---
Planning a cycling trip in Thailand? Want to remove some of the guesswork when it comes to routes and information? BicycleThailand.com offers GPS route data for touring cyclists that can be used on a GPS device, smartphone, or tablet. These routes can be viewed on your device regardless of internet access during your Thailand cycling adventure. Learn more about our Thailand GPS cycle touring routes.
---