In the USA and UK in the early 70s the venerable bicycle was unceremoniously pronounced dead. It had progressed from being a tool of transportation and freedom to that of a toy, ridden only for a brief moment in a youngsters life and then tossed aside and replaced by a motor vehicle. It is widely recognized that the invention of the mountain bike in Marin County California in the mid 70s saved the bicycle industry from extinction and reintroduced the joy of riding to a whole new generation. Once again, the most popular form of transport in history won mass appeal by meeting the unique requirements of riders looking for a new experience.
A similar parallel can be drawn when examining the influence that single speed and fixed gear bicycles have had on the young, and young at heart, in Thailand. Whether you love them, hate them, or simply don't understand the craze behind single speed and fixed gear bikes, it is difficult to argue with the significant impact they have made to the cycling community within Thailand.
Groups of single speed and fixed gear cyclists have grown considerably in the last three to four years in Thailand. This growth can be attributed to several factors, but in the author's opinion the type of bicycle is the most notable. Much like the mountain bike did in the USA and UK, it is the single speed and fixed gear bicycles in modern day Thailand that have shown themselves capable of fostering interest and renewed cycling enthusiasm. Why are single speed and fixed gear bicycles currently so popular, and can the craze behind them truly save all forms of cycling in Thailand? I offer the following points for consideration when attempting to answer those questions.
Affordability –These bikes are affordable. Even though you could spend a small fortune on some makes and models of boutique brand fixed gear and single speed bikes, the affordability of the introductory models, as well as the common practice of building a single speed bicycle up from individually purchased parts, has created a multitude of bicycles that are within the price range of so many Thais.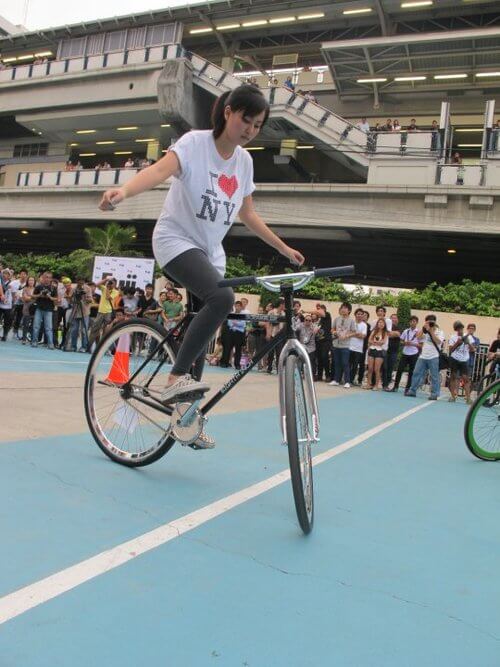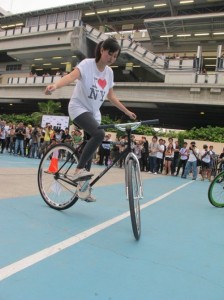 Accessibility – These kinds of bikes make cycling more accessible which helps introduce the idea of 'every day' use to new riders. Some people see cycling as something you do at a specific destination; a trail, a park, or a long stretch of deserted highway on the outskirts of the city. By introducing the idea of bicycles that do not need to be transported somewhere by motor vehicle in order to enjoy the cycling experience the single speed and fixed gear bikes entice people to ride to destinations just outside their own front doors. The idea that cycling can be done anywhere rather than in confined or distant areas convinces people to give it a try.
Visibility – These type of bicycles are being utilized by marketing and advertisement agencies the world over. Thailand is no exception. Pay attention to billboards and go to shopping malls and you'll see bicycles in window displays and in the promotional items that support a greener, simpler, more Eco-friendly lifestyle. Bicycles are showing up more and more in mainstream movies, and it isn't mountain or road bikes in those movies, it's single speed and fixed gear bikes. Sure, mountain bikers and roadies have their cult collection of popular DVDs to watch, but those tend to be movies made specifically for cyclists who are already riding. The mainstream movies and television shows have a wider, more diverse audience who may already be riders but more likely represent a vast majority of potential riders. Recent movies (Jakalan, Puan Mai Kao) and television shows (Bicycle Diary), as well as the publicized cycling habits of popular Thai movie stars and music performers have helped to promote cycling in Thailand.
Feasibility –They're not race bikes. Of course any type of bicycle can be raced, but the appeal of the fixed gear and single speed bicycles is the fact that those people who may be new to cycling can be a bit intimidated by the 'racing' aspect that accompanies the purchase of a high dollar or specific use mountain or road bike.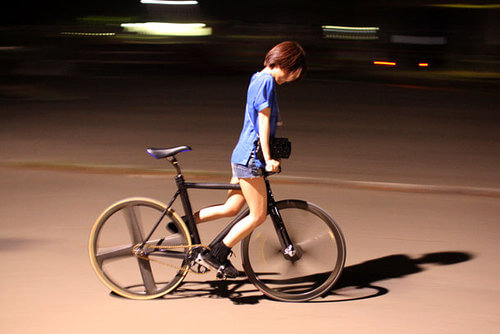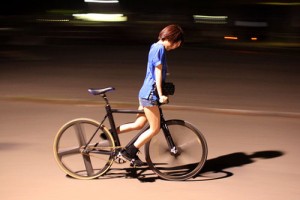 Along the same lines one could consider how there is, but IS NOT, a dress code so to speak when riding a single speed or fixed gear bike. The thought of being able to ride in everyday street clothes appeals to many people who may be considering getting on a bike. The idea of having to purchase an entirely new wardrobe made from Lycra, spandex, and ripstop material as well as a new pair of shoes that go clickity click clack every time you walk into 7-11 does not appeal to everyone.
Approachability – They're simple, uncomplicated, and fun. When faced with decisions that involve 27+ gears, hydraulic disc brakes, or something called STI shifting it becomes more clear why so many would be bike buyers choose a single speed or fixed gear bicycle that they can build and decorate to suit their own preferences and needs. One of the most common statements made by longtime fixed gear and single speed riders is how their bikes embody qualities best described by words like clean, pure, and simple. When the bike is uncomplicated it disappears beneath the rider, who is then free to have fun.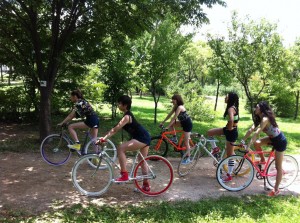 Social – It's all about social riding, and since it is about being out with your friends and having a good time the simple and short rides to eating and drinking venues establishes a strong sense of belonging to a community for many riders in an area. This sense of belonging keeps beginners committed to showing up to group rides and gatherings where they meet other cyclists and learn more about bikes, routes, and cycling in general. A wonderful side effect of the social aspect of cycling is how it has the potential to impact the local community. When local businesses continually see and benefit from business with cyclists they will begin to cater more closely to their needs. Shops like Sweet Pista, Cafe Bicycle, and Cafe Velodome in Bangkok are testament to this.
The future is today – Those who ride today will drive and vote tomorrow.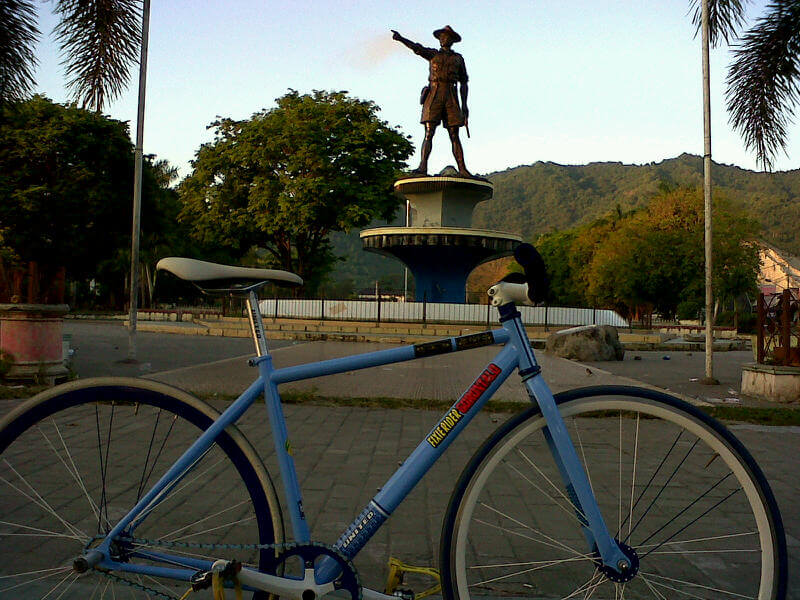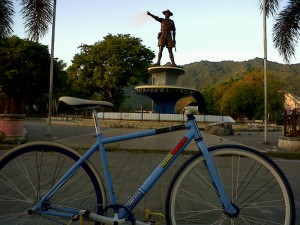 It is understandable that not every young rider remains a cyclist for the entirety of his or her life. But, it is important to recognize that the current and soon to be cyclists among Thailand's youth demographic, who are taking to single speed and fixed gear bicycles today, will certainly be the workers, spenders, voters, and drivers of the next 2-3 decades. Regardless of what bicycle they rode when they were younger, it will be the fond memories they retain in adulthood of youthful days cycling with friends that will cultivate a favorable disposition towards bicycles and the projects to further include them into the daily lives of Thais across the country. And, then again, some of those who ride today WILL ride tomorrow, and the next day, and the next day, and the next…