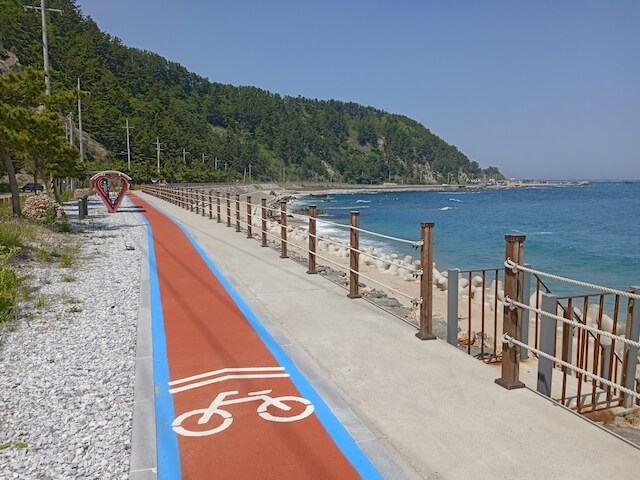 After completing my most recent Seoul to Busan Bicycle Tour in South Korea I became very interested to explore the east coast of the country. I had seen maps showing that a partially marked route along the coast existed, and after hearing from a few other touring cyclists that a trip along the entire coast was possible, I packed my panniers and headed off to see this lauded coastline of Korea for myself.
Korea's East Coast bicycle route is officially listed (and marked) as existing between the cities of Ulsan and Sokcho. Regardless of this fact, many touring cyclists have successfully navigated the coastal roads between Busan and Ulsan to expand the scope of options to anyone considering their own east coast adventure. Because of traffic patterns (Koreans drive on the right-side of the road), wind direction, and logistical points, it is highly recommended that the East Coast bicycle route be ridden from Busan to Sokcho, in a South to North direction.
The distance from Busan (Train & Ferry station on the east side of the city) to Sokcho (Sokcho Beach) is approximately 360 miles (576 kilometers). For those wanting to add a visit the Demilitarized Zone (DMZ) Museum, Korean War Exhibition Hall, and Unification Observation Tower to their trip, the full distance would be approximately 400 miles (640 km).
The East Coast route will treat you to:
An area of South Korea not often explored by foreign tourists

Colorful seawall art and unique coastal attractions

Seafood restaurants, fishing culture, and lighthouses

Little coastal towns that are a 5-minute ride from end to end
The full distance of an East Coast trip could be accomplished in a week's time by a moderately fit touring cyclist wanting to ride 100km+ days and only taking in a few of the sites along the path. For those touring cyclists who like to take their time visiting more sites along the path and overnighting in smaller areas could easily make an east coast adventure last 10-14 days. I spent 13 days riding the full length of the east coast, taking my time to see several sites and enjoying a couple of days off the bike in the cities of Ulsan, Uljin, and Sokcho.
I have listed my detailed itinerary below in hopes that it will assist others when making their own plans to visit South Korea's East Coast.
If you are interested in riding some of the other cycling paths in South Korea, I can highly recommend the following:
If you are considering the East Coast ride, here are a few suggestions of how to begin your own adventure:
Fly into Busan (Gimhae International Airport) and begin your ride
Catch a ferry from Japan (Fukuoka) into Busan and begin your ride
Ride your bike from Seoul to Busan and then begin your East Coast ride
There are also airports in Ulsan, Pohang, and Uljin that have domestic flights
---
How to follow Korea's East Coast bicycle path
The signage for the East Coast pathway is notably more sparse (and varied) than all of the other bicycle pathways in South Korea. This lack of signage is most likely due to the pathway not being a part of the official "4 Rivers Cycle Path" campaign that was launched by the government more than a decade ago. The East Coast bicycle pathway shares many sections with a very popular walking/hiking path known as the Haeparang Trail. Because of these 'shared' sections of the pathway the signage you are meant to follow can vary greatly.
The East Coast route will have you cycling on:
Vehicle traffic roads that are shared with bicycles
Walking/hiking path that is shared with bicycles
Bicycle paths that are designated for bicycles only
Sidewalks that are meant for pedestrian and bicycle use
The East Coast route uses cycle path signs and walking/hiking route arrows as indicated on the below photos. Blue arrows indicate the direction for Southbound riders while Red arrows indicate the direction of travel for Northbound riders. In some sections you will see the bicycle path indicated by a blue line painted along the edge of a road or sidewalk.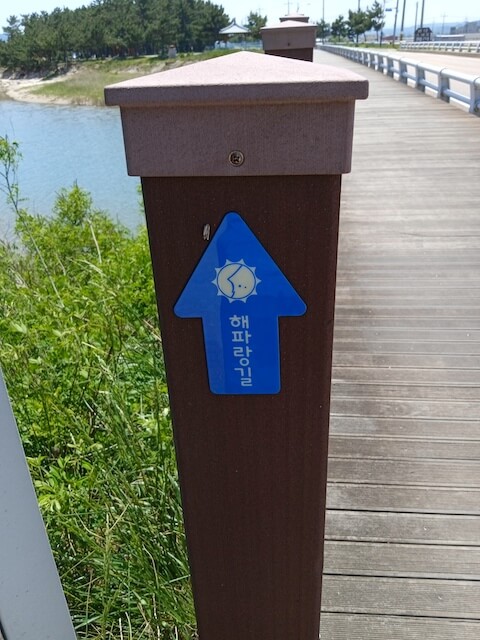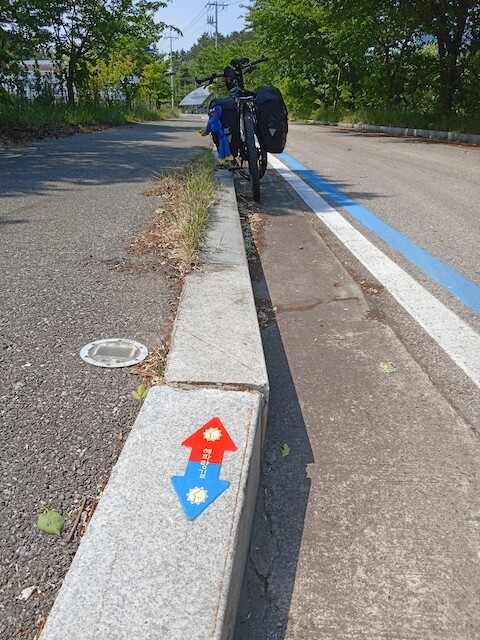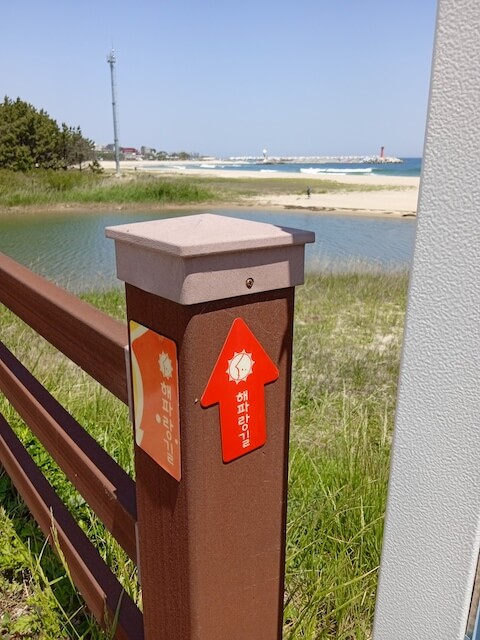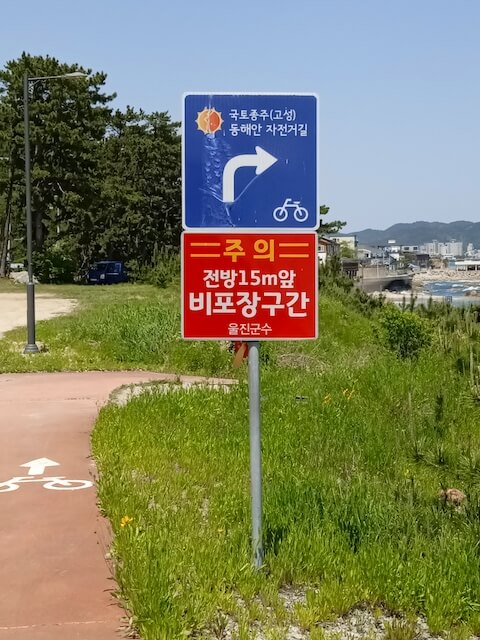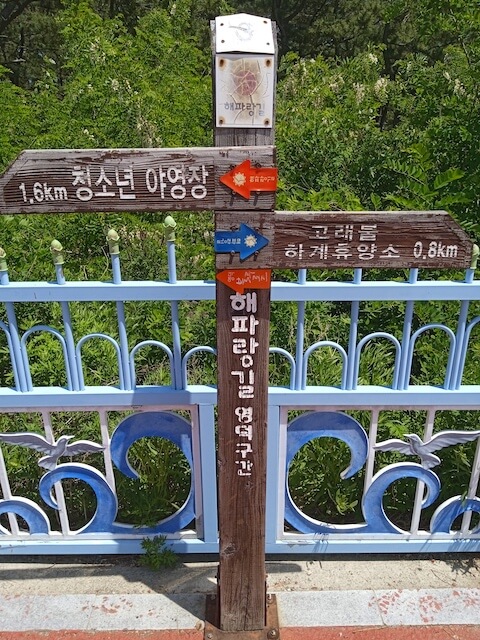 ---
(Verified/Updated – May 2023) Purchase and download ZIP file containing the most up-to-date GPS tracks for the full South Korea East Coast route, from Busan to Sokcho and the DMZ – These routes will keep you on the main path, cycling past certification booths, hotels/motels, restaurants, and camping options. Tracks are in GPX format (works with all Garmin and other brand GPS devices) and KML/KMZ format (works with all smartphones and tablets). You can view these routes on your smartphone, tablet, or GPS device with or without internet connection.
Busan to Sokcho South Korea East Coast GPS Cycling Routes
---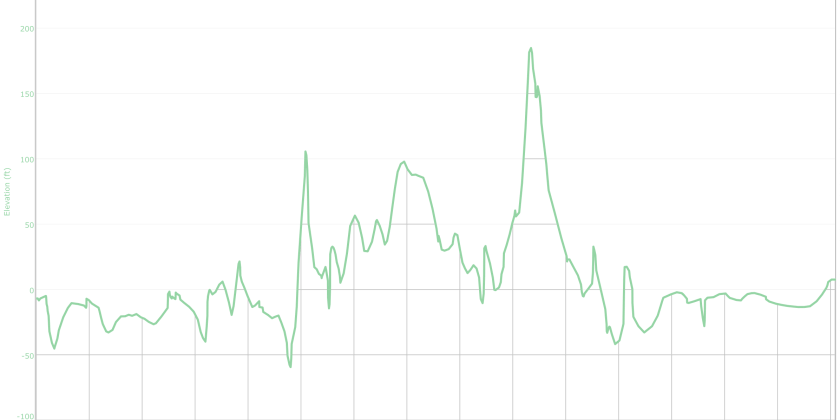 Section 1. Busan —> Gwangalli Beach (8 miles / 12 kilometers)
Gwangalli Beach is not a far distance ride from Busan's city center, but it is a good target destination for a first day ride since it requires that you navigate the streets of Busan city. Also, Gwangalli Beach is a popular tourist destination for Koreans and foreign visitors alike.
Gwangalli Beach area has: Hotels, Motels, Restaurants (Korean & Foreign food), and Bike Shops.
I started my ride at the Busan Train station, which is adjacent to the Busan Port International Passenger Terminal (Camellia Line Ferry port).
The Busan Port International Passenger Terminal is located approximately adjacent to the main Busan Train station. If you were wondering, there is a cycle path that will take you from the end point of the Seoul to Busan bicycle ride all of the way to the Busan Train station. It is approximately 16 miles (25 km) distance and I would say that it is 50% cycle path and 50% sidewalk riding (sidewalks that are shared with pedestrians are often considered and marked as a cycle pathway in South Korea). 
Busan Train Station GPS coordinates – N35.115225, E129.042243
Want to ride from the end of the Busan to Seoul route over to the Busan Train Station? Here is the 16 miles / 25 kilometer route down and around the southern area of Busan (Download ZIP file here – ZIP file contains both .gpx and .kml file)
When I reached Gwangalli Beach, I stayed at Sunshine Motel (Motel about 600 meters from the path). Bike parking under stairs inside small lobby.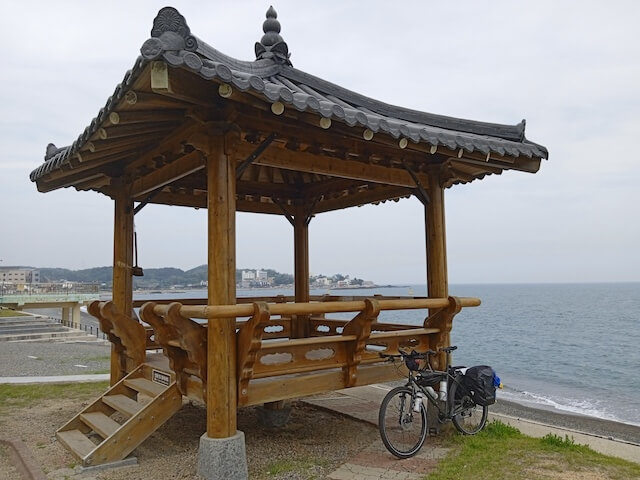 ---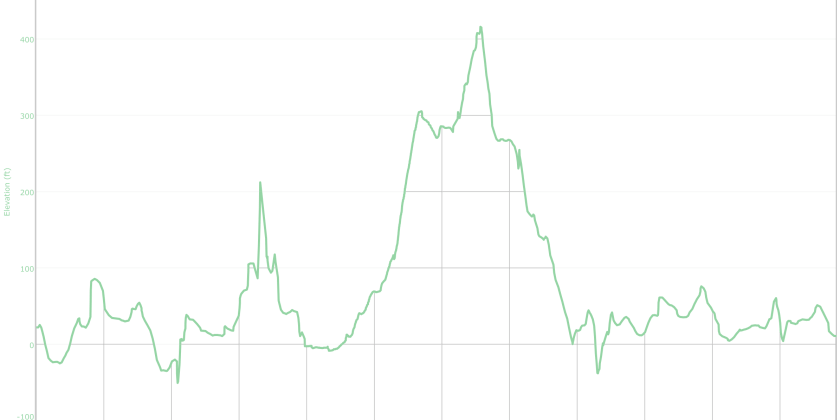 Section 2. Gwangalli Beach —> Yeonhwa-ri (12 miles / 19 kilometers)
Yeonhwa-ri is a small coastal town adjacent to a huge resort area known as Ananti Cove (Ananti Hilton Hotel is here). The Ananti Cove is home to the Orangdae historical site and many beautiful coastal viewpoints. The cycling route takes you through the cove area, along a shared walking path. This path can be quite busy with pedestrians on weekends, but the scenery is so nice here that you shouldn't be in a rush to blaze through this section of the trail.
Yeonhwa-ri area has: Hotels, Motels, Restaurants (Korean food), cafes, and wild camping spots.
When I reached Yeonhwa-ri, I stayed at Best Louis Hamilton Hotel Ocean Terrace (Hotel on the path). Bike parking in secure room just off of lobby.
---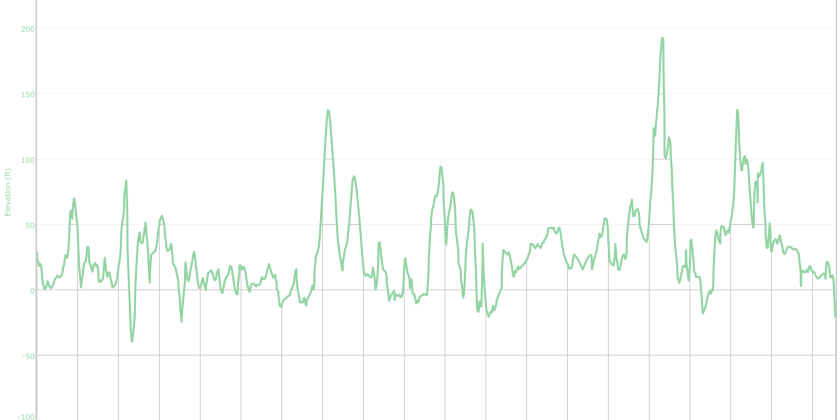 Section 3. Yeonhwa-ri —> Ulsan (39 miles / 63 kilometers)
Ulsan is a big city, and it is the official start/end city of the East Coast bicycle path. Because of this, you will notice that the ride from Yeonhwa-ri to Ulsan includes many portions of city sidewalk riding, port facility areas, and shared roads with vehicle traffic. My best advice is to take your time, use the crosswalks, and enjoy yourself. I was happy with my choice of a robust touring tire (Schwalbe Marathon Mondial 27.5×2.0) on the city sidewalk riding sections, the constant changes in surface conditions made me really appreciate not being on a skinny road bike tire.
The riding days up to Ulsan were a lot of riding through towns/cities/ports and along shared sidewalks. These sections were interspersed with lovely coastal views and a few hilly nature trails.
Ulsan area has: Hotels, Motels, Restaurants (Foreign & Korean food), Bike Shops, and an Airport. Two of the best bike shops in Ulsan are Ride With You and OMK Bike Camp.
Ride with You bike shop in Ulsan – GPS coordinates = N35.560471, E129.34996
OMK Bike Camp bike shop in Ulsan – GPS coordinates = N35.5535496, E129.2839089
Sites on the ride between Yeonhwa-ri and Ulsan – Jangsaengpo Whale Museum, Ulsan
When I reached Ulsan, I stayed at Toyoko Inn Hotel (Business traveler style hotel) in the interior of the city. Bike parking at bicycle rack in front of hotel.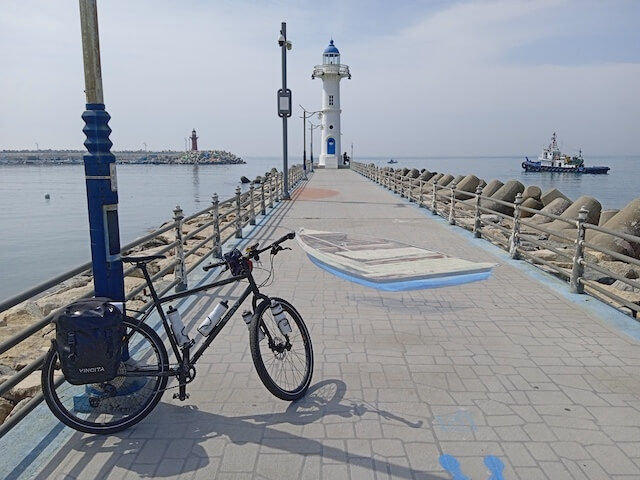 ---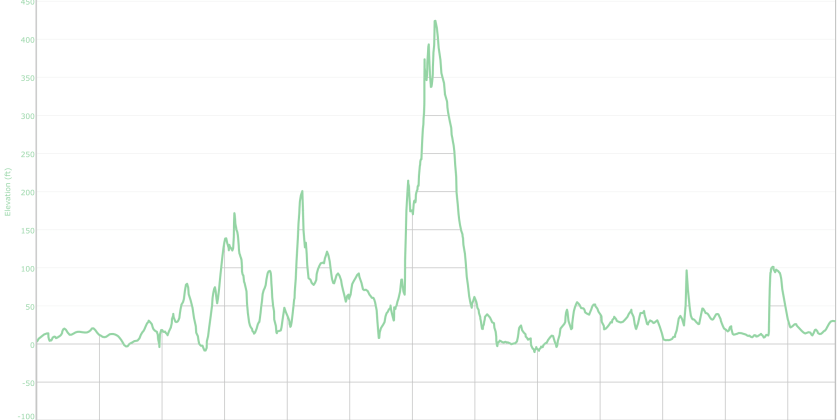 Section 4. Ulsan —> Gyeongsangbuk-do (26 miles / 41 kilometers)
Riding out of Ulsan you are now on the official East Coast cycling path and will begin to see more route markers, signs, and certification booths.
Gyeongsangbuk-do area has: Motels, Restaurants (Korean food), and Camping.
Sites on the ride between Ulsan and Gyeongsangbuk-do – Tomb of King Munmu
Things to do along the path: EAT CRABS (all kinds of crab restaurants along the path).
When I reached Gyeongsangbuk-do, I stayed at Le Idea (Motel on the path). Bike parking in private car parking spot with roll down door.
---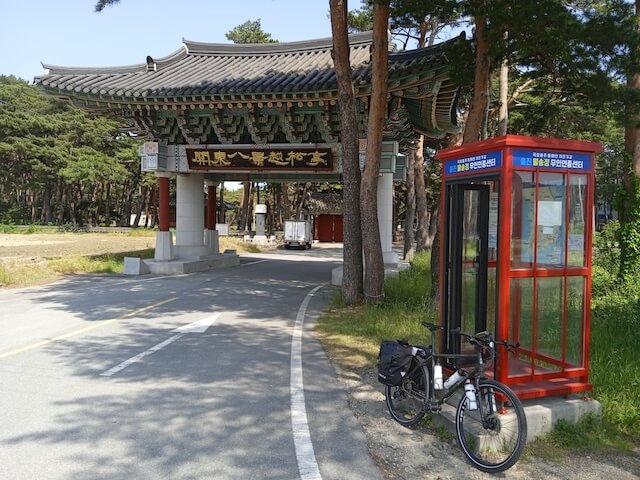 A note about the Certification stamp booths along the East Coast ride:
Just like all of the other popular cycling pathways in South Korea, the East Coast route does have its own certification booths where cyclists can collect stamps in their passport booklet in order to obtain awards. Many of the certification booths have ink pads that have long gone dry, so it is suggested that you either bring your own ink pad or you take photos of yourself and bike in front of these certification booths if you are keen to be rewarded at the end of your trip.
If you have questions, comments or concerns about the whole passport, stamp and medal/certificate process you can view more details here.
---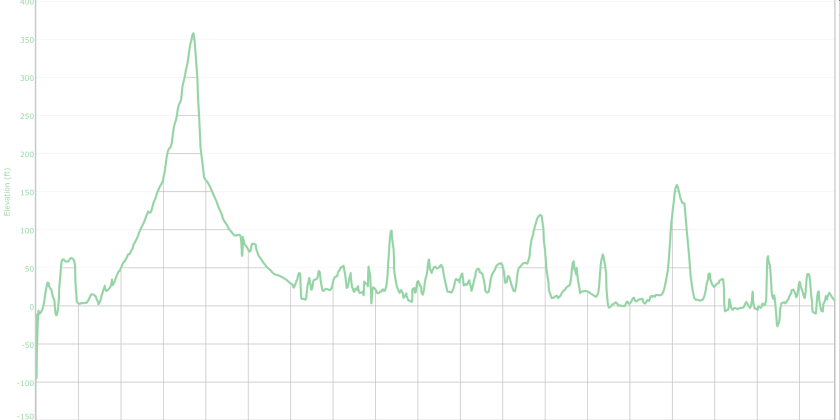 Section 5. Gyeongsangbuk-do —> Samjeong-ri (38 miles / 60 kilometers)

Riding from Gyeongsangbuk-do included plenty of coastal paths and roads.
Sites on the ride between Gyeongsangbuk-do and Samjeong-ri – Guryongpo Beach
Things to do along the path: EAT CRABS (all kinds of crab restaurants along the path).
Things to do along the path: Expo Park (Uljin) and Uljin Aquarium
Things to do along IF you stayed in Uljin for more than one night: Seongnyugul Cave
Samjeong-ri area has: Motels, Restaurants (Korean food), and Camping.
When I reached Samjeong-ri, I stayed in an AirBnB house very close to the path. A comfortable and clean home close to the seafront. The small house is complete with many amenities. https://www.airbnb.com/rooms/51316640
On my East Coast adventure I utilized five sources to find accommodation: Google/Naver/Kakao Maps, Korean cyclist recommendations, AirBnB, Booking.com, and my eyeballs (for campsites).
---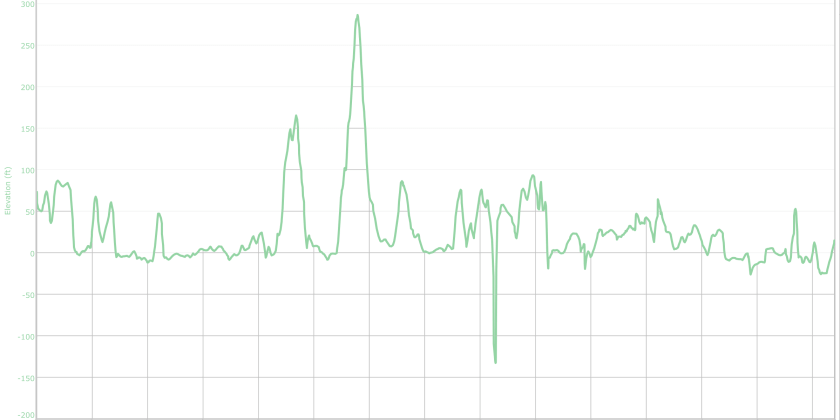 Section 6. Samjeong-ri —> Pohang (29 miles / 46 kilometers)
Sites on the ride between Samjeong-ri and Pohang – National Lighthouse Museum
Along many sections of the East Coast ride you will notice that there are plenty of convenience stores (in Korea you will find CU stores, GS25 stores, and 7-11 stores), bathrooms, rest areas with benches, bicycle parking racks, and too many Cafes to mention.
Pohang area has: Hotels, Motels, Restaurants (Foreign & Korean food), Bike Shops, and an Airport.
When I reached Pohang I ended up staying at Youngildae Guesthouse (a hostel style place approximately 300 meters from the path). Youngildae Guesthouse had a good coffeeshop/restaurant on its first floor. Bike parking in basement/kitchen area of guesthouse.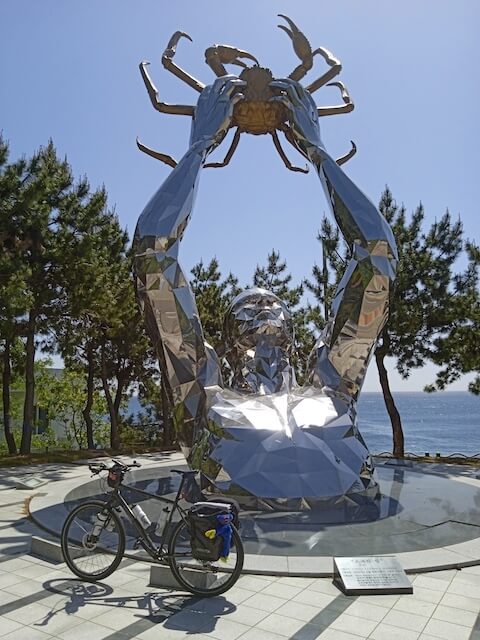 ---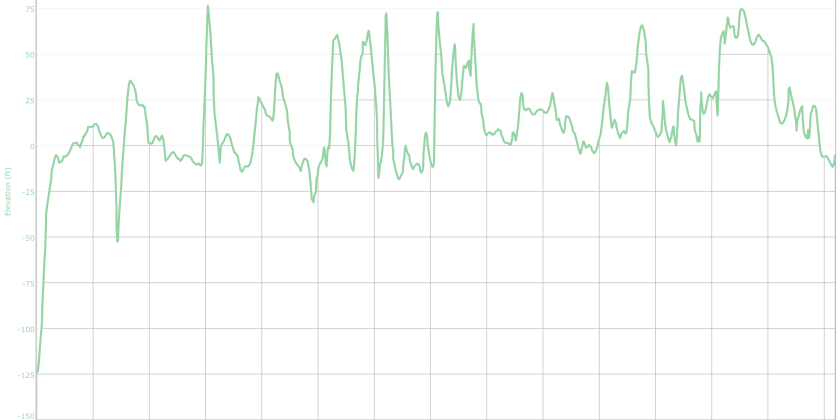 Section 7. Pohang —> Samsa-ri (28 miles / 45 kilometers)
The number of riders on the East Coast path was noticeably higher on the weekends, especially around popular tourist areas and cities. The number of hikers on the path seemed consistent regardless of whether it was a weekday or weekend. Many of the walkers/hikers are retirees who are on their own coastal journey of discovery.
Samsa-ri area has: Motels, Restaurants (Korean food), and wild camping spots.
I stayed 1 night in Samsa-ri at an AirBnB location where I felt right at home. The host family was friendly and attentive. I had complete privacy in an upstairs room and I was VERY happy that the host allowed me to park my bicycle in a shed behind the property. The room has a wonderful view of the little port town area from a private balcony. https://www.airbnb.com/rooms/657591839630323531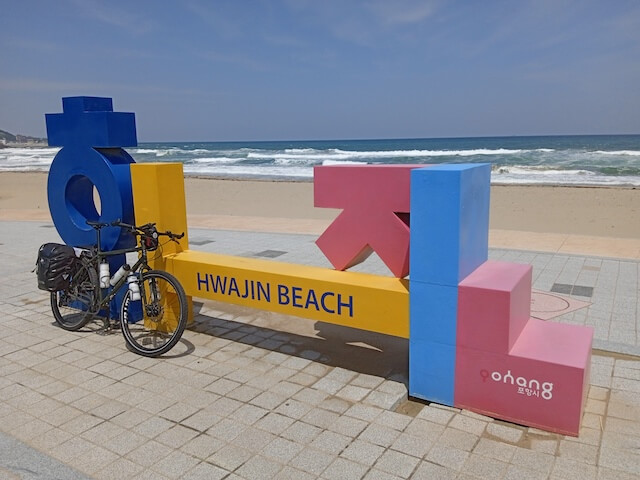 ---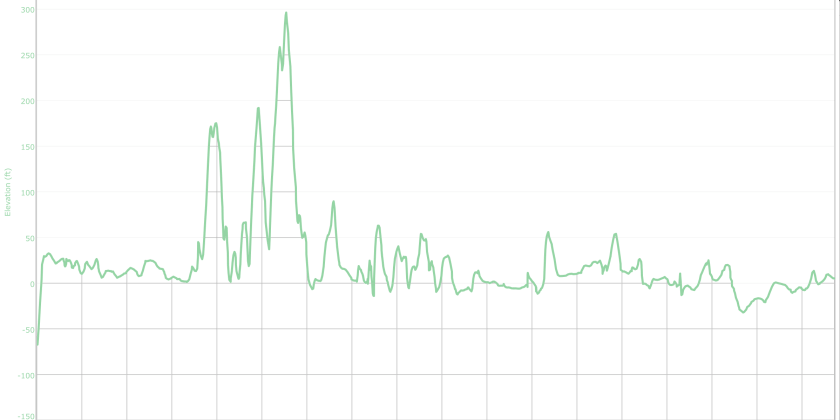 Section 8. Samsa-ri —> Wolsong-ri (35 miles / 57 kilometers)
Wolsong-ri area has: Motels, Restaurants (Korean food), and wild camping spots.
Things to do along the path: Samsa Marine Park (Samsa-ri)
How do I wash my clothes while bicycle touring in South Korea? Coin laundries do exist in cities/towns. I used a chain called Happy Wash more than a couple of times on my trip. I just did a Google Maps search for 'Laundromat' and they would pop up on the map. About 5,000 won for a washer and 3,000-5,000 won for a dryer. There is laundry soap already in the washing machines so you never have to buy soap. The laundromats always have a nice place to wait with free WiFi.
In Wolsong-ri, about 1 kilometer off of the path, I located an excellent AirBnB host. This was a REALLY nice room to find in this area. It is really close to the Samsa Marine Park (within 10-15 minutes cycling distance). I would highly recommend this location for any cyclist riding the east coast path who is looking for an easy to find room with super friendly hosts. It was clean, comfortable, quiet, and private. https://www.airbnb.com/rooms/47542741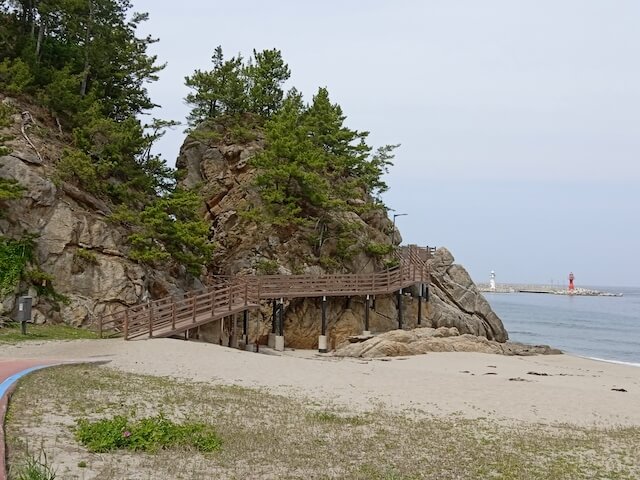 ---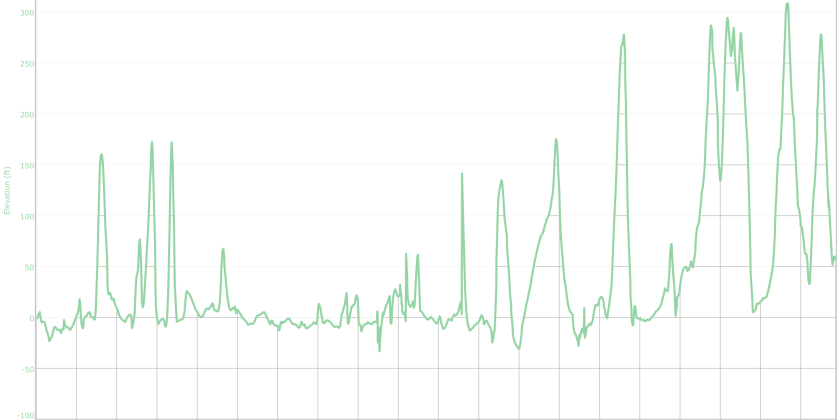 Section 9. Wolsong-ri —> Samcheok-ro (50 miles / 80 kilometers)
Samcheok-ro area has: Motels, Restaurants (Korean food), cafes, and tourist attractions.
I'm not sure if it was just my imagination, but I felt like the day's ride from Wolsong-ri to Samcheok-ro was the hilliest day of my East Coast adventure.
I found a great little Pension House on the cycle path when I got near to Samcheok-ro. Clean and comfortable stay. I would highly recommend this location to cyclists riding the east coast route who are looking for a room on the path in the Samcheok area. https://www.airbnb.com/rooms/43166556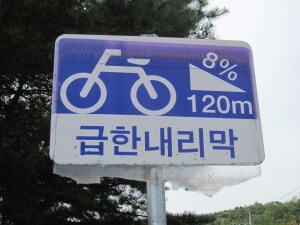 Cycle Path Gradient Signs – Before climbing sections there is usually a helpful little sign telling you the gradient and length of the upcoming hill. These signs are a welcome bit of information.
---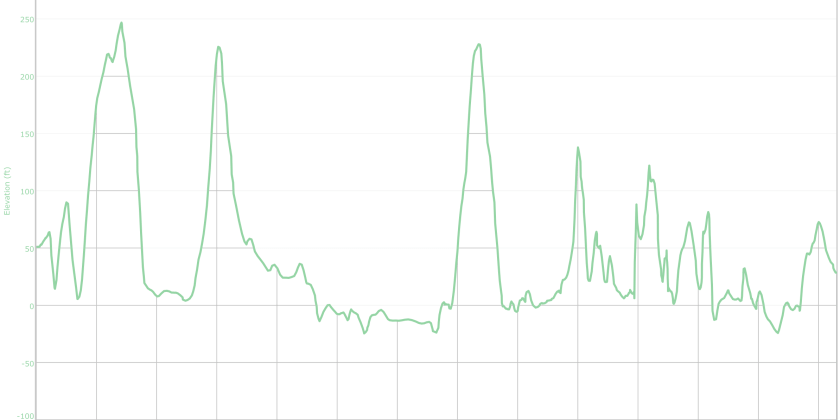 Section 10. Samcheok-ro —> Donghae (27 miles / 43 kilometers)
Donghae area has: Hotels, Motels, Restaurants (Foreign & Korean food), cafes, and tourist attractions.
Things to do along the path: Romantic Road in Korea (Samcheok Ocean Rail Bike) and Marine Cable Car (Samcheok).
Things to do along the path near Donghae: Cheongok Golden Bat Cave
Accommodation in Donghae – Donghae Ocean City Residence Hotel (less than 400 meters from the cycle path). Bike parking at bicycle rack in the car park area of the hotel.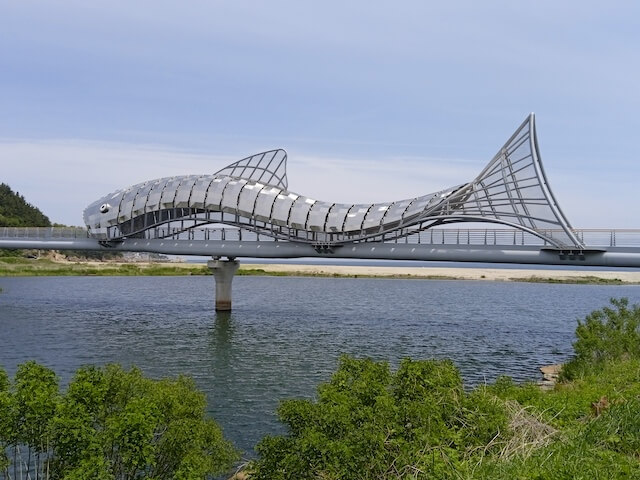 ---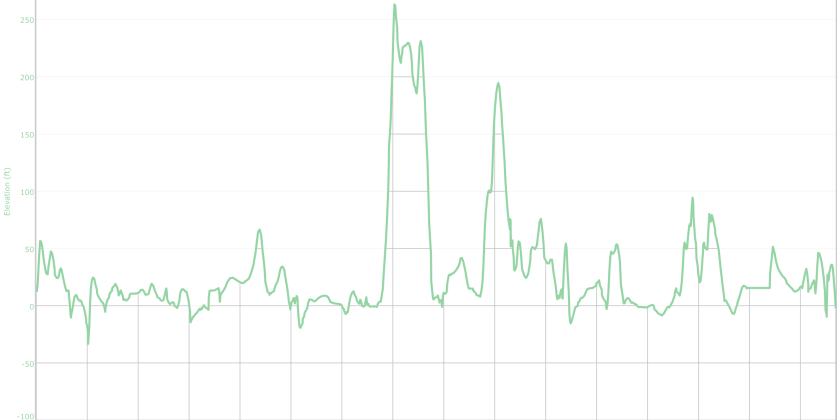 Section 11. Donghae —> Gangneung (31 miles / 50 kilometers)
Gangneung was one of the more memorable areas along my ride. The ride into Gangneung has lively beaches with restaurants and outdoor venues.
Gangneung area has: Hotels, Motels, Restaurants (Foreign & Korean food), cafes, and tourist attractions.
Things to do along the path: Korean War Monument (on the way to Gangneung)
Accommodation in Gangneung – Hi Ocean Gyeongpo (less than 600 meters from the cycle path). Bike parking in underground car parking area.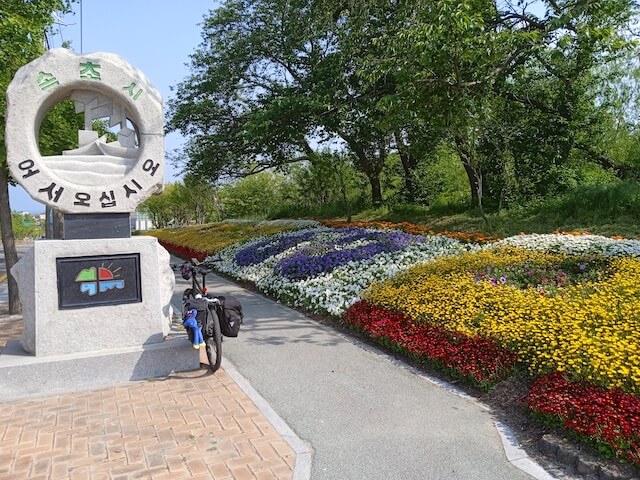 ---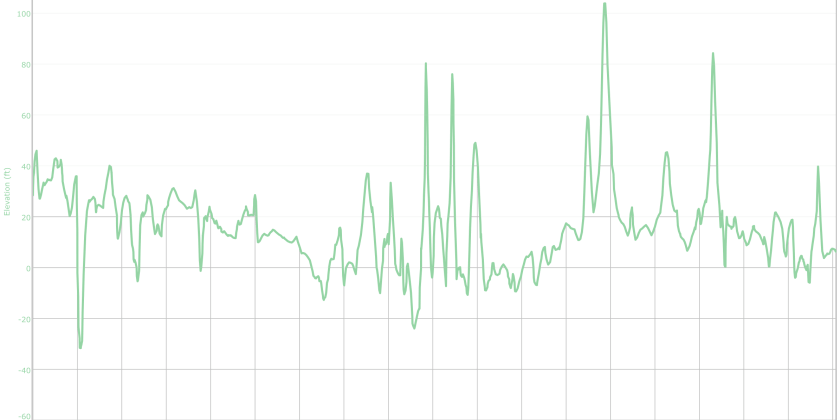 Section 12. Gangneung —> Sokcho (36 miles / 58 kilometers)
Sokcho area has: Hotels, Motels, Restaurants (Foreign & Korean food), cafes, and tourist attractions.
Accommodation in Sokcho – Blue Terra Hotel (less than 400 meters from the cycle path). Bike parking in bicycle rack on 2nd level of car parking garage.
If you want to be as close to the bus station as possible, I would recommend the With U Hotel & Guesthouse. It it directly across the main street from the Sokcho Express Bus Terminal.
Getting from Sokcho to Seoul was as easy as booking a seat on a bus at the Sokcho Express Bus Terminal, which is nearby the Sokcho Beach area (on the bicycle path). Bus ticket to East Seoul (Dongu Station) was 19,900 Won per person and bicycles can be placed in the luggage compartment under the bus (easy if the bicycle is packed neatly). A bag or cover to ensure the 'dirty' parts of the bicycle do not damage other luggage is recommended. I purchased a bicycle rain cover at a nearby DAISO store for 2,000 Won and used it to cover by my bicycle after removing the front wheel.
Sokcho Express bus terminal – GPS coordinates = N38.1905088, E128.5987419 
I boarded the 11:50am bus to Seoul on a Tuesday and the 30 passenger bus was about half full. The bus drove for an hour and had a 15-minute break at a roadside stop. The bus arrived in Seoul (at the East Seoul station) just before 3:00 pm. From the East Seoul bus station you are a 3 minute ride to the Hangang River cycling path. 
East Seoul (Dong Seoul) bus station – GPS coordinates = N37.5336879, E127.0939994
Sokcho does not have any trains, so travelers come by express bus (from Seoul) or intercity bus (from Busan). If you come by bus from Seoul or Incheon, you will arrive at Sokcho Express Bus Terminal. Other buses enter Sokcho Intercity Bus Terminal. Sokcho Express Bus Terminal and Intercity Bus Terminal are located far away from each other with the Cheongcho Lake in the middle. Sokcho Express Bus Terminal is adjacent to Sokcho Beach and Ooungchi Beach. Sokcho Intercity Bus Terminal is adjacent to Dongmyeong Port, Lighthouse Observatory, Yeonggeumjeong, and Jungang Market.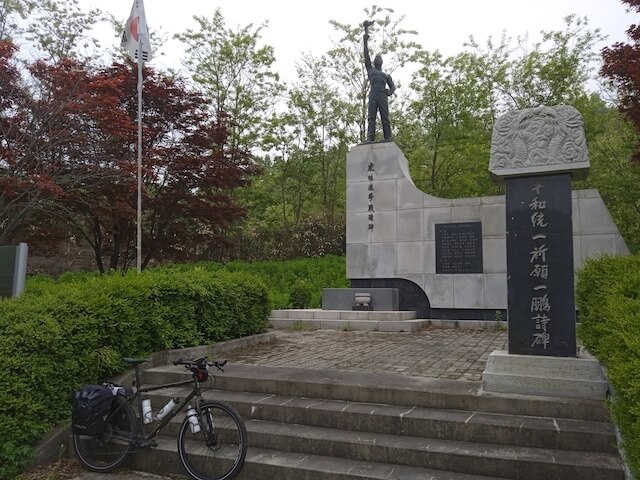 ---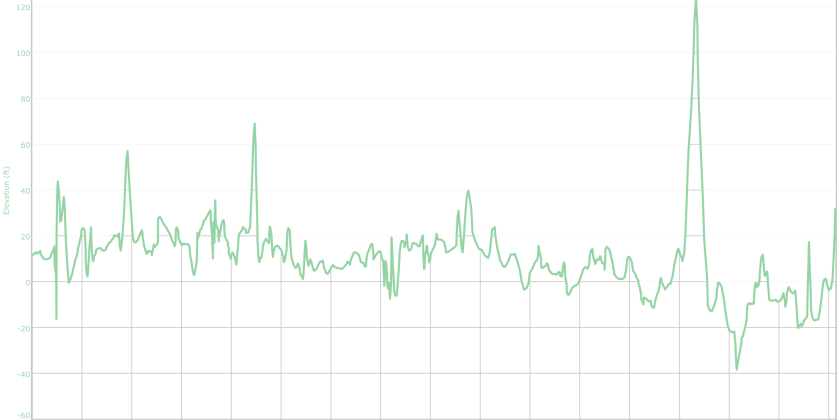 Section 13. Sokcho —> DMZ (32 miles / 52 kilometers)
The area 10 kilometers before you reach the DMZ does have a few Hotels, Motels, and Korean restaurants. Depending on your travel plans you could ride from Sokcho up to this area and spend the night before visiting the DMZ (and other sites in the area) on the following day before returning to Sokcho. Some cyclists decide against visiting the DMZ and finish their tour in Sokcho without adding this 64 miles / 104 kilometers trip to their itinerary. Some cyclists finish their ride in Sokcho Beach and then book a Korean bus tour (many companies in Sokcho offer this tour) in order to visit the DMZ without having to cycle this additional distance from Sokcho.
---
City and Town options for you to consider when planning your own East Coast trip:
Gwangalli Beach

Yeonhwa-ri 

Ulsan

Gyeongsangbuk-do

Samjeong-ri

Pohang

Samsa-ri 

Wolsong-ri

Samcheok-ro

Donghae

Gangneung

Sokcho

Sokcho to DMZ
Other places worth considering for an overnight stay:
---
Food advice – Picky eaters will have limited choices in the smaller towns. Expect to eat Korean food in towns along the pathway. Some Western food choices are available in the larger cities. It would be helpful to have four or five common Korean food dishes that you enjoy written in Korean (Hangul) on a piece of paper that you can carry with you to lunch and dinner spots.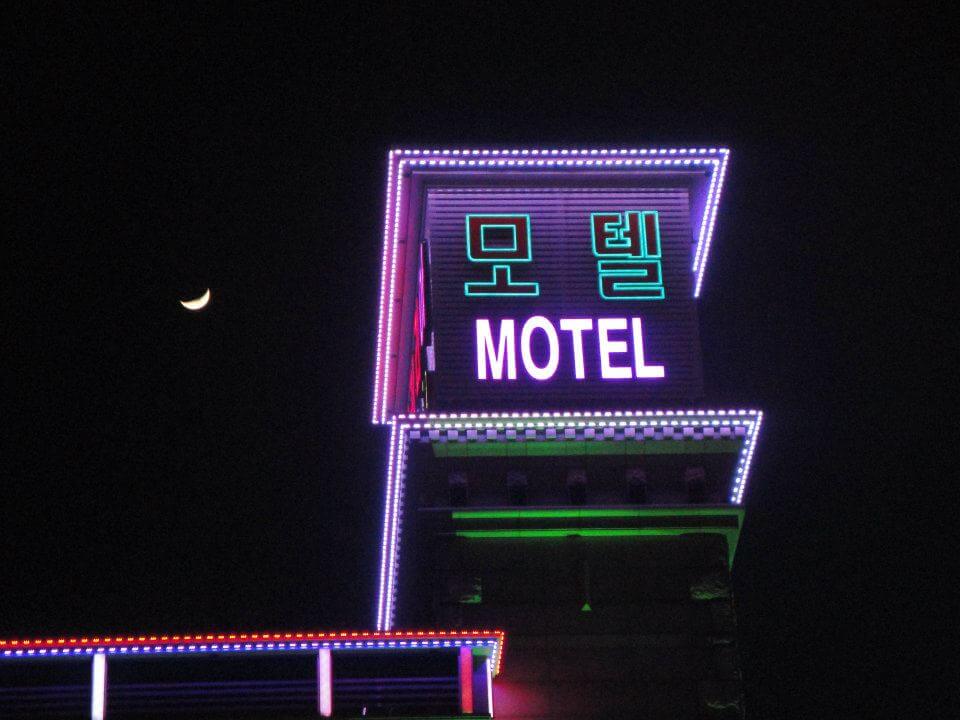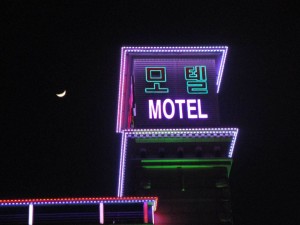 Motels – Motels will allow two people to occupy each room. Three or more in a room as a money saving practice will be frowned upon and you'll likely be refused a room. There does not seem to ever be a room option where two twin sized beds are in one room. So, plan to budget for separate rooms if you have a traveling companion that you do not want to share a bed with. All hotels and motels that I used on my trip were happy to allow storage of my bicycle. Soem allowed me to store my bicycle in the luggage storage area while many had a designated bicycle parking area where I was able to lock my bike up for the night.
Every motel we stayed at included:
Hot shower
Western style toilets (NOT squat toilets)
Shower soap
Shampoo
Toothbrush & Toothpaste
Kettle (for boiling water)
Bottled drinking water
Air conditioner (Some rooms had Air con and a fan – The fan is great for drying cycling kit)
3-in-1 coffee packets
WiFi
Approximate Daily costs:
10,000 Won on lunch (each person)
20,000-25,000 Won on dinner (each)
30,000-45,000 Won on motel room (each)
10,000-15,000 Won on daily snacks (each)
Useful websites and information:

Recommended bicycle shops in Seoul:
BIKELY [Doug is the owner of the shop and he speaks good English. The mechanic at Bikely is named Her and speaks Korean.] BIKELY is a touring-specific shop with a wide selection of ORTLIEB products and many services (unboxing/boxing of bikes, bike transport to/from airports and other Korean cities). BIKELY GPS coordinates = N37.5237087, E126.9683345
Bike Nara (Hapjeong) [Goo is the best guy to speak with since his English is quite good. Bike Nara is directly adjacent to the Hapjeong subway station, [Exit #5]. Bike Nara has good quality rental bikes that you can rent in Seoul and return in Busan, after completing the Seoul-to-Busan route. Bike Nara (Hapjeong) GPS coordinates = N37.549518, E126.914437
Good camping supply stores that we found in Seoul are:
Go Camp – Go Camp definitely has the most amount of camping stuff: stoves, gas canisters, hammocks, sleeping bags, tents, clothing etc.
Go Camp – GPS coordinates = N37.4827778, E126.9708333
My Gear – My Gear is located on a small road that has no less than a half dozen camping clothing stores on it. My Gear and the other stores on this same street do have camping related items but are definitely more focused on camping and hiking clothing.