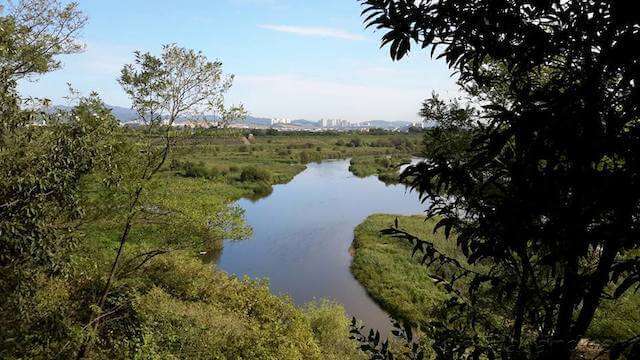 I highly recommend cycling any of the four rivers paths in South Korea and have compiled details from my September 2016 trip along the Geumgang, Ocheon, and Buckhangang Bike Paths in order to help others plan their own adventure. On my trip I also used sections of the Hangang and Saejae Bike Paths.
---
If you are interested in riding the four rivers path from Seoul to Busan you can read my other informative article with details and maps of the main four rivers route from Seoul to Busan, which consists of four connected cycle paths known as the Ara, Hangang, SaeJae, and Nakdonggang pathways.
---
Purchase and download ZIP file containing the most up-to-date GPS tracks for the Geumgang, Ocheon and Buckhangang cycling paths – These routes will keep you on the main path, cycling past certification booths, motels, restaurants, and camping options. Tracks are in GPX format (works with all Garmin and other brand GPS devices) and KMZ format (works with all smartphones and tablets). With these routes you can view them on your smartphone, tablet, or GPS device with or without internet connection.
4 Rivers Ocheon, Geumgang, and Buckhangang GPS Cycling Routes
---
I would recommend that you read the details from my October 2015 trip if you would like to know more about cycling some of the other 4 rivers pathways, especially riding from Seoul to Busan. In my October 2015 article I give a full explanation of how the passport stamp system works, including where to buy the passport booklet and who to contact to get your awards processed. There is also some good information in that same article about taking your bicycle on South Korean trains and on Seoul's subway system.
For my September 2016 trip I again chose to use the airport limousine bus to travel from Incheon Airport to my pre-booked accommodation (AirBnB) in Seoul. The airport limousine bus is comfortable, affordable, and convenient.
The 6017 or 6019 airport limousine bus dropped me and my bike off right in front of the Air Force Club stop. You can easily find the correct airport limousine bus number that will deliver you to any area of Seoul. I always pick my accommodation in Seoul with the foreknowledge that I want to be next to a bus stop and, if possible, a subway station.
The limousine bus has pickup stands right in front of the airport. The airport limousine bus ticket from Incheon International Airport for me and my bike was 15,000 Won. NO extra cost for the bicycle. I placed my bicycle (still in the box from the flight) in the luggage compartment under the bus.
---
How to follow the 4 Rivers Path

Follow the 4 Rivers Cycle Path signs. All signs have the 4 Rivers Cycle Path logo in either 4 colors or white as indicated on the below photos. You will also see the 4 Rivers Cycle Path logo painted on the road at times. Elsewhere you will see the bicycle path painted with a blue line along its edge.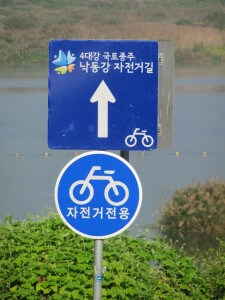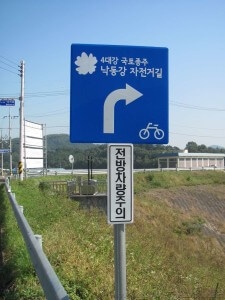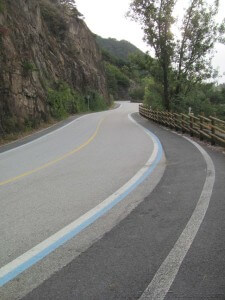 ---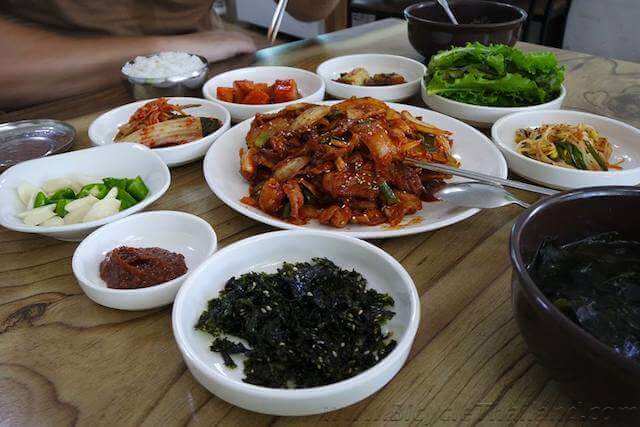 Day 1. Seoul —> Yeoju (102km)
Breakfast: Tom N Toms Cafe in Seoul
Lunch: Camping Cafe
Dinner: Korean Restaurant in Yeoju
Motel: 7 Motel 40,000 Won
Bicycle Paths: Hangang
Riding out of Seoul on a holiday (Chuseok) had me a bit worried. Would there be a massive amount of riders on the path and would there be accommodation available at my destination? While there were noticeably more cyclists using the pathway because of the holiday my fear of not being able to find accommodation in Yeoju was totally unfounded, there were plenty of vacancies in Yeoju and, aside from a few restaurants being closed due to the holiday, there were plenty of food options, just the same as during the non-holiday period. My preferred lunch location – the Greenhouse Restaurant was closed, but I was able to pull into the nearby Camping Cafe for a BIG bowl of delicious noodles that I washed down with an iced Americano coffee.
---
During my trip from Seoul to Yeoju I did notice a few improvements to the same path that I cycled in October 2015. Some of the construction areas that I mentioned in 2015 had now been finished and it was nice to see that rather than allowing the paths to fall into disarray the powers that be were actively involved with maintaining and improving them. Aside from my different starting point in Seoul and the change in lunch location (because the Greenhouse Restaurant was closed for the Chuseok holiday), my ride from Seoul to Yeoju was identical to my ride in 2015, full of great weather and beautiful scenery.
Day 2. Yeoju —> Suanbo (95km)
Breakfast: CU Store in Yeoju
Lunch: Cafeteria
Dinner: Meat on a skewer restaurant
Motel: Old Motel 35,000 Won
Bicycle Paths: Saejae
Fairly heavy rainfall during the early morning hours caused me to postpone my departure from Yeoju by a couple of hours. But, once the rain slowed to a sprinkle I mounted up, zipped up the light jacket I brought with me, and waved goodbye to Yoeju. Lunch was at a Cafeteria very close to where the Hangang bicycle path ends and the Saejae path begins. Pork cutlet with veggies and a hot coffee were a warm welcome after my drizzly morning of riding.
Once arriving in Suanbo, and taking note of the Hotel/Motel information board just in front of the red certification booth, I took a leisurely twenty minutes to soak my weary feet in the city's welcome center hot springs foot bath. The foot bath was so nice that I had to snap myself out of making the welcome center my final resting place for the day, so I squished back into my soggy cycling shoes and started my motel search. After walking only one block a Korean hotelier approached me and offered me his business card and one of his 'best rooms' for the incredibly low rate of 35,000 Won. It was nearby but quite rundown – I took it anyways, as I was happy to be out of the rain and was more interested to start my search for food.
Coffee Factory in the city center is a definite recommend for drinks and sweets. Dinner was at a Japanese-esque 'meat on a stick' place. Friendly staff and delicious food – all combinations of meat and assorted veggies on a stick, shish kabob style. Suanbo is a popular destination for Korean tourists who visit the area to soak in natural hot springs and I was surprised that the town did not feel crowded during the Chuseok holiday. Maybe everybody goes home for Chuseok rather than to touristy destinations.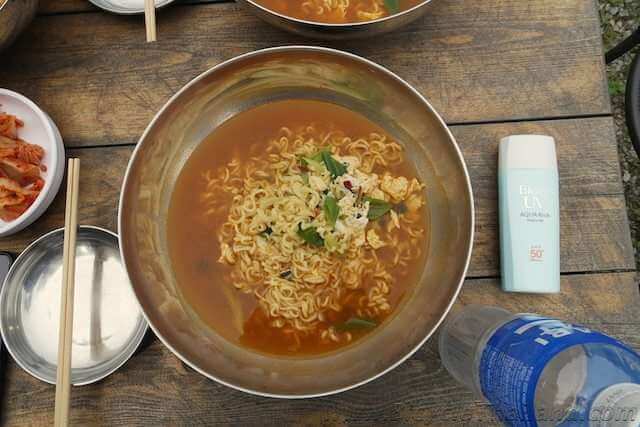 Day 3. Suanbo —> Jeongpyeong-eup (65km)
Breakfast: CU Store in Suanbo
Lunch: Noodle Chain Restaurant in Jeongpyeong-eup
Dinner: Noodle Chain Restaurant (try the buckwheat crepes)
Motel: Three Luv Motels 35,000 Won
Bicycle Paths: Saejae & Ocheon
Day 3 of my cycling adventure was the first day that had me exploring a new cycling path, one that I had not cycled on my 2015 trip. The new path is known as the Ocheon Cycle Pathway and it links the Saejae and Geumgang pathways, which are part of the 4 Rivers project. I had read that the Ocheon would be less marked and have far fewer signs along its path because it had been created out of several smaller paths serving nearby cities and local parks. While I will admit that it did have more shared roads (vehicle/bicycle) than most of the other cycle pathways I had ridden in Korea it was still a delightful ride because of the near absence of vehicle traffic along the route. I did not see any 4 Rivers signs marking the Ocheon path and, at times, the blue line disappeared completely, but the fact that there were not too many misleading options kept me on target for my day's destination of Jeongpyeong-eup. Using the GPS data I have compiled or having a Korean friend with NAVER are two surefire ways to ensure you do not deviate from the path.
I chose Jeongpyeong-eup because the first town on the Ocheon path, which is Gaeson, seemed quite small and it was far too close to my start point of Suanbo. My other final destination option for the day's ride was Jochiwon, which would have been a bit further than I wanted to go in a day. So, Jeongpyeong-eup won the decision and I'm happy that it did as it is a nice size town with plenty of accommodation and food options. The Three Luv Motels where I stayed is across a bridge from the main town and I would not necessarily recommend this spot, although it worked out ok for me. On my return trip (Day 8, Part 2), I chose to not cross the bridge and found much better accommodation and food near the town's main street area.
Day 4. Jeongpyeong-eup —> Gongju (76km)
Breakfast: 7-11 near motel
Lunch: Cafe in Gongju
Dinner: Domino's Pizza
Motel: Ensemble Motel 40,000 Won
Bicycle Paths: Ocheon & Geumgang
After the short distance I covered on Day 3 I felt that another short day was in order so I chose the town of Gongju as my lunch spot and, after discovering the town was setting up for their 62nd Annual Festival thing – including singing, dancing, and battle reenactments on the town's river and castle, I quickly booked in to a love motel right near the river so I could enjoy the show.
I found a nice little cafe in Gongju that served a great iced Americano and they had an entire wine list that proved useful later in the evening, after I had swallowed a whole large pizza from Domino's. Less than one block away from the cafe I found a bike shop where I picked up a bottle of chain lube for 10,000 Won. I asked how much a full service of a bicycle would cost and was quoted the price of 150,000 Won ($150 USD). Not that my bicycle needed a full servicing but I was just wondering what repair services cost in Korea. Good to know for future reference.
During this day's ride I stopped at the Hapgang Park Certification Booth where I had a nice conversation with an older Korean gentleman who was very proud to show me that he had completion stickers on his cycling helmet from ALL of the cycle pathways in Korea. At this certification booth there was a cooler with water, cold coffee, and some type of sports drink sitting next to an 'on your honor' donation box. I saw similar coolers on my 2015 trip and am delighted to know things like this work in Korea. So many places in the world where you would not only lose all of the drinks but also the cooler, donation box, and the bit of concrete under the whole affair.
Day 5. Day off in Gongju
Took the day off in Gongju in order to check out the town's Folk Museum & Hannok Village, Gongju National Museum, and, most importantly, Gongsanseong Fortress. The cycle pathway goes directly past most of these places in Gongju. I would say that if you only have the time to visit one of these places then make it the Gongsanseong Fortress.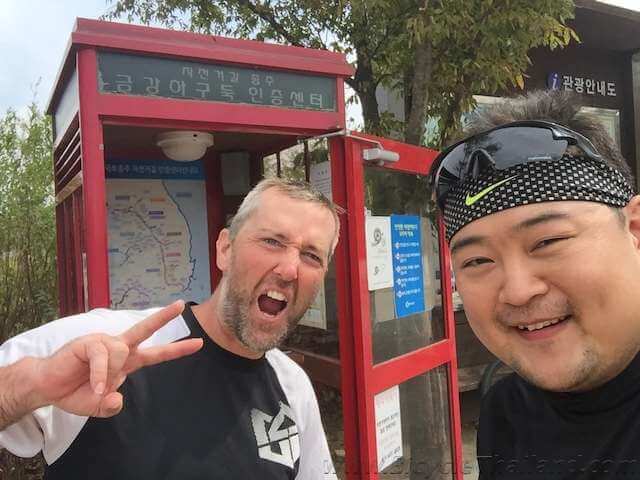 Day 6 Part 1. Gongju —> Geumgang Estuary Bank (91km)
Breakfast: Cafe & 7-11 in Gongju
Bicycle Path: Geumgang
I figured that the ride from Gongju down to the end of the Geumgang bicycle pathway was going to be approximately one-hundred kilometers so I set off fairly early in the morning. No signs of rain since that one day of riding from Yeoju to Suanbo and the daily temperatures were simply amazing, 24-26 in the middle of the day with slightly chilly/foggy mornings. Getting out on the pathway early in the morning is intoxicating, only you and nature for kilometer after kilometer. By the second day of riding I was running into other cyclists on the pathway less and less frequently, and that was ok by me. Having said that, I was pleased to meet and ride with my newest Korean cycling friend Yoo Kim, who I met after stopping at the Baekjebo Certification Center for a quick bowl of instant noodles.
It was great to ride with Yoo Kim because as we talked we found that we had so much in common, and subsequently kept each other entertained with stories for the long 66 kilometer stretch between the Baekjebo and Geumgang Estuary Bank Certification Centers. After finishing the Geumgang pathway at the Estuary Bank stamp booth Yoo Kim and I decided to cycle into Gunsan city center to have lunch together before he caught a bus back to Seoul.
Day 6 Part 2. Geumgang Estuary Bank —> Gunsan city (7.4km)
Lunch: Korean Restaurant in Gunsan city
Dinner: Korean Restaurant in Gunsan city
Motel: TheMotel 30,000 Won
Bicycle Path: Geumgang
The last certification booth, and the end/start of the Geumgang Bicycle Path is named Geumgang Estuary Bank – this is the 91 kilometer distance from Gongju town that I marked on my GPS. There really is not much around the Geumgang Estuary Bank certification booth area so we cycled another 7.4 kilometers to the city center area of Gunsan to find lunch and the bus station. We found the intercity bus station in Gunsan where a bus going to Seoul can be booked quite easily. I was told that the trip from Gunsan to Seoul would take between 2 and 3 hours. Bicycles can be brought on the bus for no additional charge. After a delicious lunch with Yoo Kim he boarded the bus to Seoul and I found a motel within walking distance of restaurants and the 'action' of Gunsan city.
Day 7. Gunsan —> Gongju (99km)
Breakfast: CU Store/Dunkin Donuts in Gunsan
Lunch: Baekjebo Certification Center
Dinner: Domino's Pizza in Gongju
Motel: Ensemble Motel 40,000 Won
Bicycle Path: Geumgang
I was so happy to find a Dunkin Donuts shop on my way out of Gunsan city on this morning. With my Four Fat Pills consumed I was cycling like a sugar-fueled maniac back towards Gongju town. I knew that the Baekjebo Certification Center was about 66-70 kilometers away from Gunsan and I had planned to stop somewhere for lunch well before I reached it so I was very surprised when it came into view – so surprised that I double-checked my GPS distance readout to make sure it was functioning correctly. I guess I had become lost in the scenery. The area the Geumgang bike pathway passes through is known to host several species of water fowl and the many bird observatory towers along the path are testament to the popularity of birdwatching here.
Day 8 Part 1. Gongju —> Daecheong Dam (55km)
Breakfast: Cafe & 7-11 in Gongju
Bicycle Path: Geumgang
Part of the Geumgang Bicycle Pathway includes a trip up to the picturesque Daecheong Dam (definitely recommended). I had chosen to not ride up to the dam earlier in my trip (on Day 4) and, instead, catch it on my way back towards Jeongpyeong-eup. I figured there would not be many accommodation options on the road up to the dam and I was right. So, after setting off early from Gongju I pedaled up to and back from the dam (a round-trip of 50-60 kilometers that starts from the Hapgang Park Certification Booth-about 25km outside of Gongju). I knew in order to finish in Jeongpyeong-eup before evening I was in for a long second half of my day's ride. Much of the path up to the dam is complete but I did notice that one of its wooden bridges ended abruptly and diverted cyclists on to a section of shared road. Perhaps this wooden bridge will be complete in the near future.
---
Note: I did not see a lot of convenience stores on the route up to Daecheong Dam, so I would recommend bringing a few items with you when you set out to ride up to the dam. Even at the Daecheong Dam certification booth there were no drink or food options. When I reached the top of the dam I became excited when I saw a vending machine in the distance and was quite disappointed to find that it was stocked with nothing other than padlocks (for writing your and your true love's name on and affixing it to a chain link fence near the dam). I would have LOVED a Snickers bar and bottle of water instead.
Day 8 Part 2. Daecheong Dam —> Jeongpyeong-eup (79km)
Lunch: Ok food restaurant
Dinner: Mom's Touch Restaurant in Jeongpyeong-eup
Motel: Prima Motel 35,000 Won
Bicycle Path: Geumgang & Ocheon
After coming down from the dam, another option that was available to me was to ride to Jochiwon-eup (much closer to the dam than Jeongpyeong-eup), but I was feeling quite good and making decent progress by the time I approached the turn-off point to Jochiwon, so I pressed on to Jeongpyeong-eup. Jochiwon looks to be a good sized town/city and I'm sure it has motels and food options galore for those interested to use it as an overnight stay location.
When I did finally reach Jeongpyeong-eup, I rode all of the way to the Certification Booth (Baekro Park) and then crossed the main road two blocks to find a great love motel (Prima Motel) and tons of restaurant options on what must be the town's main street. I saw at least three pizza restaurants but I went for the spicy chicken chain restaurant named Mom's Touch (you'll see plenty of these throughout Korea).
Note: I marked the restaurant where I had lunch on this day as Ok Food restaurant. This is by no means a commentary on the quality/tastiness of the food served at this restaurant. I used that name because the kind owners answered every one of my menu orders (and subsequent questions) with an 'ok' statement. They were so friendly and wanted to affirm all of my assumptions about what I was ordering, most of which turned out to be completely wrong.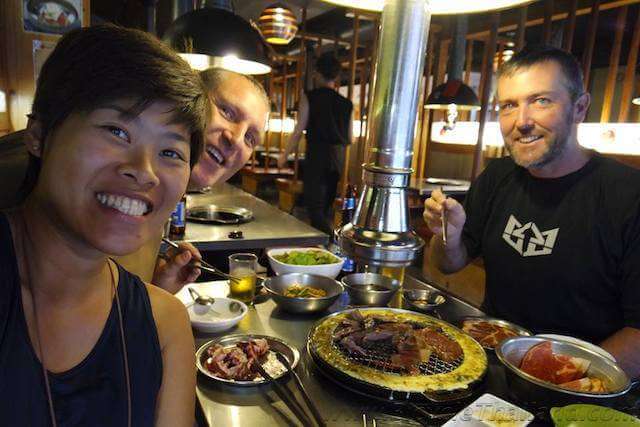 Day 9. Jeongpyeong-eup —> Suanbo (65km)
Breakfast: CU Store in Jeongpyeong-eup
Lunch: Coffee Factory in Suanbo
Dinner: Korean BBQ
Motel: Good Stay Motel 50,000 Won
Bicycle Paths: Ocheon & Saejae
My return to Suanbo would be a short distance ride for me, but I did remember a couple of nice downhill sections from Day 3 that might prove to be fairly significant uphill sections for me today. Well, I must say I wasn't overly surprised to find that I was right – one of the big hills was waiting for me at only 11 kilometers outside of Jeongpyeong-eup while the other waited patiently for me at just 8 kilometers before my final destination of Suanbo city. Even with these two hills standing in my way I was still able to enjoy a tasty lunch in Suanbo before the noon hour.
I chose to use a different motel than I had on my first visit to Suanbo and was happy to find a decent room at the Good Stay Motel (Baekje Hotel Spa). My room had the largest hot springs fed bathtub I've seen to date. The motel has grey colored bicycle lockers in its parking lot but when I inquired about them the owner of the motel told me that I could store my bicycle in my room – I was happy with that. I spent the rest of the afternoon catching up with friends at the Coffee Factory near the city center before heading off in the evening to enjoy Korean BBQ.
Day 10. Suanbo —> Yeoju (94km)
Breakfast: CU Store in Suanbo
Lunch: Binaesum Certification Center
Dinner: Korean Restaurant in Yeoju
Motel: 7 Motel 40,000 Won
Bicycle Paths: Saejae
Another pleasurable ride between Suanbo and Yeoju – the awesome weather and beautiful landscape has me pedaling a bit slower today as I attempt to ward off the inevitable end to my trip. Noodle soup lunch at the Binaesum Certification Center before finishing up the last thirty or so kilometers for the day. Upon arriving in Yeoju I stopped in at the bike shop to have my rear brake pads replaced as I had noticed they were becoming a bit worn. The friendly bike shop owner/mechanic had a new set of brake pads installed (10,000 Won) in less than fifteen minutes – barely enough time for me to decide whether I wanted to visit the Yeoju Insect Museum or the Yeoju Phone Museum. What the heck, I'm on holiday so I decided to visit both.
Day 11. Yeoju —> Gangchon (108km)
Breakfast: CU Store in Yeoju
Lunch: Cafe near Kyunggang Bridge Booth
Dinner: Tudori – Meat on skewer restaurant in Gangchon
Motel: O Motel 30,000 Won
Bicycle Paths: Hangang & Buckhangang
Today would be the day that I would venture on to the Buckhangang Bike Path, a completely new path to me. I knew the Buckhangang Bike Path to be very popular with cyclists living in Seoul as the route is fairly short and can be done entirely in a weekend. That is all I knew about the Buckhangang Bike Path and, as I set out early from Yeoju, I was excited to discover more.
The scenery along the Buckhangang Bike Path is certainly quite beautiful and several sections of the path itself seem very new and well maintained. The path winds in a northeastern direction through parks and affluent areas (individual homes alongside the path grew larger while the restaurants and shops became much more boutique style). There were too many riverside cafes' for me to keep track of in the first twenty kilometers of the path.
There is a point along the Buckhangang Bike Path where it becomes a bit more desolate (70-90 kilometer on my route), but certainly not any less beautiful. Along this stretch there are many pension style accommodation options and riverboat businesses that looked to specialize in renting equipment for waterskiing and other river-related sports. I also noticed a few businesses that rent four-wheelers to be used on off-road tracks near the shallower parts of the river. I imagine that in the middle of Summer this area is full of Seoul city slickers on holiday.
At the beginning of this day I figured that I would ride to the end point of the Buckhangang Bike Path, which is Sinmae Bridge, and then overnight either in Chuncheon or some other suitable town. Well, I ended up reaching the little town of Gangchon (about 18 kilometers shy of the Sinmae Bridge) and decided to make it my overnight spot. Gangchon is a great option, and I am glad that I decided to stay there rather than ride further without knowing what options were ahead of me. In hindsight, I know now that the town of Gapyeong is a better choice as it has far more accommodation and restaurant options than Gangchon. The town of Gapyeong is about thirteen kilometers before Gangchon, so choosing it would not make a massive difference to any itinerary.
Day 12. Gangchon —> Sinmae Bridge —> Seoul (135km)
Breakfast: GS25 Store in Gangchon
Lunch: Cafe near Saeteo Samgeori Stamp Booth
Dinner: In Seoul
Motel: Pre-booked AirBnB 60,000 Won
Bicycle Paths: Buckhangang, Gyeongchunsun, & Hangang
The last riding day of my cycling trip. I was due back in Seoul by the end of the day and my plan was to cycle up to the Sinmae Bridge Certification Booth (the end point of the Buckhangang Bike Path) and then turn around and cycle all of the way back to Seoul. I also determined that if I was making good progress by the time I reached the Saeteo Samgeori Certification Booth that I would explore the alternate route (known as the Gyeongchunsun Bicycle Path) that allows cyclists to reach Seoul on the northern side of the Han River. Every time I have ever cycled in or out of Seoul I have been on the Southern side of the Han River and so I wanted to give this alternate route a try for the first time.
Riding up to the Sinmae Bridge Certification Booth from Gangchon was an easy 17.7 kilometers and I was surprised that there were no hills. The main bike path goes directly to the Sinmae Bridge Certification Booth, which lies on the far side of the river from Chuncheon city. The path does have a turn off point (across a bridge) approximately 12 kilometers before the Sinmae Bridge Certification Booth that leads over to Chuncheon city. At the time of my trip there was construction being done at this turn off point so, because I wasn't going to Chuncheon, I continued on the main path to the Sinmae Bridge. I have seen on other maps that Chuncheon city can also be reached by crossing the Sinmae Bridge.
---
After stamping in at the Sinmae Bridge Booth I was ready to turn around and head for Seoul. All of the same beautiful sights I had seen on Day 11 greeted me from a different direction as I whizzed down the Buckhangang Bike Path at a pace that had me convinced that my impression that Day 11 had no climbing must have been false. I arrived at the Saeteo Samgeori Certification Booth with 75 kilometers completed for the day and plenty of time remaining to allow me to explore the Gyeongchunsun Bicycle Path back to Seoul. All of the maps said that this alternate bike path end point in Seoul would be 31 kilometers distance from the Saeteo Samgeori Certification Booth. Great, I thought to myself – My whole day will be less than 110 kilometers with a possibility of no more than 10 additional kilometers distance to my accommodation in Seoul.
Well, I was wrong. It certainly wasn't the first time I've been wrong, and it surely wouldn't be the last. Long story short – The Gyeongchunsun Bicycle Path was great for about 25 kilometers and then it simply disappeared. I have no idea where the last 6 kilometers of this alternate route went, but I searched in vain for many surrounding blocks of city traffic for it until I finally went back a few hundred meters to a small river that I had crossed on a bridge. Underneath the bridge was a perfect cycling path that ran north and south along the small river's edge. I knew that if I rode south I would eventually reach the Han River, and subsequently the Han River Bike Path. And that's what happened, I reached the Han River and was able to link up easily to the Han River Bike Path that travels along the northern side of the river all of the way to the Banpo Bridge. Once I crossed the Banpo Bridge I knew I had just completed another wonderful cycling tour in the beautiful country of South Korea – definite cause for celebration (fried chicken washed down with lots of beer) and reflection (can't wait to come back in 2017 for another great adventure).
---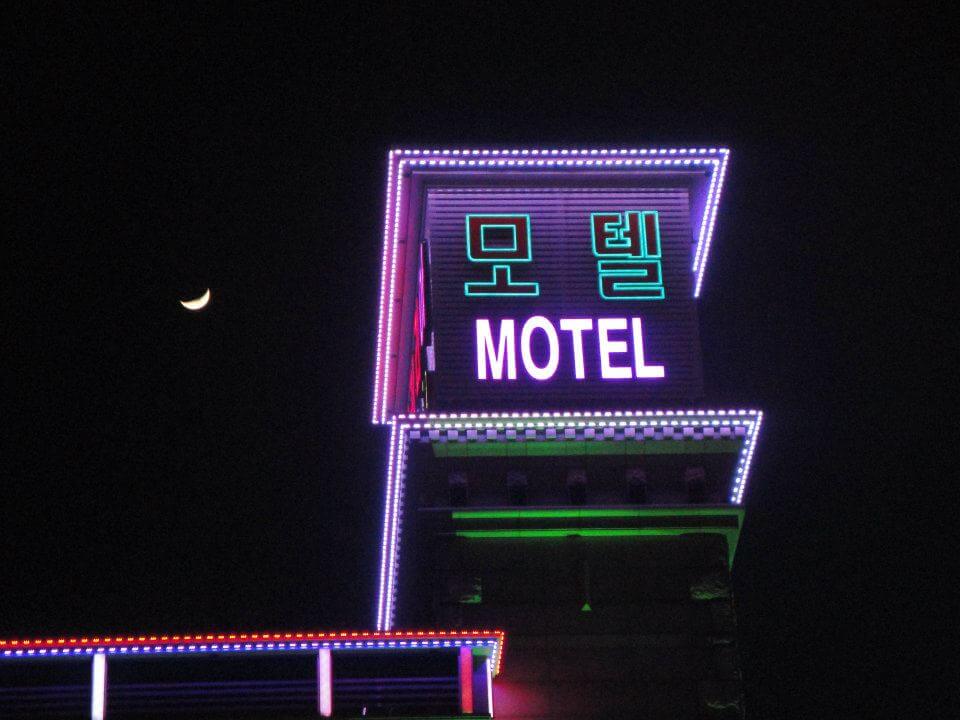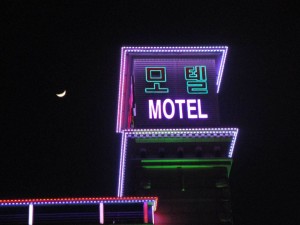 Motels – Motels will allow two people to occupy each room. Three or more in a room as a money saving practice will be frowned upon and you'll likely be refused a room. There does not seem to ever be a room option where two twin sized beds are in one room. So, plan to budget for separate rooms if you have a traveling companion that you do not want to share a bed with. All motels we used were happy to show us the room before we paid and we never had a problem with storing our bicycles in our rooms where necessary.
The 12 Types of Korean Hotels Explained.
Good advice we received about motels – Keep in mind that it's often easier to find accommodation in small towns rather than bigger cities. When you arrive close to a big city, it's just farmland or suburbs, not accommodation you can see from the cycle path.
Every motel we stayed at included:
Hot shower (most had bathtubs as well)
Western style toilets (NOT squat toilets)
Shower soap
Shampoo
Toothbrush & Toothpaste
Kettle (for boiling water)
Bottled drinking water
Air conditioner (Some rooms had Air con and a fan – The fan is great for drying cycling kit)
3-in-1 coffee packets
---
Weather:
I chose mid-September until end of September for this trip. The daily temps were fantastic and the mornings were slightly foggy/chilly. The only warm clothing I brought was a light (long-sleeved) cycling jacket that I used on some mornings but removed after the first hour of riding. I experienced 1 day of light rain (ok to cycle) and 1 afternoon of heavy rain (only an idiot like me would cycle in this) on my trip.
Useful words I learned on this trip:
Bo (Weir) – is a barrier across the width of a river designed to alter the flow characteristics. Any place with the suffix -bo is therefore a damn of some sort. Place names like Yeojubo now make more sense to me.
Eup – The suffix placed on a name that means it is a town. The difference between a county name like Jeongpyeong and a town name like Jeongpyeong-eup now make more sense to me.
덮밥  Deop Bap – Means 'on top of rice'. Put a word in front of this and you've got a meal.
불고기덮밥  Bulgogi Deop Bap – Sliced beef in a sweet marinade on top of rice.
제육덮밥  Jeyuk Deop Bap – Spicy orange pork on top of rice.
---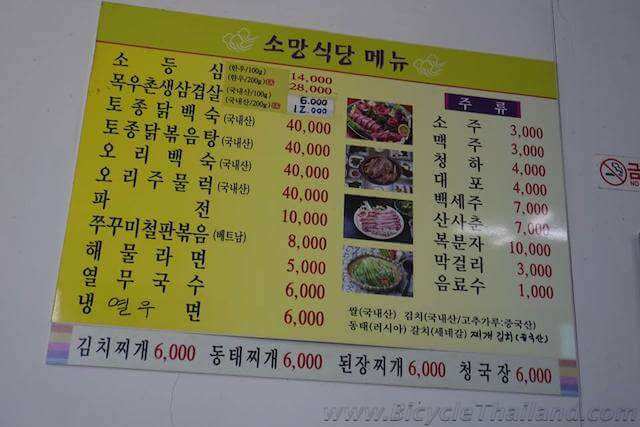 Food advice – Picky eaters will have limited choices in the smaller towns. Expect to eat Korean food in towns along the pathway. Expect to have to use metal chopsticks at restaurants. It would be helpful to have four or five common Korean food dishes that you enjoy written in Korean (Hangul) on a piece of paper that you can carry with you to lunch and dinner spots.
Top 10 Korean foods that you have to try.
---
Approximate Daily costs:
10,000 Won on lunch (1 person)
15,000 Won on dinner (1 person)
40,000 Won on motel room
15,000 Won on daily snacks (1 person)
Useful websites and information:

Names of the bike paths along my route:
Hangang Bike Path
SaeJae Bike Path
Ocheon Bike Path
Geumgang Bike Path
Buckhangang Bike Path
Gyeongchunsun Bike Path