If you have ever traveled on Bangkok's Airport Rail Link, which connects (at Phaya Thai station) the city's elevated train system (BTS) with Suvarnabhumi International Airport, then you may have wondered what cycling opportunities lay beneath the train's elevated tracks and station platforms.
Likewise, if you attended any of the A DAY Bike Fest events held at the Airport Rail Link's multi-floored Makkasan station, you may have noticed that the surrounding area consists of old railway lines and engine houses that were long ago disconnected from the existing Thai Railway System.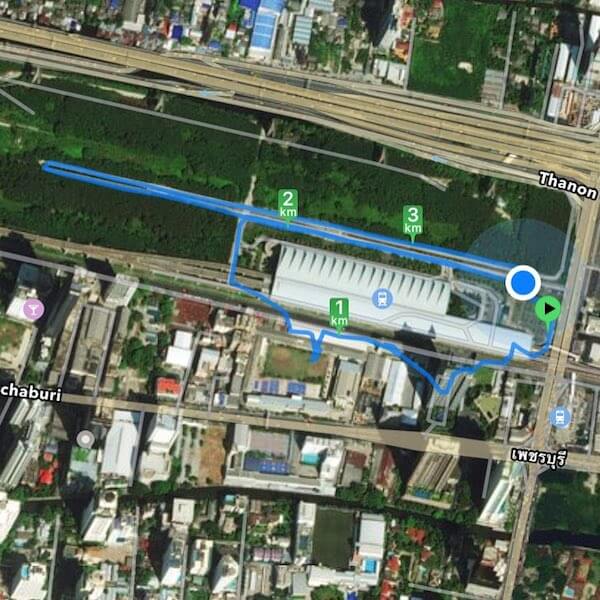 Well, luckily, a new cycling opportunity has been introduced to a portion of the old railway area. The path is currently about 3 kilometers in length and has a few outlying buildings that are set to become rest areas and shops meant to service cyclists. Overhead lights already exist on much of the path and the nearby abandoned railway property definitely holds a ton of potential, either for more cycling paths and/or park areas for Bangkok residents. Let's hope the Bangkok Metropolitan Administration (BMA) and Thailand's State Railway can come to some kind of agreement on turning this area into a beautiful park with an extended cycling path. The cycling path is easy to access from the Airport Rail Link Makkasan station or from the Asoke – Din Daeng main road.
Makkasan cycling path GPS location – GPS – N 13.751308, E 100.563751
Thanks go to Nonlany Ung for the photos of the new bicycle path near Makkasan Airport Rail Link station. Nonlany is a massive force behind many of Bangkok's bicycle advocacy projects and initiatives. If you visit Cafe Velo Dome at Tha Phrachan Campus of Thammasat University, there is a good chance that you will run into Nonlany. You might notice that the bicycle in some of these photos is a Bangkok city Pun Pun Share Bicycle. Yes, Nonlany frequently rides a Pun Pun Share Bicycle around and gives reports on the status of the program's rental stations in Bangkok.