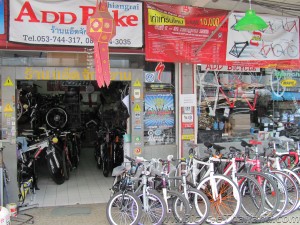 ADD Bike is this month's featured bike shop in Thailand. We have been featuring quite a few bicycle shops in Chiang Rai because we're really enthused about the great riding opportunities in the area. Whatever your preference, whether it be road cycling, fast MTB cross-country, or muddy downhilling, it seems that Chiang Rai has it covered. So we figured why not tell everyone about the shops in Chiang Rai and surrounding provinces. ADD Bike is another nice one to ADD to your list. This shop is medium sized and packed to its gills with bikes and bike accessories. Bikes are on the showroom floor, displayed on the walls, and hanging from the ceiling. There is a good mix of everything for every type of rider and every type of riding.
ADD Bike
151/4 Thanalai Road
T. Wiang A. Mueang Chiang Rai
57000
ภาษาไทย [+]
ADD Bike
151/4 ถนนธนาลัย
ตำบลเวียง อำเภอเมืองเชียงราย
จังหวัดเชียงราย 57000 Tel. 053-744-317, 081-724-3035
GPS – N 19 54.485, E 099 49.621
Several brands of bicycle were on display during my last visit. Kona, Specialized, Bianchi, and Cannondale were just a few I noticed right away. There was not much in the way of cycling clothing aside from gloves, shoes, and helmets from well-known brands. It seems as if the shop is owned and operated by one man, Khun Add. Khun Add speaks very limited English but is helpful and enthusiastic. All brands and types of bicycles are serviced at ADD Bike and Khun Add is a good source for local riding information. Complete your rounds of the bike shops in Chiang Rai by visiting ADD Bike, Northern Bike (on the way to the airport), and Fat Free Bike (just up the road from ADD Bike). Happy Riding!