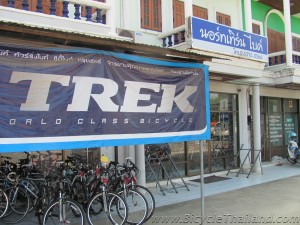 Northern Bike is this month's featured bike shop in Thailand. Chiang Rai, with its quiet roads, beautiful surrounding scenery, and easy to access mountain climbs is quickly becoming one of the more popular destinations for road cyclists searching for new training opportunities. Northern Bike is located along the main highway running North out of town, if you travel in the direction of the airport you'll be headed the correct way. The shop is medium sized and has a good selection of bikes, parts, and accessories on display.
Northern Bike
114/1 Moo 5 Phahon Yothin Road (Hwy 1)
T. Rim Kok A. Mueang Chiang Rai
57100
ภาษาไทย [+]
Northern Bike
114/1 หมู่ 5 ถนนพหลโยธิน (ทางยกระดับหมายเลข 1)
ตำบลริมกก อำเภอเมืองเชียงราย
จังหวัดเชียงราย 57100 Tel. 053-702-564, 081-530-2269
GPS – N 19 56.148, E 099 50.691
Trek and its affiliated brands of bicycles and accessories are what you'll see on display at Northern Bike. Limited English is spoken by the shop's staff but they were rather friendly during my recent visit and eager to help me find what I was looking for, a set of 700×23 tires for my trusty steed. All brands and types of bicycles are serviced at Northern Bike but they do seem to favor/specialize in road bikes. Load up the road bike, head for the hills and when you arrive in Chiang Rai pop in to Northern Bike to pick up the latest bike bits or just to say hello to the home of the Chiang Rai road cycling club. Happy Riding!