Earlier this year I went on my third solo, self planned cycle tour. This time in Thailand. It was a hot (literally and figuratively) 1000 kms of cycling in 2 months with long stays in Chiang Mai and Bangkok. I was very clear about the kind of routes I wanted to cycle – they had to be back roads, scenic and good quality as possible.
I mainly used maps.me and as a second option komoot to find potential routes. But there were times when these apps showed me trafficky highway roads and I put my foot down (on the pedal) and pedalled away from them. I looked for the closest smaller road and took the turn. And most of the times, these smaller parallel roads, only a few kms from the busy highways were beautiful rides! It is a surprise why these apps didn't consider them.
So while most of my route was amazing (refer to the trip summary here), these are the top 3 routes. If you are planning to do a bicycle tour in Thailand, these routes are highly recommended!
Chachoengsao to Si Racha:
From Chachoengsao to Phan Thong, maps.me put me on a beautiful route. It passed fields, little towns, rural landscape with hardly any traffic at all. Really enjoyed it. At Phan Thong I found a hotel for the night and the next day I took off forward. Sadly, the next route was entirely via a highway. So, I took a few turns into back roads here and there. Some backgrounds weren't very suitable with dirt roads or high number of aggressive dog packs. So I would again head to the highway and look for another back road. Soon, I ended up on a very beautiful road towards Sri Racha. The road that led to Nong Kham lake was a real highlight, so if you are in the area do go for a ride in that region. If you don't have a cycle you can even consider exploring this region in a scooter or car. :)
Embed map code: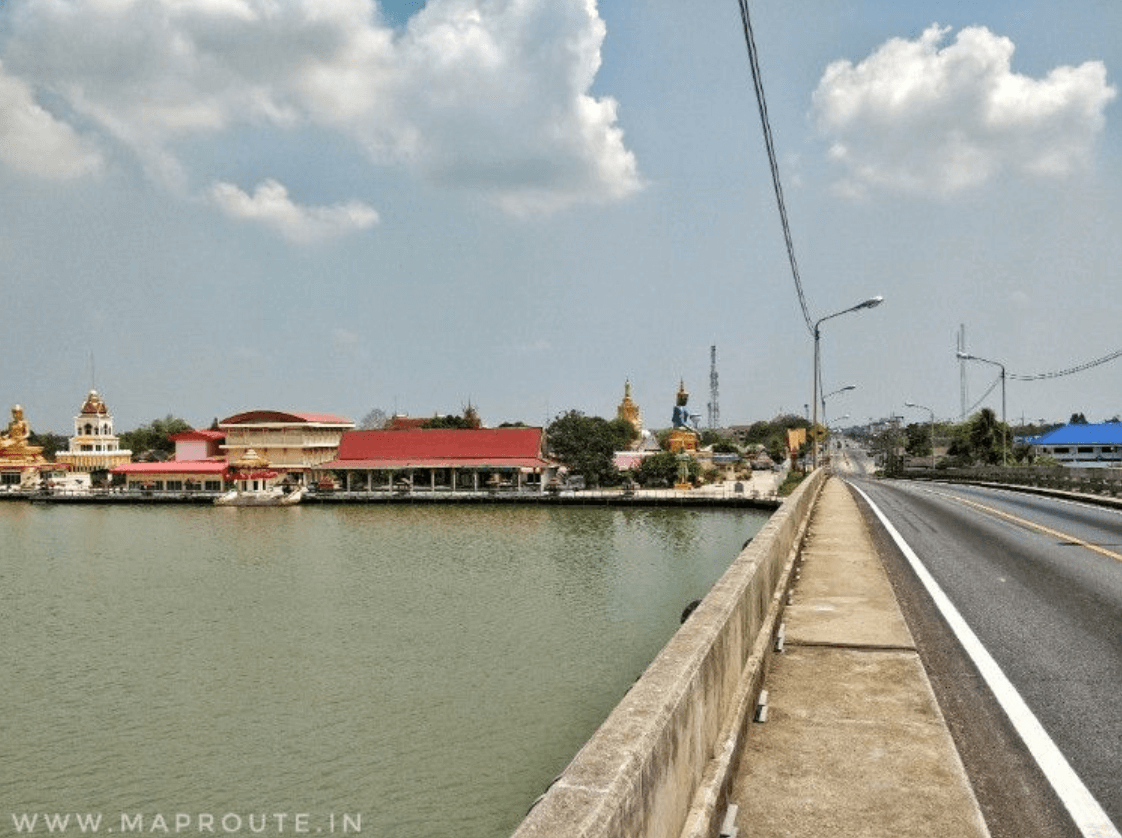 Pattaya to Rayong:
Again the route showed by maps.me was by a smaller highway but it was really busy at least the initial stretch from Pattaya. So I took a few turns into smaller lanes which ran parallel to it. Found myself on empty small town roads. There was another cycling group that had taken the same road and a few of them kept passing me every now and then. Happy nod and smiles everytime. Another pleasant thing about this route was that there were hardly any aggressive dogs. In Pattaya I faced a few dogs but after that there were hardly any.
Moreover, this route passes by the Khao Chi Chan Buddha. It is a scenic area that is being developed into an enjoyable tourist attraction with a couple of temples, a lake, the Buddha carving and a few swanky looking resorts coming up nearby. Most interestingly there are some beautiful bike lanes here.
Map embed code: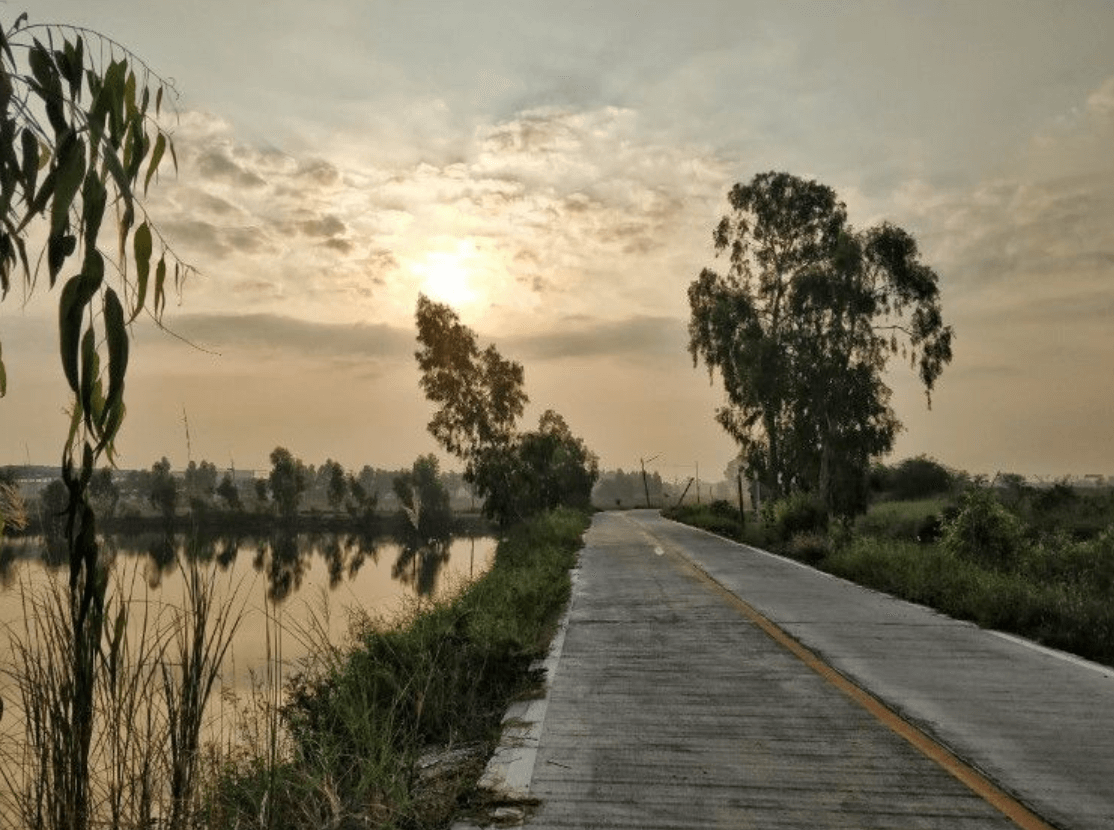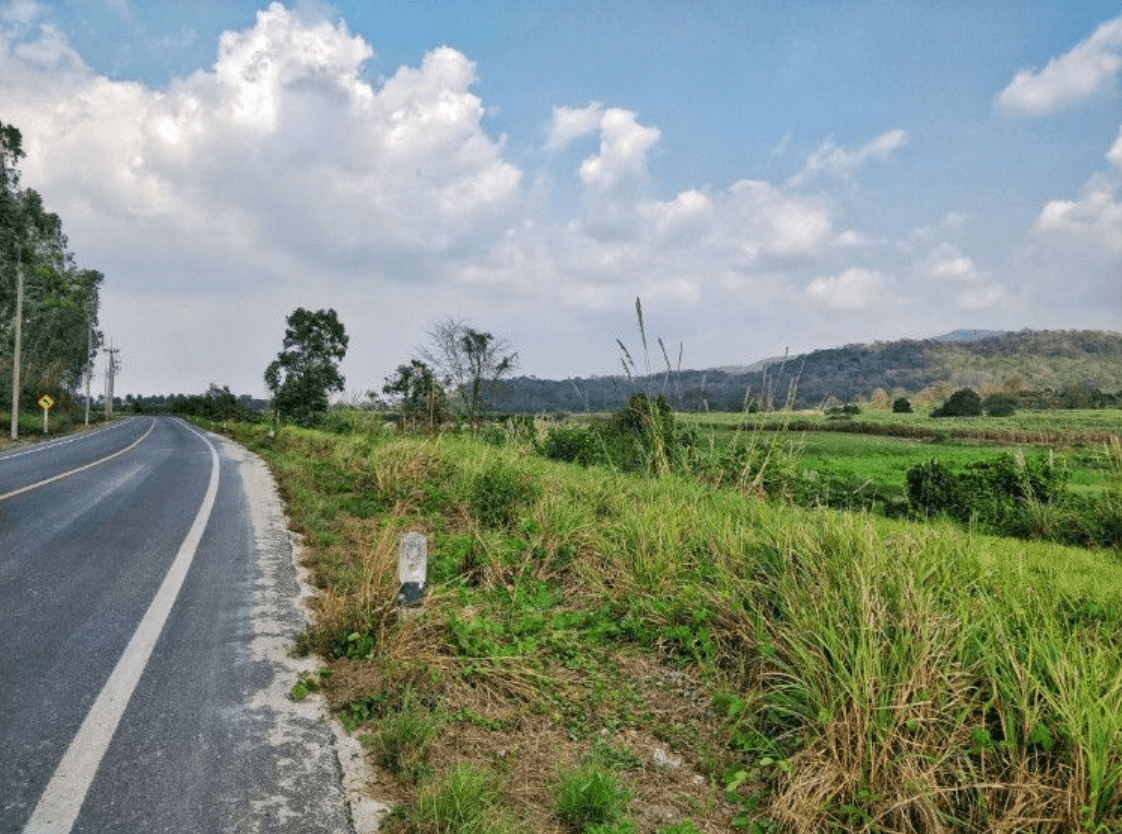 Chiang Mai to Chom Thong
This was my first long distance ride of the trip. I planned to stick to the River Ping from Chiang Mai to Chom Thong, the town at the base of Doi Inthanon – Thailand's tallest peak. Chom Thong is a lovely small town with a laid back vibe. Lot of routes for long rides around this town. Doi Inthanon is also a favourite ride for cyclists in Thailand. I didn't go up it though.
This route was lovely. Lush green, laidback, small villages passing by and the river glittering nearby. Frequent bridges let you cycle on either side of the river you like. As we get closer to Chom Thong, there are some good restaurants including a couple of authentic pizza places. This can also be a good route part of the way if you are heading towards Lamphun.
Embed map code: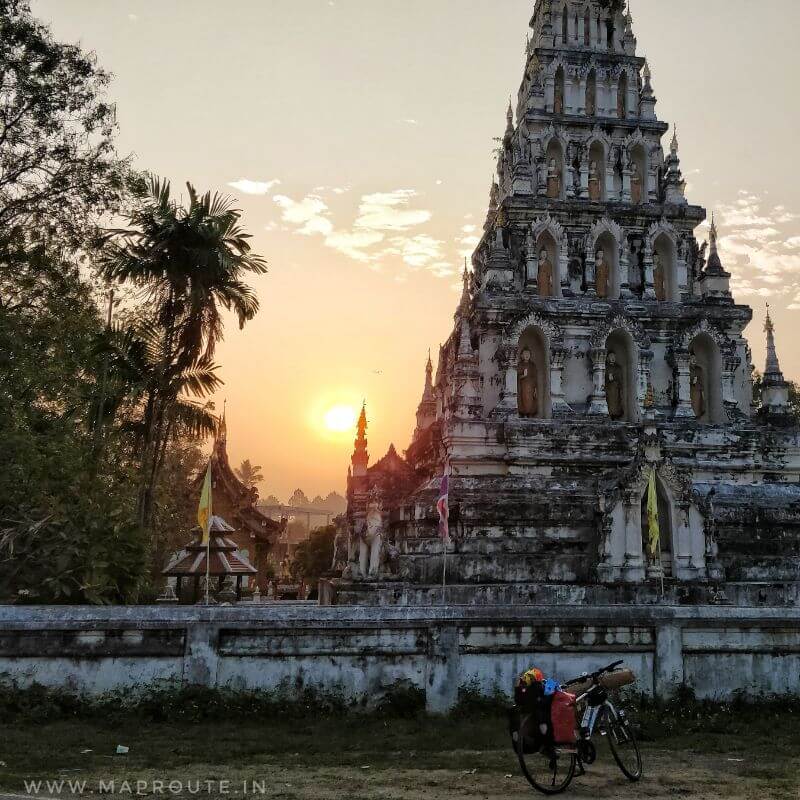 Special mention here of another route that I loved and I found on this very site. From Ayuthayya to Pakret (Bangkok). Very nice route through rice fields and empty, large roads. The only tough part is getting from Pakret into proper Bangkok.
I didn't go to Pakret, I took a slightly different route in the last section and headed towards Nonthaburi. Next day, going from Nonthaburi to Sukhumvit road was a serious hustle. I had hoped to take a Songtheaw or bus or metro or ferry or something! But nothing is available for a cycle transport. Except maybe a private taxi. So it was a real frazzling ride from Nonthaburi to Sukhumvit road for me. And one that I remember with some trepidation. (Though it was definitely better than what I found later in Phnom Penh). :)
There is always a silver lining when we are bicycle touring!
Feel free to ping me for any queries. Happy riding!
Article written by: Priyanka Dalal
---
Planning a cycling trip in Thailand? Want to remove some of the guesswork when it comes to routes and information? BicycleThailand.com offers GPS route data for touring cyclists that can be used on a GPS device, smartphone, or tablet. These routes can be viewed on your device regardless of internet access during your Thailand cycling adventure. Learn more about our Thailand GPS cycle touring routes.